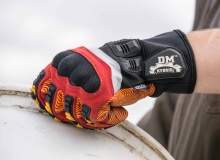 DM Hybrid mining gloves by Cestus revolutionised hand protection in the dangerous mining and ore-refining industries. Cestus's exclusively designed hard-shell polycarbonate knuckles are not only the most noticeable part of the glove, but also shield the wearer from impact, abrasion and laceration injuries.
Thermoplastic rubber (TPR) impact shields on the fingers, thumb and metacarpals give the user more impact protection in vulnerable areas, complementing the hard-shell knuckles. A reflective stripe rounds out the back-of-hand safety features on the DM Hybrid, as it aids with hand visibility in low-light situations.
While operating heavy machinery and mining equipment, it is important to have a steady hold for guiding the equipment. DM Hybrid features Cestus-specific Ripple Grip®, which gives the user maximum grip control on slick or dry surfaces. Through its silicone-ripple design and flexible traits, Ripple Grip increases surface-to-material contact for enhanced grip control. The malleability of the Ripple Grip material allows for more surface contact area than with grips that are more rigid. The silicone of the Ripple Grip is tacky, which aids in keeping grip steady while holding objects. An exclusive material from Cestus, Hexagonal Memory Gel® pods in the palm absorb vibrations from tools and equipment, and help prevent hand-arm vibration syndrome (HAVS) and carpal tunnel.
From impact protection and excellent grip control to vibration absorption, the DM Hybrid protects from the various hazards on mining sites. Bring the DM Hybrid to your site for gladiator-tough gloves that protect working warriors.
Key features of the DM Hybrid mining glove include:
Ripple Grip®: exclusive silicone grip that maximises grip control on slick or dry surfaces
Flexible TPR shields: impact protection that bends with hand movement and offers continuous protection for fingers, thumb, metacarpals and carpals
Hard-shell polycarbonate knuckles: hardened knuckle mould that shields knuckles from impact, abrasion and laceration injuries
One-piece, enhanced synthetic leather: durable material that adds resiliency to the back of the glove for resistance to abrasion damage
Hi-vis TPR and reflective stripe: hi-vis colouring on finger joints of TPR and reflective dorsal stripe aid with hand visibility in low-light or hazardous situations