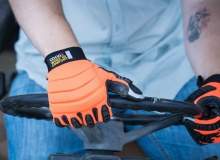 Mining sites are notoriously dangerous and present hazards from falling and projectile debris to fires and electrocution.
With the proper personal protective equipment (PPE) miners are able to go about their duties more safely, which is where Cestus's uniquely designed HM® Impact gloves come into play. The HM Impact was developed with mining hazards and miner safety in mind, and features a variety of safety features that reduce the risk of hand injury.
With segmented triple-layer foam covering the metacarpals and knuckles and flexible thermoplastic rubber (TPR) impact shields on the fingers and thumb, these gloves are equipped to protect from abrasion and light impact injuries. The TPR shields on the back of the fingers and thumb are flexible so they move with hand movement, yet still hard enough to shield from impacts caused by equipment or debris.
The palm of the HM Impact has the Cestus cut-resistant DNX™ grip for grip control on slick or dry surfaces and is double stitched onto synthetic leather for durability. The palm stitching matches the natural folds of the hand, which allows the HM Impact to flex with hand movement.
Through protective materials and an innovative design, the HM Impact combines protection with fit and function.
Features of the HM Impact glove include:
One-Piece DNX™ grip: cut level-two grip control for slick or dry surfaces
Palm double stitching: secures DNX™ grip to palm and adds durability to high-wear areas
Segmented three-layer foam: protects knuckles and metacarpals against impacts, lacerations and abrasion injuries
Flexible TPR: impact protection that bends with hand movement and shields the back of the fingers and thumb
Reflective fingertips and hi-vis orange: aids in hand visibility for low-light and hazardous situations