Advanced Geosciences (AGI) is a high-tech manufacturer of geophysical imaging systems. The company is based in Austin, Texas, US, and has been active in the geophysical field since 1989.
Our state-of-the-art products include the SuperSting with WiFi, SuperSting Marine with WiFi, PowerSting, PowerSting Nodes, MiniSting memory earth resistivity / IP meters, Swift dual-mode automatic smart electrodes, graphite electrodes, and IP modelling and inversion software EarthImager, for 2D and 3D applications.
AGI is the leading developer and manufacturer of both hardware and software for electrical resistivity and IP imaging in the world. AGI instruments and modelling software are delivered to all continents. We have customers in more than 30 countries, including the US, Canada, South America, Asia and most European countries. Our customers include government agencies, universities, research institutions and environmental and engineering firms. We are proud that scientists and researchers around the world have been using our electrical imaging instruments and software for cutting-edge research and solving real-world problems. Our resistivity and IP imaging systems may be used for applications, including:
Cavity and sinkhole detection
Depth to the bedrock determination
Site characterisation
Groundwater exploration
Lithology mapping
Mineral exploration
Archaeological site investigation
Detection of free products of non-aqueous phase liquids (NAPL)
Monitoring of remediation processes such as steam enhanced remediation and in-situ air-sparging
Monitoring of subsurface processes such as groundwater recharge, infiltration, saltwater intrusion, tunnelling, dam leakage and in-situ mining
Resistivity, induced polarisation and self-potential imaging instruments
The SuperSting R8 IP is a state-of-the-art eight-channel portable memory earth resistivity meter with memory storage of readings and user-defined measurement cycles. It provides the highest accuracy and lowest noise levels in the industry. This new instrument revolutionises the field of resistivity imaging surveys by its capability to simultaneously measure up to eight channels using a high-power transmitter so that field data collection can reach previously unheard speeds. With the high-power transmitter, data can be recorded in difficult locations where time-consuming stacking was the only alternative before.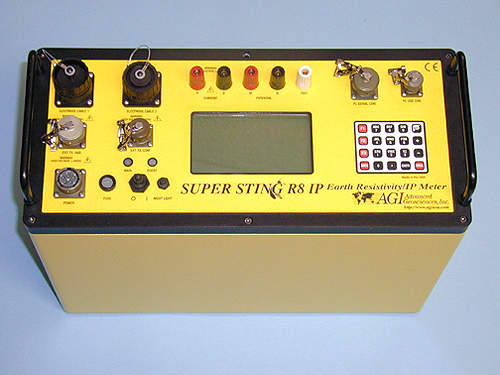 The SuperSting instrument is used to quickly collect high-quality resistivity and IP data.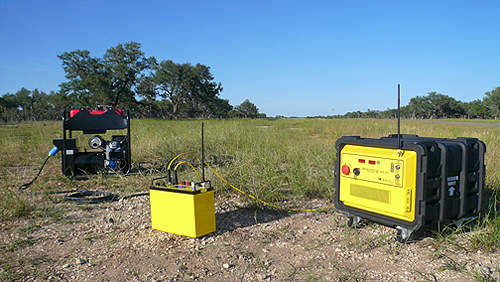 Motor generator powering the SuperSting instrument and the PowerSting external high-power transmitter. Communication between the SuperSting and the PowerSting is accommodated by wireless or wired communication.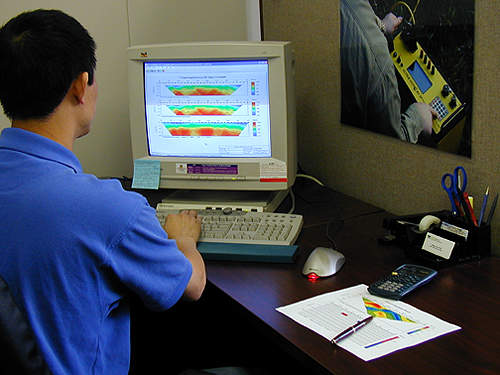 The EarthImager resistivity and IP inversion software is used to create 2D or 3D images of the ground.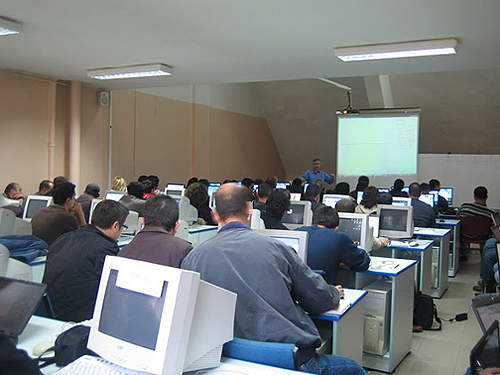 AGI gives regular resistivity imaging training classes in Austin, Texas, and Madrid, Spain. Training classes are also arranged at clients' sites.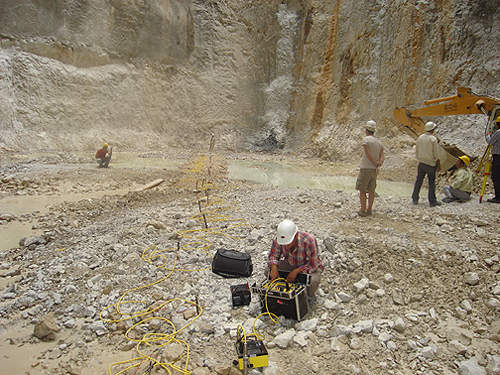 Resistivity / IP imaging survey at a quarry site. The method can be used above or below ground, in bore holes and under water.
SuperSting R8 IP can be used with our patented multi-channel swift dual mode automatic multi-electrode cable, or with different capability switch boxes and passive cables to form a system for measurement anywhere i.e. on the surface, between boreholes, or in lakes, rivers and seas. With this instrument it is now possible to efficiently record 3D data and use a virtually unlimited quantity of electrodes in a single layout. The electrode address is a 16 bit number, which sets range at about 65,000 electrodes. The induced polarisation mode records six individual IP chargeability windows. The speed of this instrument makes it ideal for use whenever resistivity monitoring is needed.
High-power external transmitters for imaging instruments
The PowerSting is a series of external high power transmitters (5kW, 10kW, and 15kW) for the SuperSting R8/IP/SP and SuperSting R1/IP/SP. The PowerSting system is a fully programmable constant voltage/constant current source. The PowerSting system comes with an SGS generator and a wireless repeater box, and operates in both wired and wireless modes. PowerSting-SuperSting system applications include vertical electrical sounding, 2D electrical imaging, 3D electrical imaging and 3D offset electrical imaging of a 2D survey line in both manual and automatic modes.
Resistivity and SP instruments for mining surveys
The MiniSting instrument is especially designed for resistivity surveys with the four-electrode method in applications such as vertical electrical sounding (VES) and profiling for groundwater exploration, and cathodic and corrosion protection surveys.
Resistivity imaging software
The EarthImager software from AGI is available for 1D (VES), 2D, 3D and 4D (time lapse) resistivity and IP inversion.
Electrical survey accessories
AGI offers accessories for electrical surveys such as cables, cable reels, different electrodes, lab equipment and more.
Geophysical instrument training courses
AGI offers training courses at regular intervals. There is an introductory course and an advanced course. Each course is two days and is given in English or Spanish.