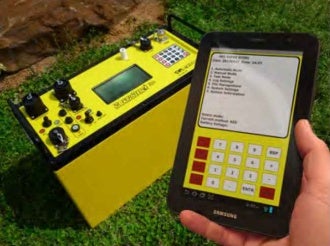 AGI has launched the new SuperSting R8/IP/SP with WiFi.
The SuperSting has enhanced mobility, wireless control, improved efficiency and remote data quality assurance, and also has a future-proof interface with limitless capabilities.
The SuperSting Manager App for Android devices frees the user from monitoring the instrument in the field and sends survey data immediately to the processing centre or office, at the touch of the screen. Surveys can be conducted from the comfort of a vehicle or a remote location that is up to 100m from the device, depending on terrain and atmospheric conditions.
The Wi-Fi connection and Android app enables users to control and upload command files to the SuperSting and check the electrodes for contact resistance. Using AGI's SuperSting Manager app, data can be reviewed graphically in real-time, and pseudo-sections can be displayed in stunning colors on Android tablets and phones. Files can also be downloaded and emailed for immediate processing and analysis.
The SuperSting is available as a one or eight-channel instrument and comes with the accuracy, reliability and ruggedness that all Advanced Geosciences instruments are known for.
Key features of the SuperSting include:
802.11 Wi-Fi standard
High bandwidth communication
A range of up to 100m radius from the instrument
Includes an Android app
Works on popular Android devices such as phones, tablets and mini tablets
Graphical user interface to SuperSting
Download and upload command (.cmd) files and survey (.stg) data files
Email survey data files to office
Real-time plotting of resistivity data and IP curves
Complete control of SuperSting instrument
Download the free product brochure for further information.