Milex
LED Work Lights, Beacons and Accessories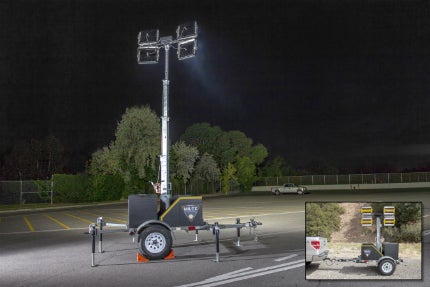 Milex designs and manufactures lighting solutions for the mining industry.
The company is also a distributor for Hella and Everlast commercial and industrial lighting products.
Efficient LED light plants for mining operations
The Milex LED Light Plant incorporates the fuel efficiency and dependability of the Yanmar YDG5500 Gen / Set powering four Hella HypaLUME work lights to deliver a class-leading 100,000lm of light, while drawing less than one kW of power.
The enhanced fuel capacity of the plant offers more than 200 hours of continuous operation before refueling. The compact design of the light plant is designed for easy one-person operation and towing behind virtually any vehicle. The tail and side light package meets highway compliance and Milex's five-point footprint ensures stable support in high-wind environments.
The Gen / Set is certified to EPA Tier 3 / 4 emissions standards and is CARB compliant.
Fixed and portable lighting solutions
In 2004, German lighting company Hella contracted with Milex to manufacture beacons to be distributed through its worldwide sales network.
The companies formed a joint venture, named Hella Mining, to distribute Hella's lighting products, including a full line of LED work lights and accessories, to clients in the mining industry.
This partnership provided a much bigger US market for the initial warning beacon now bearing the Hella brand, providing a variety of fixed and portable lighting solutions, including work lights, beacons, signal lights and interior lights.
All Hella lighting products supplied by Milex come with a five-year full replacement warranty.
LED number boards for equipment identification
Equipment identification in mining is critical for the efficiency of any operation. Milex provides high-output, low-power draw number boards for the mining industry.
Built around a heavy-duty, powder-coated aluminum frame and powered by high-efficiency LED lights, Milex Number Boards make it easy to identify any piece of equipment on site at a glance.
A supervisor can easily manage operations based on correct equipment identification utilizing the number boards during both daylight and nighttime operations.
The number boards use less than 11W of direct current power. The LEDs produce a daylight matching color temperature of 6500K and operate in a temperature range of -40oC to 70oC. Easy electrical connection is provided using a two-wire pigtail.
The numbers are sealed to a high-density polymer panel, which can be easily replaced when the number board is mounted on the equipment. The panels are highly resistant to impact chipping and damage.
In addition, LEDs are virtually immune to vibration damage and assure smooth operation with low-power consumption.
LED – high-efficiency and low power draw
Due to the LED's unique combination of efficiency and trouble-free use, Milex lighting products are engineered to fill a need in industries that can't afford downtime due to lighting failure.
Committed to the LED concept of high-light output with minimal power use, Milex continues to advance its position as an innovator in the field of industrial lighting.
In addition, the company continues to be a distributor for Hella retrofit lighting and Everlast high-bay area lighting.
Commercial and industrial lighting solutions for mining applications
Milex maintains sales offices in Elko, Nevada and Phoenix, Arizona.
While specializing in mining applications, Milex offers lighting solutions for a broad range of commercial and industrial projects and is continually searching for new solutions to old challenges.
About Milex
Milex Technologies was formed in 2002 in Elko, Nevada, in response to a request for an LED warning beacon for mobile mining equipment.
The first version of beacons was designed and produced in the company founder's garage and shipped in March 2002.
The product was unique as it could be programmed for a variety of visual effects, including rotating beacon, flashing lights, and alternating directional lights.
Milex quickly graduated from the home-based prototype to commercial manufacturing facilities first in Elko, and then in Belleview, Idaho.
Milex has since been involved in the design, manufacture and sale of a complete line of LED beacons and other lighting products for the mining and construction industries.
Press Release
Milex Technologies is bringing its innovative concepts in LED lighting to the Las Vegas MINExpo show, 26-29 September.
Read more