After a strong recovery in 2021, mainly as industries started to restore activities post-pandemic alongside benefiting from the sharp rise in prices throughout 2020 and 2021, global iron ore production is expected to decrease by 2% to 2.4 billion tonnes (Bnt) in 2022. This will be mainly due to the reductions from China, Russia and Ukraine, whose collective output is expected to decline from 458.9 million tonnes (Mt) in 2021 to 382.8Mt in 2022 – a 16.6% fall. This will be marginally offset by increases in production from Australia, Brazil, India and Canada. The total output from these countries will increase by 1.4% to 1,675Mt in 2022.
In China, iron ore production is expected to decline by 6.9% to 247.6Mt in 2022 as mining companies are expected to reduce production due to lower demand from the domestic steel industry. This is partly linked to the Chinese Government's agenda to curb steel production, which is one of the largest carbon-emitting industries, as part of the country's 2060 net-zero target. In addition, fresh cases of Covid-19 during the first half of 2022 also resulted in strict lockdowns in the country, affecting domestic demand as well as supply. In addition, iron ore production in Russia and Ukraine is expected to decline by 16.3% and 48.6%, respectively, linked to the ongoing Russia-Ukraine war that began in February 2022.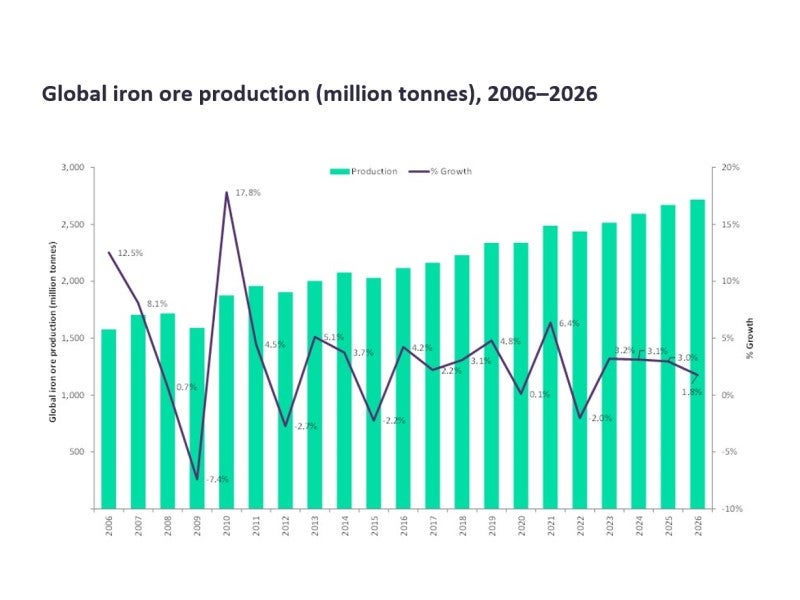 In Australia, iron ore production is set to increase by just 1% to 931.7Mt in 2022 backed by projects that began operations during 2021, such as South Flank, West Angelas, Mesas B, C and D, and Western Turner Syncline Phase 2. The upper end of the iron ore production expectations from Rio Tinto and BHP equates to 594Mt in 2022, 16.8% higher than the 508.4Mt produced in 2021. However, continuing labour shortages alongside slowing demand from China and new Covid-related challenges during Q1 2022 are impacting the iron ore industry.
Overall, the global iron ore production is expected to grow at a forecast period (2023-2026) CAGR of 2.6% to reach 2,716.9Mt in 2026. Overall, this growth will be primarily driven by Australia and Brazil, with Australian miners, including BHP, Rio Tinto and Fortescue, expected to expand operational activities alongside Brazilian giant Vale's expansion plans post-2019 tailings dam disaster, weather disruptions and Covid-19-related damages. Major projects that are expected to commence during the forecast period include, Fortescue's $3.6bn – $3.8bn, 22Mt Iron Bridge (March 2023) and Champion Iron Ltd's Bloom Lake Phase II expansion project (end of 2022).