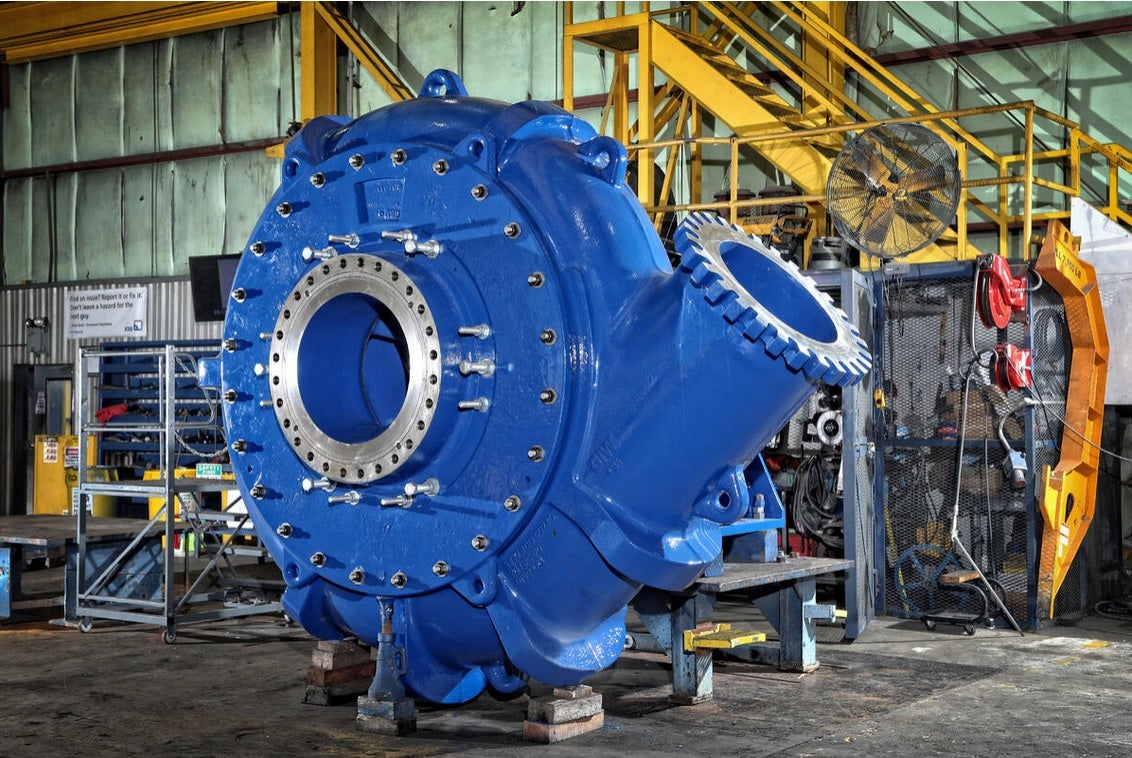 GIW's wear-resistant and durable slurry pumps combine with high-performance technology with our application knowledge to ensure optimal performance.
Incorporating experience of designing slurry pumps, GIW has custom-engineered slurry pumps that feature advanced materials, hydraulics, and patented mechanical designs. One of our latest products is the Mill Duty Extra Heavy (MDX) pump, which is designed to withstand adverse conditions for hard rock mining and slurry.
Designed for hard rock applications, the MDX has facilitated the extraction of metal and mineral deposits worldwide. The MDX pump's advanced hydraulic technology offers a predictable wear life, which results in a reduced total cost of ownership (TCO).
Heavy mining pumps
GIW has been extensively obtaining slurry samples from customers for testing hydraulics and materials. The company's research and development facilities comprise multiple slurry test beds on the campus, together with a hydraulics laboratory for pump performance testing.
The features of the MDX include:
An adjustable suction liner helps operators match their operating cycle times with scheduled outages, enhancing cost-efficiency
A deep base circle, which minimises aggressive particle impingement, which provides a sliding wear action and reduced abrasive wear.
An inlet five-vane impeller that is designed to handle liquid and solid phases in the slurry, helping the MDX maximise performance and wear life.
A large impeller diameter, which reduces the pump's operation and specific speed, leading to a prolonged part wear life.
Oversized shrouds for enhanced vane performance and clearing action, minimising recirculation and wear between the impeller and suction liner.
Proprietary white-iron alloy, which is field-proven to increase the service life of wear parts.
A slurry diverter increases the suction liner life by reducing particle recirculation between the impeller and liner.
A thicker cross-section for a long and reliable pump service life.
The MDX design allows for a wide discharge range between 150mm and 750mm, and flow rates up to 14,000m³/h. It can reach up to 51m of head and features a pressure rating up to 150psi.
The GIW single-wall, all-metal MDX pump design is more effective than rubber-lined pumps, as the component offers an increasingly predictable wear life and a reduced risk of catastrophic failure.
Slurry pumps for hard rock applications
The MDX can be used in a variety of applications, but it is especially suitable for hard rock comminution. These applications require the use of one or more grinding stages for reducing crushed run-of-mine ore down to suitable particle size for liberating the product from gangue materials. The MDX has consistently met customer expectations within the following applications:
Semi-autogenous (SAG) and ball mill circuits: the MDX can help operators by reducing their consumption of lining plates and grinding media.
Ball and rod mill discharge: the MDX pump's hard metal construction resists damage in the event of rod tanglings.
Cyclone and screen feed: the MDX pump is designed to achieve the total head to the cyclone, as well as the calculated or predicted pressure drop across the cyclone.
Continual improvement of the MDX pump
Since the day it launched, GIW has worked to improve the hydraulic design of the MDX so that our customers can keep their pumps work with enhanced efficiency.
The latest upgrade is the addition of the Remotely Adjusted Mechanical Suction Liner, also known as RAMSL. This improves maintenance procedures on the pump by enabling remote adjustments to the internal clearance between the impeller nose and the suction liner. With the addition of the RAMSL, maintenance time is significantly reduced from a few hours to a few minutes.
Delivering unparalleled rugged design and reliable operation, the MDX pump is the ideal for extra heavy mill duty operations.