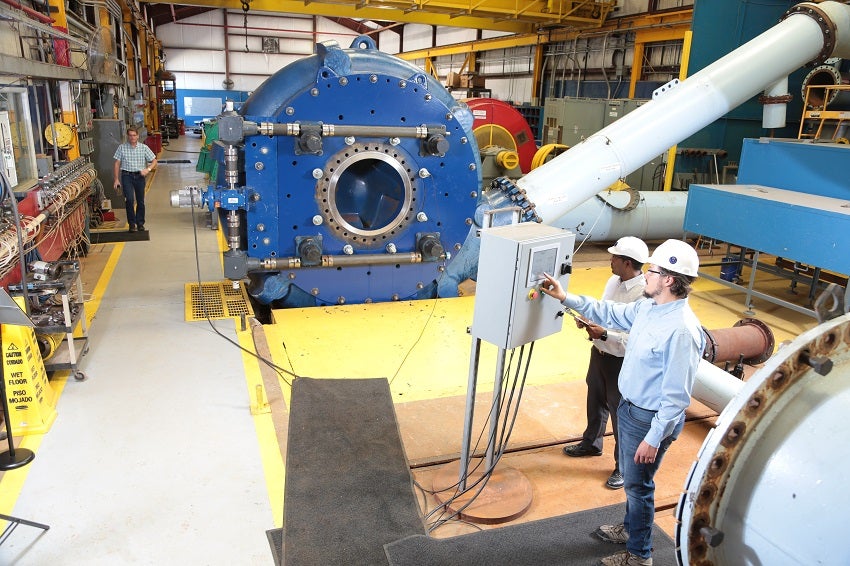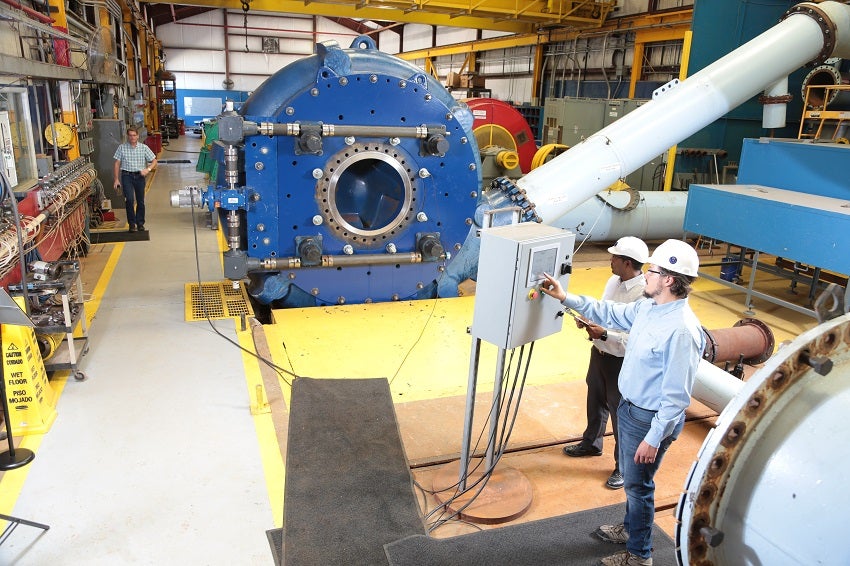 GIW's Remotely Adjusted Mechanical Suction Liner (RAMSL) is an electro-mechanical solution that has been designed to dramatically speed-up pump adjustment operations at mine sites.
An innovative upgrade for pump maintenance, RAMSL allows personnel to adjust pump suction liners with reduced manpower and time. This means that a process that would usually take 32 work hours a week now takes one worker just a matter of minutes.
GIW Global Mining product manager Diwakar Aduri says: "The concept of RAMSL started in early 2013, but we were still perfecting it. The actual design and development began mid-2016 and the final finished product was mid-2017 so it took around a year. The actual theory and idea of RAMSL was in the works for three to four years."
Characteristics of RAMSL
Mining personnel previously used tools to adjust large mill-duty pumps and it would take three to four hours to adjust a single unit.
Due to its electro-mechanical interface, the RAMSL enables mine operators to make weekly adjustments of large mill duty pumps to maintain optimum performance. It also helps the process of adjusting an 84in-diameter plate while the pump is still operating.
Its user interface serves as both the control panel for unit operation, as well as an output source for critical data taken from the pump.
RAMSL enables operators to track real-time vibration readings and accurate suction liner movements to within 0.01 of a millimetre. This allows mine operators to take a closer look at their pumps without the cost-prohibitive demands of a large crew or an unnecessary shutdown.
Increased safety and optimised resources at mine sites
Robust, universally applicable and compatible with any mining environment, RAMSL is currently used in copper mining, mill operations and cyclone feed applications. There has also been interest from copper and iron mines due to the platform's safety-related benefits.
"Both benefits stem from the ability to adjust the equipment against roughly 400,000lb of force from a safe distance without exerting more effort than it takes to press a button on a touchscreen," GIW senior engineer Leo Perry says.
Another key benefit of the RAMSL is its predictable maintenance capability. The system has been designed to enable clients to precisely monitor equipment service-life while minimising maintenance costs and optimising overall productivity through accurate adjustment data collection and consistent adjustments.
GIW has collected a significant amount of data through the RAMSL platform, which has effectively laid the foundation for future developments in the automated sector.
"Now that the RAMSL is digitised, we can keep track of how many adjustments are being done every week, and how much of the liner material has worn-out" Aduri adds.
"Having this knowledge ahead of time gives us a good indication of when to actually recommend reordering parts to the site and prep the next production run."
Other significant benefits include reducing manpower and alleviating safety concerns, as well as increasing personnel safety when working on the pump. The RAMSL effectively optimises adjustments so they can be performed by up to two people in ten minutes.
Case studies of the RAMSL
The RAMSL is the next phase of a continuous improvement plan between GIW and Escondida, the largest copper mine in the world. The Chile-based site currently operates eight MDX-750 pumps in their cyclone feed lines.
GIW installed the first RAMSL prototype on the site's MDX-750 pumps in early 2018. The client has reduced downtime and significantly improved the ability to adjust maintenance intervals with minimal interruption.
While these adjustments are safe, Escondida was spending up to four maintenance work hours per pump on a weekly basis. However, with eight MDX-750 pumps in operation, this was becoming a costly process.
To make this safer and more efficient, GIW's R&D team developed a remotely adjustable system. The RAMSL technology allows the operator to mechanically control suction liner adjustment with a control module.
Escondida requested additional pumps to be outfitted with RAMSL enhancements in 2018.
Future developments
Although GIW is still collecting pump adjustment data, the company's end goal is to develop a collaborative automated system with minimal input from users.
Future plans involve incorporating artificial intelligence (AI) and Internet of Things (IOT) technologies into operations.
"We have yet to see how the collaboration of RAMSL with the internet of things (IoT), to collect and analyze data can benefit our customers in the area of predictive maintenance and inventory planning. Offering this product enhancement to other customers will, no doubt, only deepen our understanding and further facilitate the evolution of RAMSL.
"Slurry pumps have been behind the technology curve, but now they are slowly catching up with the advancements in automation," Mr. Aduri adds.