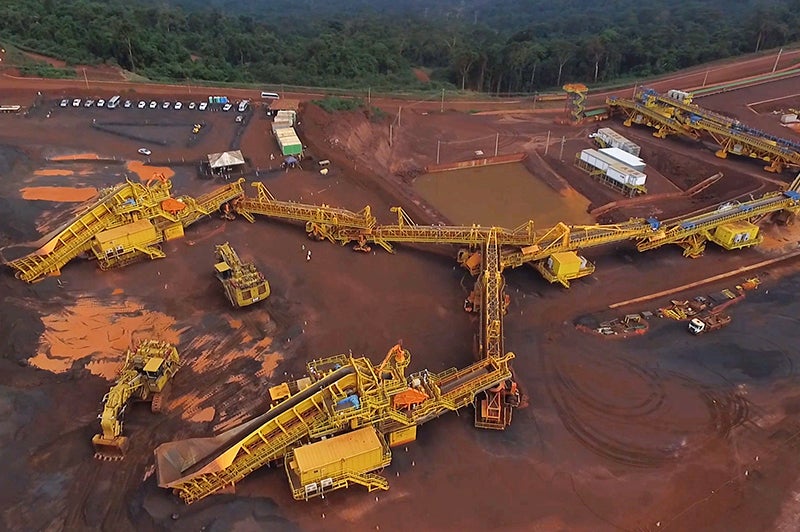 In 2020, companies with strong ESG plans often outperformed their peers, demonstrating that cleaner operations are no longer an alternative. They're crucial to business success.
The trajectory to cleaner and greener mines is now firmly established.
But the unique challenges that the mining industry will face over its 30-year journey to decarbonisation are still being unpacked as it decides how to utilise enabling technologies and solutions. The journey to net zero requires flexibility. And we need to incorporate that flexibility from the very beginning.
This has seen an increased focus on collaborative solutions across the mining value chain, including the re-emergence of 70-year-old technology.
In-pit crushing and conveying: a flexible solution for sustainable mining
In-pit crushing and conveying (IPCC) works by crushing ore and waste material in an open-pit and using conveyors to transport the material to the process plant and waste dumps respectively.
While IPCC is not new, miners often associate it with rigid, inflexible mine plans, which struggle to meet changing market demands. However, an IPCC system is no longer just a fixed asset. Flexibility and sustainability in operations are possible through design innovation, tailored equipment specification and automation.
Reducing haulage energy with a truckless system
One of the new ways that IPCC can be implemented is by using a combination of relocatable and mobile conveyors in tandem with a mobile, truckless system. Here, a shovel dumps material into a moveable sizing rig that loads the automated conveyor fleet.
Much like irrigation sprinkler machines, the system operates in parallel, or pivot, and a combination of different length hoses and pipes connect it back to a fixed point, which in this case is the process plant. By increasing the reach of the system, multiple combinations of bench level, mine direction and pass widths can be considered and optimised.
In one study, an overburden truck fleet that moved material from the mine face to the top of the in-pit dump was replaced with an IPCC system. The haulage energy was reduced by 63%, and 3.5 Olympic swimming pools of diesel each year could be replaced with renewables for each shovel swapped over.
Providing flexibility for minimum viable projects
Alternatively, as the mine face moves, a relocatable IPCC system can move with it. Trucks powered by renewables complete small distances to a crusher, which is moved periodically, with conveyors used for the rest of the journey to the plant. While both options give the flexibility to change mining locations, this option provides the energy efficiency and cost-effectiveness of conveyors while benefiting from the flexibility of a truck system.
Flexibility is especially useful for miners establishing sites with minimum viable capital. Miners can start with a small truck fleet and minimum fixed plant, relocating the crusher and conveyor as and when required. This is a key advantage because it helps achieve project-specific goals through different mine sequences to enhance an operation's sustainability.
Powering mines with renewable energy
Powered by electricity 'from the grid', IPCC is an energy-efficient option for miners. It gives miners the flexibility to choose renewables to power their site, including the energy used for the mass material movement from the mine face to the process plant and waste dump.
Worley is helping mining companies to develop partnerships for the supply of green energy, such as solar and wind, across the fence.
Enhancing an IPCC system with bulk ore sorting technology
As miners seek to get more from less, IPCC can be enhanced with ore sorting, mineral sensing technology supplied by NextOre.
NextOre is a bulk ore sorting technology, which allows miners to sort and evaluate ore at high capacity, maximising mining recovery and delivering higher grade and lower tonnage mill feed.
It can be easily retrofitted to IPCC conveyors, and measure everything on the belt. The option also exists to increase grade while maintaining throughput on existing systems. This maximises metal recovery through the entire system assuming upstream and downstream facilities can be de-bottlenecked.
By improving sorting efficiency, and processing a better material grade, water and electricity consumption per tonne of ore mined is reduced.
The data from the sorting process can also be used to learn more about what is coming out of the ground as it's mined, with assumptions verified in real-time.
IPCC in action
One of the world's largest iron ore mines in Brazil is an example of how new IPCC technology is enhancing sustainability and protecting people and the environment.
For this project, Worley proposed a truckless mine – the first of its kind. The system uses mobile crushers and conveyor belts to replace traditional trucks, consequently reducing diesel consumption by approximately 70%[1]. The system also means the miner can process waste in existing industrial areas, moving it away from environmentally sensitive ones to reduce the project's environmental impact further.
In designing the project, the team's biggest challenge was not only rethinking the mine plan and how the technology could be used on the site, but also re-evaluating the role people play in executing the concept. It's critical to re-educate technicians and engineers and equip them with the skills needed to work with these technologies safely.
A tailored approach as a way forward
Technologies like IPCC will help miners meet their decarbonisation commitments. However, sustainable mining is complex – no individual technology can solve the challenge. To focus solely on the benefits of the equipment and disregard the mine demands is a short-term solution to a long-term challenge.
If miners are to meet sustainability goals, they need flexibility, collaboration, and a holistic approach to implementing new technology that starts at the mine plan.
---
[1] http://www.vale.com/en/initiatives/innovation/s11d/pages/default.aspx