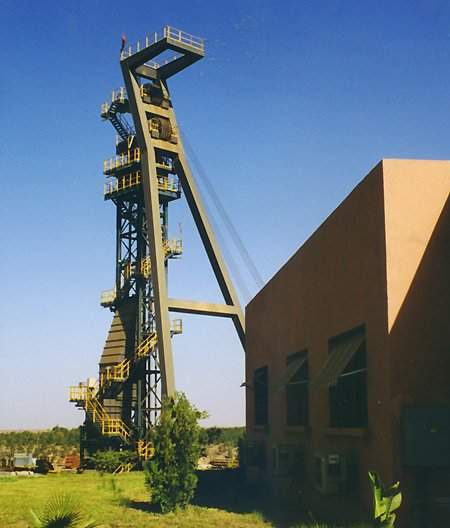 Hajar is located at an elevation of some 800m.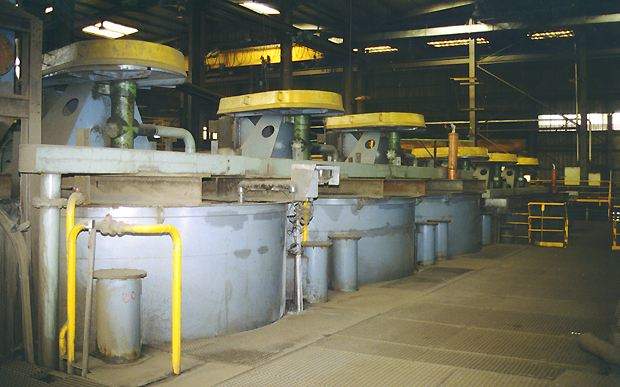 Outokumpu tank flotation cells.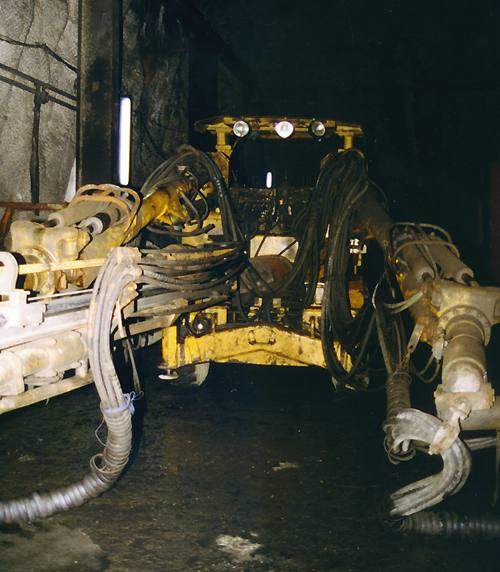 One of the mine's drilling jumbos.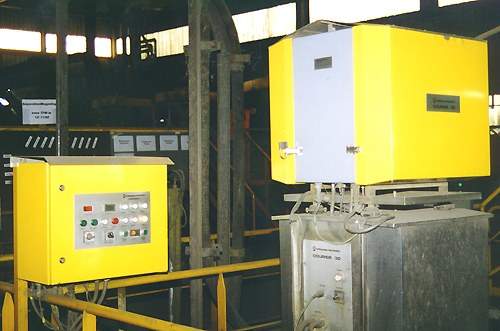 Outokumpu Electronics Courier 30 online analyser.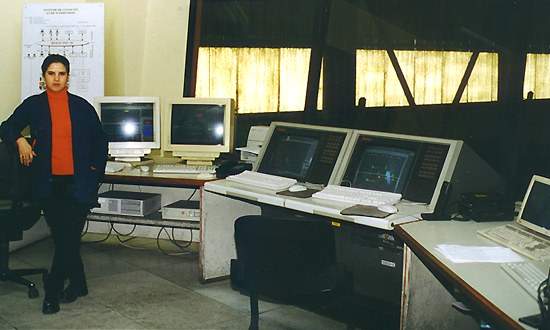 The concentrator control room.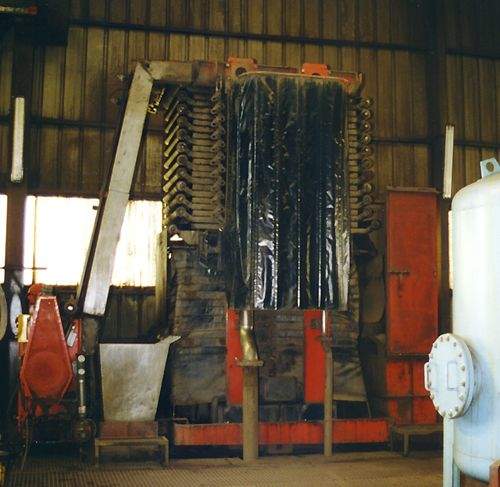 One of the Larox pressure filters.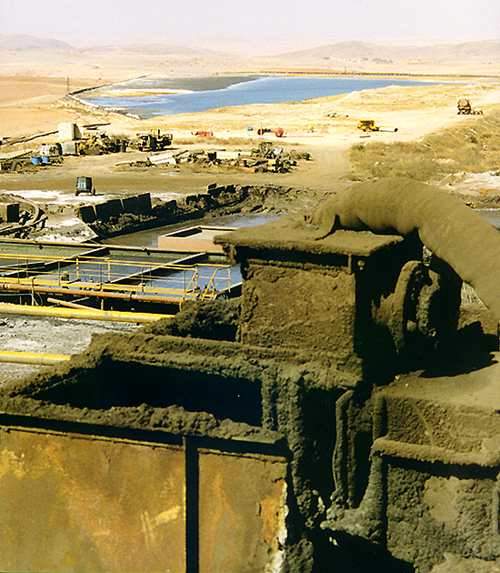 The tailings disposal area has been carefully engineered.
Located in the Guemassa massif, 35km south of Marrakesh, the polymetallic Hajar deposit was discovered in the 1980s. In 1988, ONA and the state-owned Bureau des Recherches et des Participations Minières (BRPM) formed Compagnie Minière des Guemassa (CMG) as a 70:30 joint venture to undertake development. Mining commenced during 1992. CMG effectively operates as a subsidiary of ONA, a private-sector company that was formed in 1919 as Omnium Nord Africain and has been active in mining since 1928.
In 1995, ONA formed Managem to co-ordinate group mining activities, and the CMG site now also houses Managem's cobalt electrowinning and metals derivatives hydrometallurgical operations, as well as R&D facilities for the engineering subsidiary Reminex. The whole site was certified to ISO14001 in January 2004.
"The process plant has recently been expanded to 6,000t/d in order to treat Hajar ore blended with material trucked from the company's new Drâa Lasfar mine."
DEVELOPMENT AND INVESTMENT
The operation was initially designed for a rated capacity of 3,000t/d, processing run-of-mine ore averaging 10.5% zinc, 3% lead, 0.3% copper and 60g/t silver. Overall investment in the start-up project was Dh1,000m ($108m). Thereafter, CMG invested Dh110m to increase capacity from 3,000t/d to 4,200t/d.
The process plant has recently been expanded to 6,000t/d in order to treat Hajar ore blended with material trucked from the company's new Drâa Lasfar mine, 15km west of Marrakesh, which started building up to full rate output in 2005. CMG employs approximately 260 people.
Geology and reserves
Hajar mines a polymetallic sulphide deposit hosted in upper visean rocks. Hydrothermal mineralisation occurs 120m below surface, in the contact zone between a lower volcano-sedimentary series and an upper sedimentary formation.
The upper part of a mineralised lens, comprising banded pyrrhotite, pyrite, blende, galena and chalcopyrite, is relatively copper-rich. During 2005, Managem reported that proven and probable reserves at the Hajar and Drâa Lafar mines had been increased by 1.2Mt and resources by 2.7Mt.
Drâa Lasfar will mine an envelope of ore 1m to 25m thick, 525m long and dipping at 70° to 80° to at least 700m depth. Pre-production reserves and resources totalled 7.79Mt grading 5.52% zinc, 2.3% lead and 0.27% copper. During 2005, significant resources were discovered down-dip from the current mine, and feasibility studies commenced.
Mining
Mechanised trackless mining utilises a ramp for machinery access and air intake, automated ore hoisting in the 500m Shaft No.1, ventilation via Shaft No.2, and 800m³/d backfill delivery from surface via the No.3 and 4 Shafts. The ramp descends to the crushing station and pump room at 450m.
The core of the principal orebody has been extracted via three main levels, using sub-level caving (65% of output) and the rill mining cut-and-fill technique (alternate cuts filled with cement/tailings and waste rock backfill). Today, however, mining is concentrated at the edges of this orebody and in smaller subsidiary mineralised areas.
Here a modified cut-and-fill technique called M630 accounts for 80% of the output, with rill mining contributing 15% and sub-level caving only 5%. Consequently, total output has tended to decrease and Drâa Lasfar has been developed to compensate for this.
"Recovery to previous levels of output is anticipated by 2008–9."
Face drilling is done with Atlas Copco RB282 and Tamrock Axera rigs, and longhole drilling with an Atlas Copco Simba H250. Toro and Atlas Copco Wagner LHDs haul to the ore passes. Getman utility vehicles are used for scaling, bolting and loading explosives. The mining rate is up to 4,500t/d (1.5Mt/y).
Drâa Lasfar is a cut-and-fill operation, and is equipped with an Atlas Copco drilling, loading and trucking fleet, and Getman service vehicles.
Ore processing
Comminution starts underground, where the Nordberg underground jaw crusher produces –120mm feed. On surface, Nordberg HP200 cone crushers supply Allis/Svedala rod and ball mills that feed 10mm material to flotation. Banks totalling 35 Dorr Oliver and Outokumpu conventional mechanical cells sequentially separate lead-silver, copper and zinc concentrates.
The zinc concentrate is subsequently heated and passed through Sala magnetic separators. Thickened concentrates are filtered in two stages by Vernay vacuum and Larox pressure filters, reducing moisture to the 10% shipping limit.
The subsequent expansions utilise the same process route but with Outokumpu tank cells and Kumera regrind mills. Outokumpu online analysers and a Bailey distributed control system optimise the whole operation.
With recovery rates of 75% lead, 70% copper and 94% zinc, Hajar produces concentrates grading of 68% Pb, 28% Cu and 52% Zn, which are delivered by road and rail to the port of Safi for shipment mainly to European customers.
Production
Concentrates production at Hajar has generally declined in recent years as the core area has been worked out and ore grades have decreased. Zinc concentrate production increased 4.5% in 2002 to 172,560t and lead concentrate by 12.3% to 29,890t, although copper-in-concentrate fell 6.9% to 17,799t. Output has seemingly declined since then but costs have been reduced. Recovery to previous levels of output is anticipated by 2008–9.