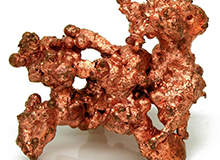 Tintina Resources, a North American copper company, is developing the 100% owned and leased Black Butte copper project near Helena in Montana, US. The property is hosted on approximately 12,000 acres of both long-term mining leases on private ranch lands and 100% owned federal mining claims.
The project will involve the construction of an underground mine with a processing capacity of up to 3,300t/d of mineralised material using a conventional flotation circuit, producing a single copper concentrate. Besides copper, the Johnny Lee deposit within the project hosts significant quantities of cobalt and silver.
"The mine is expected to have a life of 11 years and generate approximately 300 jobs during construction and 200 jobs during operational phase."
The preliminary economic assessment (PEA) report for the project was completed in July 2013 and the pre-feasibility study is anticipated to be completed in the fourth quarter of 2015. The mine is expected to have a life of 11 years and generate approximately 300 jobs during construction and 200 jobs during operational phase.
Black Butte copper project location and geology
The American copper project was first discovered in 1980s and consists of a three flat-lying sediment hosted copper deposits. It is located approximately 20 miles (32km) north of White Sulphur Springs Community in central Montana, and is approximately 100 miles (160km) south of Great Falls.
The copper-cobalt deposits of the project occur in middle Proterozoic sediments of the Belt Supergroup and are extensively exposed in an eastward protrusion of the Rocky Mountain chain known as the Helena Salient in central Montana.
The Black Butte massive sulphides, hosted within the Newland Shale, consist of an approximately 760m-thick, lower shale-dominated part and an upper carbonate-dominated part with a thickness of approximately 350m.
Sulphides at the Johnny Lee deposit, the most prominent region of the mine, are concentrated in two copper rich zones namely the upper zone (UZ) and the lower zone (LZ). The Johnny Lee UZ is capped by barite-rich sulphides, and is made up of a lens of fine-grain bedded sulphides.
The Johnny Lee LZ consists of bedded and replacement pyrite with high concentrations of replacement chalcopyrite. The zone is strongly silicified, with coarser sulphide grain sizes, vein-like and replacement textures dominating the fabric of the mineralised zone.
Black Butte copper project reserves
The Black Butte copper mine is estimated to contain 15.7 million tonnes (Mt) of measured and indicated mineral resources grading 3.4% Cu, and containing 533,600t of copper. Inferred resources are estimated to be 2.3Mt grading 2.8% Cu, containing 63,500t copper.
Mining and processing of ore from Black Butte
Cut-and-fill and drift-and-fill methods will be applied at the underground mine, which will be accessed via a haulage ramp.
The mine plan includes underground development in the first year from the pre-existing exploration decline that lies approximately 1km from the portal.
The 3,300t/d process plant is designed to process massive sulphide mineralisation containing copper and associated cobalt and silver. Full production rate is anticipated to be achieved in the third year.
---
---
The Las Bambas open-pit mine is located between the Cotabambas and Grau provinces of Apurímac region, approximately 72km south-west of Cusco City, Peru.
---
The run-of-mine (ROM) ore from the underground mine will be transported to the primary crushing area by haul trucks. It will be crushed by a jaw crusher to 80% passing 125mm and then ground to 80% passing 38µm in a SAG/ball mill/tower mill primary grinding circuit.
The ground material will be processed using copper rougher flotation followed by copper rougher concentrate regrinding. The reground copper rougher flotation concentrate will be upgraded by three stages of cleaner flotation.
Copper rougher flotation tailings will be dewatered by thickening prior to being delivered to the backfilling plant or to the tailings management facility (TMF). The third cleaner flotation concentrate, which is expected to contain approximately 23.5% copper, will be thickened and then pressure-filtered before shipping to smelters.
Infrastructure facilities at Black Butte project
Power is anticipated to be supplied by extending the nearby 69kV line at White Sulphur Springs substation or from a 100kV line to the east of the mine site at Kings Hill, located approximately 17 miles (27.3km) from the site.
Fresh water from wells drilled on the mine site will be supplied to serve the process and potable water requirements.
Key players involved with the development of Black Butte
Tetra Tech, a company based in Vancouver, prepared the preliminary economic assessment report.
AMEC prepared the underground mining and backfill costs, while Knight Piésold was engaged to estimate the capital costs for the tailings and reclaim, and water management facilities.