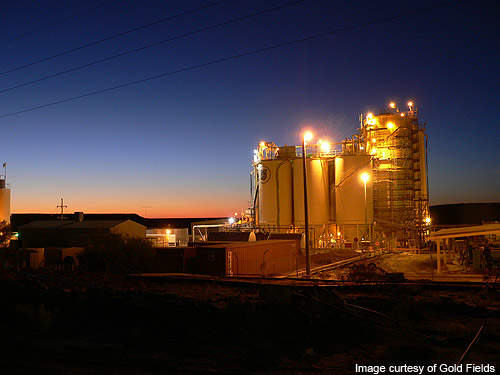 Agnew Gold Mine is located 1,000km northeast of Perth in Western Australia. It is owned and operated by South African company Gold Fields.
Gold Fields is the owner and operator of the Agnew gold mine. Credit: Perenti Global Limited.
EDL built the largest hybrid renewable microgrid in Australia to power the Agnew mine. Credit: EDL Energy.
The hybrid renewable microgrid includes an 18MW wind farm with five 110m wind turbines. Credit: EDL Energy.
The Agnew gold mine is an underground gold mining operation located 870km north-east of Perth in Western Australia. It is owned and operated by South African company Gold Fields.
The deposit was first discovered in 1897. Initial mining activities were carried out by Waroonga Gold Mines until 1948.
The mining lease was acquired in 1976 by Agnew Gold Mining Company (AGMC), a subsidiary of the Western Mining Company. Gold Fields acquired the project from Western Mining Company in 2001.
The mine produced 233,300oz of gold in 2020. Production dropped by 4% to 223,000oz in 2021 when compared to 2020.
Location and geology of the Agnew deposit
The Agnew gold mine is located in the East Murchison Goldfields region, approximately 23km west of Leinster and 375km north of Kalgoorlie.
The deposit lies in the Norseman-Wiluna Greenstone Belt of the Yilgarn Craton.
The belt is dominated by a series of mafic to ultramafic volcanic rocks and associated interflow sediments.
Mineralisation and reserves of the Agnew gold mine
The intersections between various structures and the corresponding stratigraphy serve as the primary hosts for the Agnew deposits. Quartz veins account for most of the gold mineralisation, within the sedimentary strata of the Scotty Creek Formation.
The significant gold deposits of the mine are present along the western limb of the Lawlers anticline.
The proven and probable reserves of the Agnew gold mine are estimated at 5.13 million tonnes (Mt) while contained gold is estimated at 1.01 million ounces (Moz) of gold grading 6.13g/t, as of December 2021.
Mining at the Agnew gold mine
The gold project currently extracts ore from two underground mining areas, namely Waroonga and New Holland, which have been integrated to operate as a consolidated mine complex.
Mining at the Waroonga deposit involves long-hole sub-level stopping with cemented paste fill.
New Holland is mined using long-hole open stoping, and inclined room and pillar.
The project plan also includes the development of the Redeemer Zone 2 North and Barren Lands underground areas, which are proposed to be mined using long-hole open stoping with paste fill in selected areas.
Furthermore, the life-of-mine plan includes open-pit mining of Glasgow Lass, 450 South, Barren Lands, and Maria South. The open-pit mining will involve conventional drill & blast, and truck and shovel operations.
Processing details
The Agnew processing facility has a nameplate capacity of 1.3Mtpa. It comprises a conventional crush-grind-leach-carbon-in-pulp (CIP) circuit.
Ore produced from the mine is processed at the crushing and grinding plant from where it is transported to a gravity circuit and a CIP circuit.
The three-stage crushing circuit consists of a primary jaw crusher, followed by a secondary and two tertiary cone crushes with sizing screens to reduce oversized ore.
The crushed ore is sent to a two-stage primary and secondary ball milling circuit, followed by the gravity circuit, which includes two Knelson concentrators and an in-line leach reactor for cyanidation.
The CIP circuit comprises three leach and six absorption tanks followed by a pressure Zadra carbon elution circuit, and processing through electrowinning to recover gold.
The processing plant has an average metallurgical recovery rate of 93.5%.
Power grid at the Agnew gold mine
The hybrid renewable microgrid at Agnew was officially opened in November 2021. It comprises four main components, including a 13MW/4MWh battery energy storage system, an off-grid 21MW gas/diesel engine power plant, a  4MW solar farm with 10,710 panels, and an 18MW wind farm powered by five 110m wind turbines. All components of the microgrid are controlled by an advanced control system.
The power station, which is claimed to be Australia's largest hybrid renewable energy microgrid, also incorporates a predictive solar forecasting technology and demand-side load management.
It is expected to meet 50% to 60% of the mine's power needs from renewable energy.
The project received funding worth A$13.5m ($9.25m) from the Australian Renewable Energy Agency (ARENA), an agency established by the Australian Government, in July 2012.
Infrastructure details
Project personnel can take a chartered flight to the project site from Terminal 2 of the Perth Airport.
Located 1.7km from the mine site, the Agnew Village provides recreation facilities and amenities to the mine workers.
Built in 2019, the accommodation camp can accommodate 800 persons.
The water requirements of the mine are met from groundwater sources. The mine also uses water from the mining operations, in-pit tailings facility and old pits. A paste plant was built to the north of the Waroonga pit.
Supporting infrastructure includes workshops, training facilities, offices, a maintenance facility, an airfield, and an explosives area. A laboratory and a storage area for fuel and reagents are also part of the project infrastructure.
Contractors involved
International company Barminco is the underground mining services contractor for the Agnew project. The company received a two-year contract extension in February 2021 to provide full underground mining services until December 2023. The company has been providing services at the mine since 2010.
Mining services provider Operational Geotechs was appointed to provide underground geotechnical support as well as paste engineering and improvements.
Como Engineers was contracted in 2010 to remove the vertical combustion type regeneration kiln. The contractual scope also included retrofitting a new structure to the kiln hopper structure. The new structure includes a 250kg/hour Como/Custom Furnaces horizontal carbon regeneration system, a carbon conditioning system, and a quench tank.
Mintrex, an engineering consulting, project management and asset management organisation, was contracted in September 2018 to manage the Agnew Village (mine accommodation) project.
McNally Group was selected as the main contractor for the construction of the Agnew Village in December 2018 while ACOR Consultants acted as the design and engineering partner.
Lightspeed Communications and Electrical was engaged by Powerlines Plus to supply and install fibre-optic break out trays (FOBOTs), as well as terminate, test and commission all-dielectric self-supporting (ADSS) fibres.
Powerlines Plus was contracted to carry out voltage regulator installation for the project.
Sedgman, a provider of integrated minerals processing solutions, supplied and operated a fixed crushing and screening facility for 20 years. Gold Fields agreed to acquire the plant and take over the infrastructure and operatorship from Sedgman in December 2017.
Australia-based sustainable distributed energy producer EDL was contracted in June 2019 to design, build, own and operate the hybrid renewable microgrid that will power the Agnew mine, under a ten-year power supply agreement with Gold Fields.
Goldwind, along with plant joint venture partner NACAP, provided engineering, procurement and construction (EPC) services for the wind farm of the Agnew power project.
Goldwind will also provide warranty operations and maintenance during operations.
Cummins, a global power technology company, provided gas and diesel generators for thermal power generation as part of the microgrid project. It supplied nine C2000N5CB QSV91G gas generators, two C2250D5 QSK60 diesel generators, and a Digital Master Controller (DMC) 8000.
French battery manufacturer Saft received a contract from EDL to provide a lithium-ion (Li-ion) battery energy storage system for the microgrid.
juwi Renewable Energy was contracted by EDL to deliver a hybrid solar solution in 2019. It installed a 4MW single-axis tracking photovoltaic (PV) system, performed cloud forecasting, and delivered an advanced microgrid control system.
SMA Solar Technology provided the Sunny Central solar inverters, six Sunny Central Storage battery inverters, and an SMA Hybrid Controller for the hybrid renewable power project.
Entura was responsible for the development and integration of an advanced microgrid control system to control all the power systems of the microgrid.
The company also conducted studies related to power systems modelling and protection.