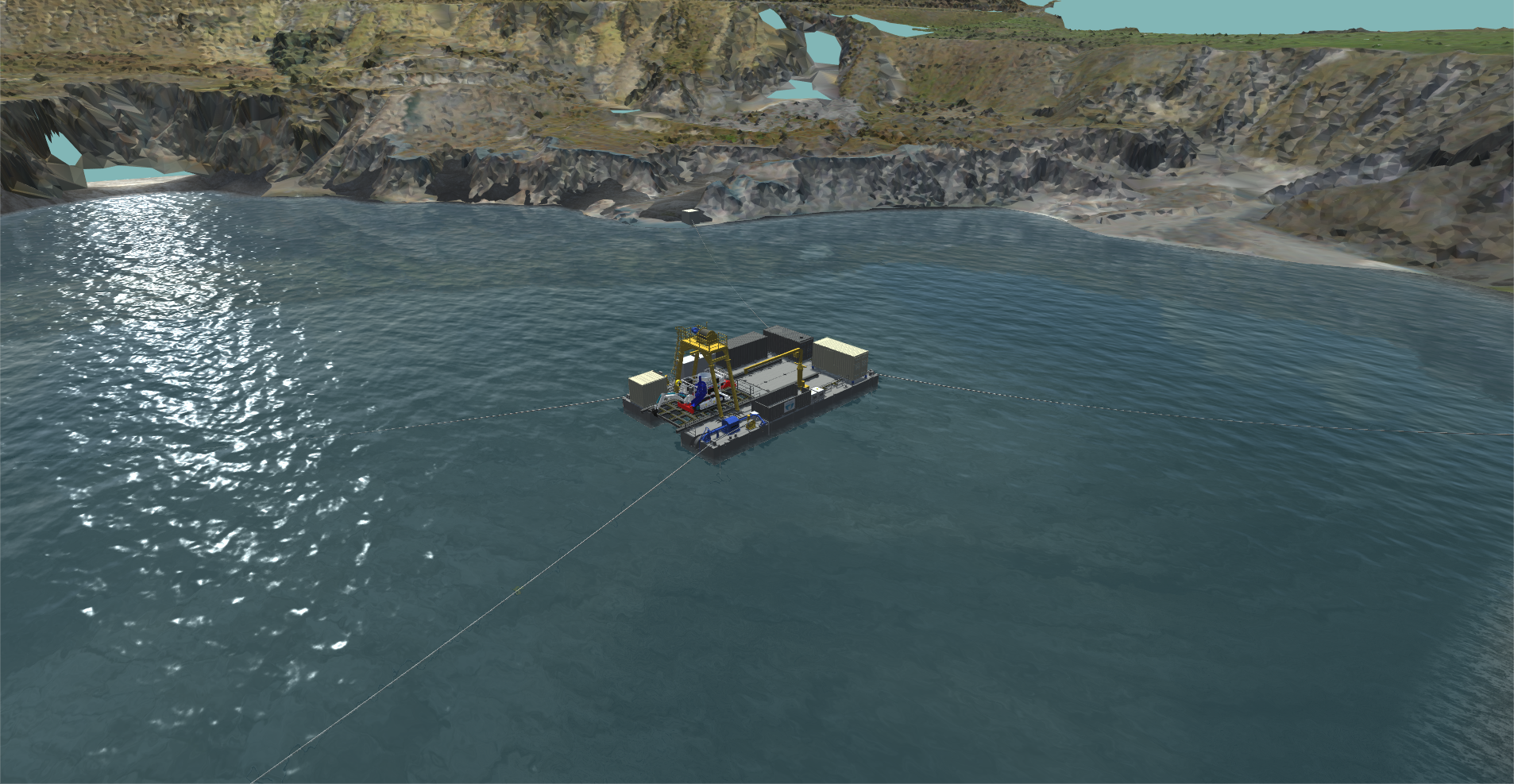 Many mining operations use a series of pumps to ensure that, despite precipitation and infiltrating groundwater, mines stay dry. But once these are switched off the water retakes them, flooding the mined voids. Across Europe there are 30,000 flooded mine sites, most of them abandoned once resources began to dwindle or it became too costly to keep the site safe and dry as works moved deeper below the water table.
The European Union's Viable Alternative Mine Operating System (VAMOS) project  aims to prove the use of underwater mining robots as an effective means of accessing abandoned, flooded, inland mine sites.
"Stef Kapusniak and other industry mining and dredging experts developed the concept and secured EU funding to enable the project to take place," explains Paul Arthur, SMD project manager and VAMOS work package leader. "The EU acknowledged that there are a large number of 'flooded' quarries and mines across the EU and neighbouring countries that could be viably exploited using this kind of technology."
Established in 2015, VAMOS is a Horizon 2020 programme made up of a consortium of 17 partners from around Europe. Designed to last 42 months, VAMOS intends to help provide access to mine sites that have become attractive due to resource scarcities, changes in demand and value, and Europe's increasing reliance on imports.
Currently, the EU represents 25%-30% of global demand for metals while it only produces 3%; mineral imports currently stand at 200 million tonnes (Mt) per year. VAMOS hopes to reduce this gap, easing imports and ensuring its supply of metals in a safe and sustainable way.
Growing reliance on technology has led to a boom in demand for minerals used in high-tech products, such as rare earth metals, PGMs, antimony, germanium, gallium, niobium, indium, beryllium, cobalt, tantalum and tungsten, for all of which Europe relies entirely on imports. Alongside is a greater need for copper, zinc and nickel, of which, production is limited in Europe.
This changing demand for minerals together with improved mining techniques has led to the reassessment of many deposits, and it seems that remaining high-grade ore bodies could help make a dent in the annual imports record.
VAMOS – underwater mining vehicles roll out
VAMOS enables remote operation of underwater mining vehicles (MV), which are specifically designed so as not to affect the local groundwater. The MVs, currently at prototype stage, are controlled by a programmable logic controller similar to those used by offshore oil and gas companies in remotely operated vehicles. Cutter-heads are used to dislodge and collect the ore before pumping it as slurry to the surface. MVs support exploration, working with the VAMOS automated, unmanned vehicle which assists with positioning, navigation and situational awareness, as well as conducting mine site surveys.
"The system is designed to recover product from flooded mines/quarries using cutting and dredging technology on board a tracked vehicle which is launched to/from a launch and recovery vessel (LARV) and transports material out of the water body using flexible riser pipes," says Arthur. "The MV is operated remotely from a control cabin on land via an umbilical system, which also transfers data and images from the underwater surveillance system."
Above the mining vehicles, on top of the water, sits the support barrage, the LARV. The LARV acts as an interface between the pit floor and the control cabin. Its umbilical attachment is an armour-covered cord that provides power and fibre-optic connection, while the hose is used to pump the slurry out of the mine and return wastewater back. Once the slurry arrives onshore it is dewatered, the ore retained and the water replaced in the pit.
Using MVs at flooded mines has the potential to minimise the associated environmental and social concerns. The use of cutter-heads means there's no blast noise and vibration is kept to a minimum; there's less waste as materials do not have to be stripped from the mine to reach the ore body, and groundwater levels are not disturbed by aquifer draw-down, as no pumping means water levels remain the same.
The water itself provides various benefits, such as helping lift the rocks to the surface, eradicating dust, lubricating equipment and cooling motors. By working with the water in submerged pits, the technology can not only mitigate the problems of safety, cost and increased energy usage created by flooding, but benefit from the water itself.
Demonstrating its potential
In October 2017, VAMOS put on a demonstration project using a scaled down system. "The purpose of the demonstration was to test the operability and viability of a prototype submerged mining system" says Arthur. "At 24Te dry weight, the MV is around 25% scale of what we would anticipate a full-size machine to be."
Imerys' Whitehill Yeo pit at the Lee Moor mine in Devon, UK, was chosen for the demonstration.
"A few of our closed and flooded kaolin quarries in Devon and Cornwall were considered and Whitehill Yeo pit at Lee Moor, Devon, was deemed to be suitable and selected," says Guy Mayhew, Imerys UKP deputy non-operational areas manager. "The pit is a flooded kaolin quarry, which ceased operation in 2008. The kaolin, also known as china clay, is a decomposed form of granite and is being used in countless industrial applications. The VAMOS team expected to encounter weathered granite in various grades in this pit."
The VAMOS team invited advisory board members and other guests to see the mining vehicle in action, where they were able to watch from the control room, which was fitted with a virtual reality human machine interface allowing activities to be constantly monitored. The laser induced breakdown spectrometer (LIBS) provided the project with real-time grade control and mineralogy information. LIBS has already been perfected for use with several commonly found minerals, and its range will be further expanded.
"The consortium should be extremely proud of their efforts. What they have managed to achieve with the VAMOS system and its integration of new technologies is very impressive," said National Oceanography Centre geologist Bramley Murton.
VAMOS and the demonstration at Lee Moor were made possible through European cooperation. Amongst other contributing companies, the LARV was built by DAMEN Dredging from the Netherlands, while INESC developed the positioning, navigation and awareness system in  Portugal, and Soil Machine Dynamics completed the MV and control system design and assembly in the UK.
The demonstration was a success and mining activity continued for a week. "Productivity will be calculated from the data collected during the trials and extrapolated to evaluate commercial viability," says Arthur.
VAMOS has a second demonstration taking place later this year in Vares, Bosnia & Herzegovina, where the company will test the technology at a water depth of around 120m and with relatively hard ground conditions. The data gleaned from the first run will be used in VAMOS's continued research and design, making further improvements as it works towards the next demonstration.