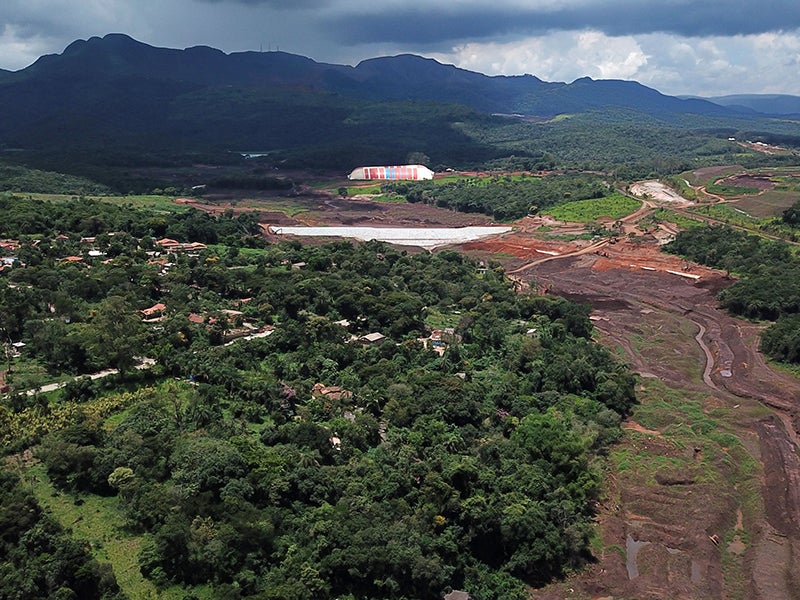 At the end of April 2022, the US Securities and Exchange Commission (SEC) charged Brazilian mining giant Vale, which is among the world's largest iron ore producers, with making false and misleading claims about the safety of its dams prior to the January 2019 collapse in Brumadinho.
As has been well documented, the collapse killed 270 people, caused immeasurable environmental, social and human harm and led to a loss of more than $4bn in Vale's market capitalisation.
The SEC claims that, beginning in 2016, Vale manipulated multiple dam safety audits; obtained numerous fraudulent stability certificates; and regularly misled local governments, communities and investors about the safety of Brumadinho through its environmental, social, and governance (ESG) disclosures.
The complaint also alleges that, for years, Vale knew Brumadinho, which was built to contain potentially toxic by-products from tailing operations, did not meet internationally-recognised standards for dam safety.
The impacts of the trial could be telling for the global mining industry. Harvard Law School on Corporate Governance asks if the SEC's approach signals a new legal pathway, whereby public companies must consider more carefully how ESG disclosures and statements will be examined should mining disasters happen.
"The [SEC] Enforcement Division's focus on ESG-related issues is likely to continue," notes Harvard. "The SEC's action against Vale provides a roadmap for how they will approach these issues and this framework can help companies better prepare for this scrutiny."
Depending on the trial result, heightened focus on ESG transparency and potentially a new era of international scrutiny on mining majors may be coming.
Damning accusations
The SEC's charge runs to 76 pages of detailed and damning accusations. Among the more notable, Vale is accused to have; "removed auditors and firms who threatened Vale 's ability to obtain dam stability declarations; and made false and misleading statements to investors."
Critically, the charges allege that "since at least 2003, Vale had been aware of information indicating that the Brumadinho dam was dangerously fragile. Following the Mariana dam disaster, Vale identified the Brumadinho dam as one of six critical dams that required attention and presented significant liquefaction failure risk.
"Despite these risks, Vale knowingly or recklessly suppressed the findings of its own retained experts," the SEC continues. "The Vale executives and employees who were responsible for monitoring the stability of Vale's dams deceptively manipulated the processes that they supposedly safeguarded."
Other allegations in the SEC's document include backroom deals with auditors to comply with Vale's demands in return for lucrative contracts, and that between August 2016 and January 2019, Vale fraudulently obtained eight positive stability declarations for the Brumadinho dam in connection with each of the several different audits that occurred in this period.
"To obtain these stability declarations, Vale suppressed adverse information about the dam, used flawed and unreliable data to perform safety analyses, strong-armed independent auditors and ignored international safety standards and best engineering practices that it claimed to follow," alleges the SEC.
Financial and human impacts
An SEC spokesperson says that each investigation is unique and its duration will depend on the facts and circumstances. Importantly, the spokesperson also notes that the charges concern Vale's disclosures about safety at its mines, not mine safety itself, which is an issue beyond the SEC's jurisdiction.
The hint here is that the SEC is distancing itself from any influence over the broader processes of safety audits and certification in global mining, how they work and whether they are fit for purpose. Its concern is solely on the validity and truth – or otherwise – of Vale's corporate disclosures.
More candidly, asked whether the investment angle is important and if it is the SEC's job to is protect investors and the public by preventing and charging on abuses that mislead, the spokesperson replied that yes, it is.
"The investment angle is essential for the SEC, and the basis for our jurisdiction over this case. The SEC oversees the US securities markets, and has a tripartite mission, the first prong of which is to protect investors."
This comment is fascinating, because it reveals the key legal basis for the charge lies in the financial issues implied by the alleged ESG manipulations. In other words, it's the money that's directed and influenced by ESG that calls the shots, or as Harvard and Mayer Brown more frankly put it: 'At its heart, this is a case about fraud, there is an environmental and social angle that the SEC highlights in its complaint.'
What happens now?
Vale's statement on the allegations is unsurprising, denying the accusations.
"The lawsuit focuses on disclosures related to Vale's dam safety management prior to the tragic dam failure in Brumadinho, Minas Gerais, Brazil in January 2019.," said the miner."Vale denies the SEC's allegations, including the allegation that its disclosures violated US law, and will vigorously defend this case. The company reiterates the commitment it made right after the rupture of the dam, and which has guided it since then, to the remediation and compensation of the damages caused by the event."
So, a trial is coming. In it, one of the world's mining majors will face off against a powerful agency tasked with, at its core, protecting investors and their money from being misguided by corporate ESG manipulation.
Mining is an international industry, and there are big questions posed in this trial. As Bloomberg Law points out, the theories the SEC will use against Vale could, if successful, be applied in other circumstances where a company's public statements are inconsistent with environmental or social harm caused by that company's operations.
Bloomberg argues such a prospect should be of most concern to companies that have operations with potentially significant consequences in the event of a catastrophic failure.
The implications are therefore twofold. Can anything legally stick through an internationally-based case against a massive business? And secondly, if it can, how many other mining giants must rush to re-examine their transparency or otherwise on ESG, which indirectly controls billions in investment worldwide?
A recent case could help set a precedent for the Vale allegations. On May 23 2022 the SEC charged BNY Mellon Investment Adviser for misstatements and omissions about ESG considerations in making investment decisions for certain mutual funds it managed. To settle the charges, BNY Mellon Investment Adviser agreed to pay a $1.5m penalty, and it would not be unreasonable to conclude that BNY felt the case was unwinnable, or at the very least represented bad PR.
Clearly then, the SEC has demonstrated an ability to level charges at a private firm, and wields an influence which can be measured in the millions of dollars. The Vale trial hinges on money and where and how ESG guides its placement, but its impacts will be wider still; across sustainability and safety in mining globally, across green finance and across how a truly responsible, modern mining business behaves.