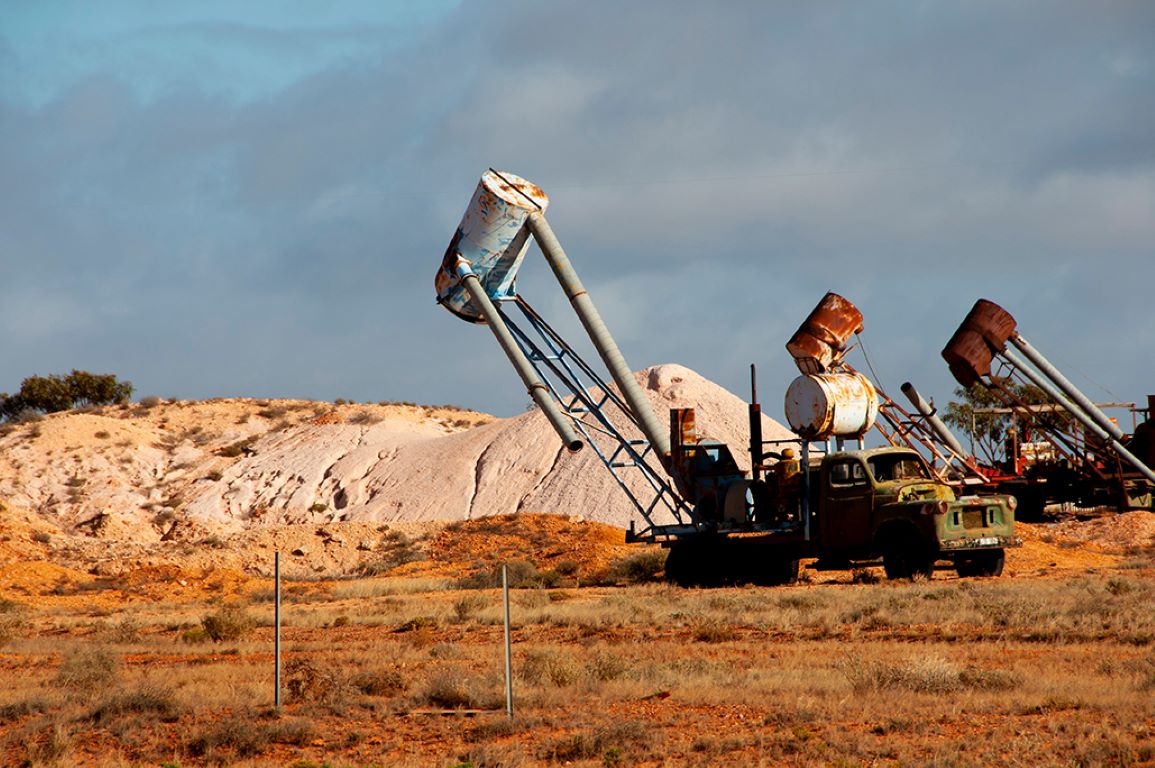 Centuries ago, some people lived underground to cope with challenging climatic conditions, but the idea was not widely accepted. Considering the recent environmental changes due to global warming and climate change, it would not be too far to say that underground living will come back as a sustainable living option.
Opal mining in Australia began in the late 1800s, but the commercial value of opals grew in the 1900s. Australia became the world's largest producer of opals and still produces 95% of opals used in jewellery globally.
Opal is a precious stone composed of amorphous silica and water. They are multi-coloured and patterned, used in jewellery and ornaments.
Opal mining is big in three states in Australia: Queensland, New South Wales (NSW), and South Australia. White or milky-coloured opals are mined in South Australia, black opals in Lightning Ridge, NSW and boulder opals in Queensland.
However, Coober Pedy is the town claiming the title of Opal Capital of the World.. Situated in Stuart Range, South Australia, it has the largest opal fields and production, and produces the bulk of all white opals.
Additionally, the town is one of the most interesting mining sites the world has seen. Coober Pedy is known for its underground habitat, as most of its population lives under the ground, in the mine sites.
Living in "dugouts"
Opal-hunters made their way to Coober Pedy and adapted to living underground in so-called "dugouts", for their favourable temperatures of 23℃ to 25℃ regardless of the conditions above ground. No building materials were used to build these underground homes, and this form of sustainable living still prevails in Coober Pedy.
"The beauty of living underground is that it's very quiet and still. There's no air movement or rush of air from the air conditioner, and since there are no windows or natural light, you get a very peaceful night's sleep," Robert Coro, managing director of the Desert Cave Hotel, told US science and nature magazine Smithsonian.
Coober Pedy has become a tourist attraction that lets people explore its underground caves, movie theatres, museums, churches and hotels, serving a full cross-section of underground life. But this was not the case around 100 years ago, when Coober Pedy was a ghost town. With no hotels or government buildings, Coober Pedy only had the barren land of opal mining fields. In contrast, the current "modern town" has all the amenities and regulations to foster a safer environment for people to live in, particularly as most of the .
The boy who found opals in Coober Pedy
While Australia's Aboriginal people have inhabited Coober Pedy for countless centuries, miners first discovered opals in the region in 1916.
Opal was found in 1915 by a teenage boy of 14 years who, according to local lore, was on a school excursion when he accidentally discovered a stone that would inspire generations of would-be miners.
Construction workers and soldiers from the First World War followed others to the opal fields. They were followed by plummeting opal prices during the Great Depression in the 1930s and 1940s when production was forced to shut down. An Aboriginal woman, Tottie Bryant, made a historical find of many more opal fields at the Eight Mile Field in 1946.
In earlier days, opal was usually mined by two or more people sinking a vertical shaft, tunnelling, and following the opal level using shovels and picks. However, since the 1970s, the use of mining machinery has increased rapidly in the area.
Coober Pedy's rapid expansion
Since the discovery of opals in Australia, its mining industry has expanded rapidly all over the world, and many migrants came to "seek their fortunes", Coober Pedy's website states.
"The late 1960s was the start of growth in Coober Pedy, due in part to a greater demand for opal but also to the influx of many European migrants with the dream of making their fortune," the District of Coober Pedy said in a report.
"It was the beginning of mechanisation on the field as well, which continued unabated through the 1970s, 80s and 90s, resulting in opal mining developing into a multi-million dollar industry and Coober Pedy becoming a modern mining town," it says.
Coober Pedy came from the Aboriginal word "kupa piti", which roughly translates to "white man in the hole". Summer temperature in Coober Pedy reach average highs of 36.7°C in the summer, with average lows of 6.4°C in the winter. The caves insulate against this variation, providing more temperate heat year-round.
Archives from 1952
People in Coober Pedy don't just live underground for its favourable temperatures but for its affordability. The BBC reported that Coober Pedy generates all its electricity, 70%, through wind and solar power.
Town locals and natives in Coober Pedy carry out digging operations. In August 1952, according to a story from local newspaper Longreach Leader, Bill Oliver, working as a postman at the underground post office, came into the region in 1920 after the First World War.
In 1952, the then over-70 Oliver "welcomed visitors, putting them up in his dugout, showing them over the diggings and abandoned shafts, and regaling them with stories of the town's heyday," the report said.
After giving up "serious gouging", Oliver still firmly believed in the revenue that could come from Coober Pedy, saying the "wealth has only been scratched, and there is a fortune lying around the district".
According to the newspaper, some years before 1952, a few railway workers from Adelaide spent a month's holiday in the town. There they found rocks later recognised as opals worth £25,000, equivalent to approximately £600,000 or $770,000.
Around the same time, buyers from Adelaide, Melbourne, and Sydney visited Coober Pedy regularly to export gems around the world.
"The superstition that opals were unlucky did considerable damage to the trade, but the popularity of these stones during the Second World War, when American servicemen were the best buyers, has broken down the prejudice to some extent," the Longreach Leader reported.
The dimming shine of opals
Coober Pedy is likely the most famous opal-mining town due to its unique characteristics.
According to the government of South Australia, Coober Pedy raised revenue worth A$187,187 (about $121,632) in the financial year 2021-2022.
However, according to a report by the Australian Parliament House, Coober Pedy has suffered significant declines in revenue recently as no new mining fields were found.
The opal mining industry in Australia is "not achieving anywhere near its true potential", and the industry is achieving "20% to 50% of its value potential", the report said. Resources are far from exhausted, but mined opal "is being sold at prices far below its potential", discouraging development.
"Much of the mining now is working over old mines, where their returns are nowhere near what they originally were. The cost of reworking these mines is high, relative to the value of the finds," it states.
According to the government, one of the reasons for the decline in production is limited research in geology and the science of opal exploration, as it remains "less well known than with other minerals".
Regardless of the depleting population in Coober Pedy, inconsistent opal mining has generated much revenue for the country. Even now, the government believes that an abundance of opals remains in the area, waiting to be discovered. Coober Pedy's other tourist attractions are on the rise, so the town will remain unique and famous, even if its mining industry recedes.