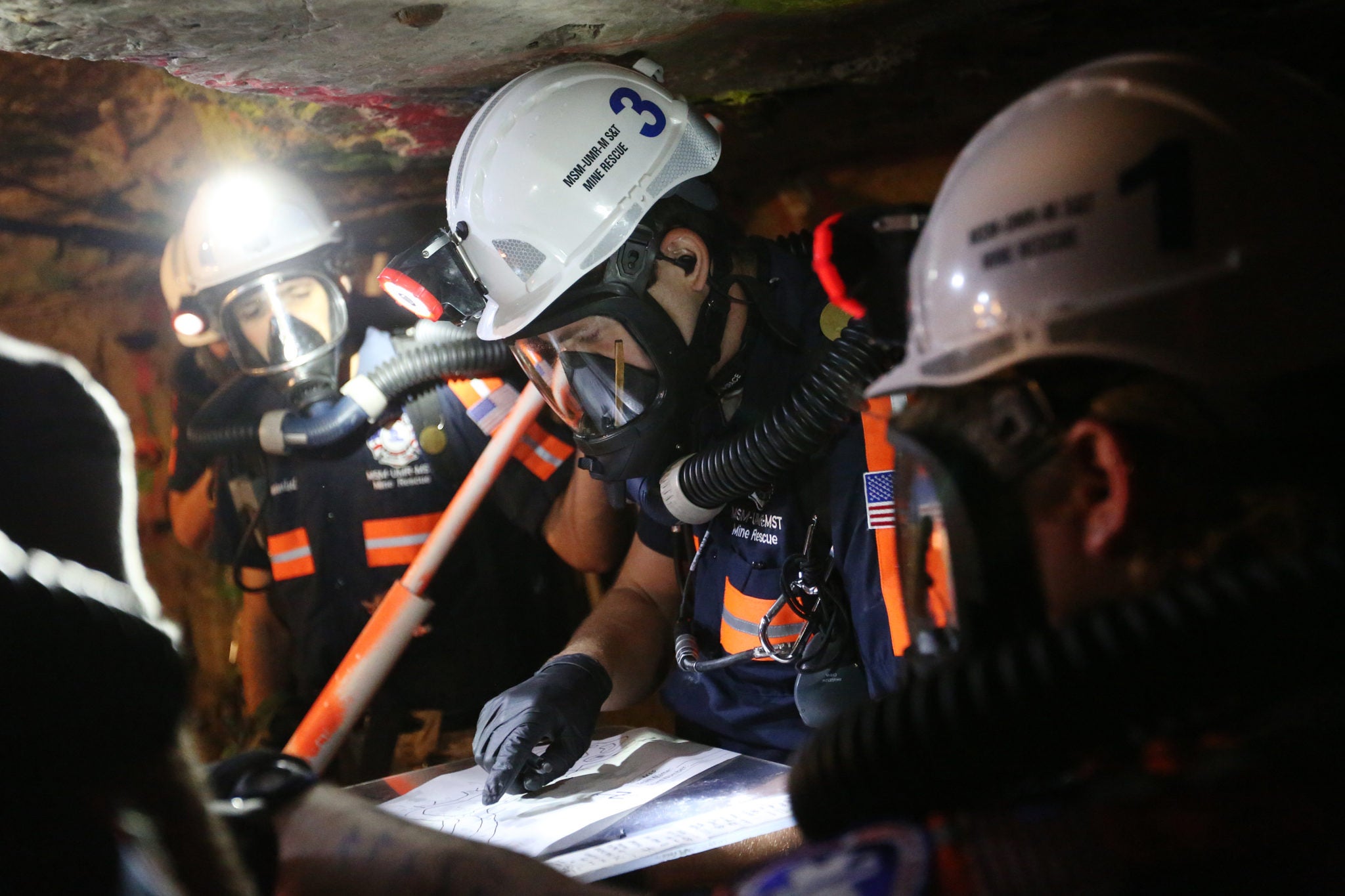 Just as mining operations have evolved over the years, with technological innovations and safety awareness working to tighten regulations and risk management efforts, so we've also seen rescue efforts evolve to become a well oiled machine. The latest example, at China's Hushan gold mine, is a perfect representation of this: a feat made possible by the streamlining of rescue services over the years, showcasing how both technology and attitudes around best practice are shaping the mine safety landscape.
While health and safety within the mining industry has made significant strides over the years, it remains a hazardous occupation. Depleting ore deposits are forcing miners to move to increasingly remote and deep locations to source material.
Accidents are therefore still a common enough occurrence, particularly in hard rock mining. Yet the capacity of rescues has grown, with operations being carried out against the odds of unstable terrain, as well as the depth and number of those trapped. Here, we look at some of the novel technologies and organisational approaches that are making mine rescue an art in and of itself.
Wearable tech
Technological advancements are accelerating in almost every industry in modern life, and while predictions of just what will take off next vary, one certainty is that the progression of mining safety technology is only going to continue. A Deloitte report highlights the proliferation of new technologies in response to mine sites becoming increasingly remote, with a huge part of this new landscape being seen in wearable technologies.
When it comes to monitoring the physical state of those trapped, wearable tech can be instrumental in fine tuning readings of vital signs such as body temperature, heart rate, biopotential measurement, and barometric pressure. Companies have been developing a range of wearables to allow for real-time monitoring of workers, with one of the most popular ones being smart hard-hats.
US-based Guardhat has developed a helmet equipped with sensors that can detect workers' safety in their immediate surroundings, while Canadian-based K4 Integration issues personalised hard hats for each of their workers that provide real-time information on their location and the state of the mine. M3SH Technology, a health and safety electronic equipment manufacturer in New Brunswick, similarly developed a helmet that monitors ambient conditions within a mine, as well as workers' vitals.
These wearables can also allow companies to keep tabs on workers' location, helping to pinpoint those in distress.
Using lifeline shafts
With miners trapped below ground, creating and utilising any passageway available (however small) is crucial. Over the years, they've been used as a channel for both physical and emotional means of support for the miners below.
In a 2018 incident in West Virginia, giant fans pumped fresh air to those trapped, as well as water, which had blocked several passages of the cave. Meanwhile, at the Hushan mine, rescue teams used these shafts to lower food and medicine, as well as life detectors and nutrient solutions.
These passageways are also typically used for communication, not only allowing those on the surface to learn of the state of those trapped, but also to drip feed messages from loved ones to the workers. In the case of the Beaconsfield mine in Tasmania, such passages allowed psychologists to offer counselling and support to those trapped for extended periods of time.
The importance of collaboration
Mining rescue operations are no longer simply the job of miners themselves; in a Harvard paper on the 2010 mining rescue in Chile, collaboration between individuals from different fields is cited as the reason for the operation's success.
"The case illustrates the centrality of diverse perspectives in producing innovation," author Amy Edmundson writes, "as well as the importance of leadership in making it happen."
Experts such as engineers, geologists and drilling specialists were brought on board to help, as well as medical staff from NASA to offer advice on maintaining physical and mental well-being whilst being kept in small quarters.
Coordination and collaboration throughout a team is vital in pulling off a successful rescue mission. The point has also been made in that integration of tech into a mine's operations requires communication with the mining workforce themselves, ensuring that they are up to date and aware of the new technologies and their implications.
Sensing technology
Integrated sensor technology and the connection of multiple devices onto a main server means monitoring services are being streamlined, with problems and dangers identified and reported in real time. Sensor technology used in mapping mining locations can also be harnessed to pinpoint unstable or fragile terrain, as well as locating workers who've been trapped.
Hexagon Mining released an automated vehicle platform that allows miners to receive equipment visualisation, with alerts on hazardous areas for both people and machinery. While more of a preventative measure than a rescue tech, the platform showcases the advancements of technology in the industry and how automation is anticipated to significantly target accidents in mine sites.
Indeed, in a recent report on the future of mining in Australia, consulting group BDO predicted that: "By 2020, robots will replace more than 50% of miners, and mining accidents will be cut by 75%."
Robotics
The use of technology to both prevent and aid in the event of cave-ins has of course been extended to the creation of mine rescue robots. One example was developed by the Intelligent Systems, Robotics, and Cybernetics group at Sandia – named the Gemini Scout Mine Rescue Vehicle.
Designed to with-stand a number of different terrains (including up to 18 inches of water), the Gemini Scout is intended to aid in search and rescue missions. Equipped with cameras and sensors, it allows communication with those trapped, and feedback to those on the surface on both the physical conditions of the miners and the structural condition of the mine itself.
The presence of harmful gases in the mine shaft is also a point of concern for rescuers, and the use of a robot to measure levels of these gases can be incredibly helpful.
Given the rapidly changing nature of mines and the structural challenges encountered in reaching trapped miners, the creation of a widely marketable robot is no easy feat, and many of those designed have not yet been deployed. However, more are under development and we're getting closer to a usable solution.
While accidents remain an inevitable part of the mining industry, technological advancements are forming an increasingly tight safety net that are working to aid workers if they become trapped, and, one day, eliminate dangers altogether.