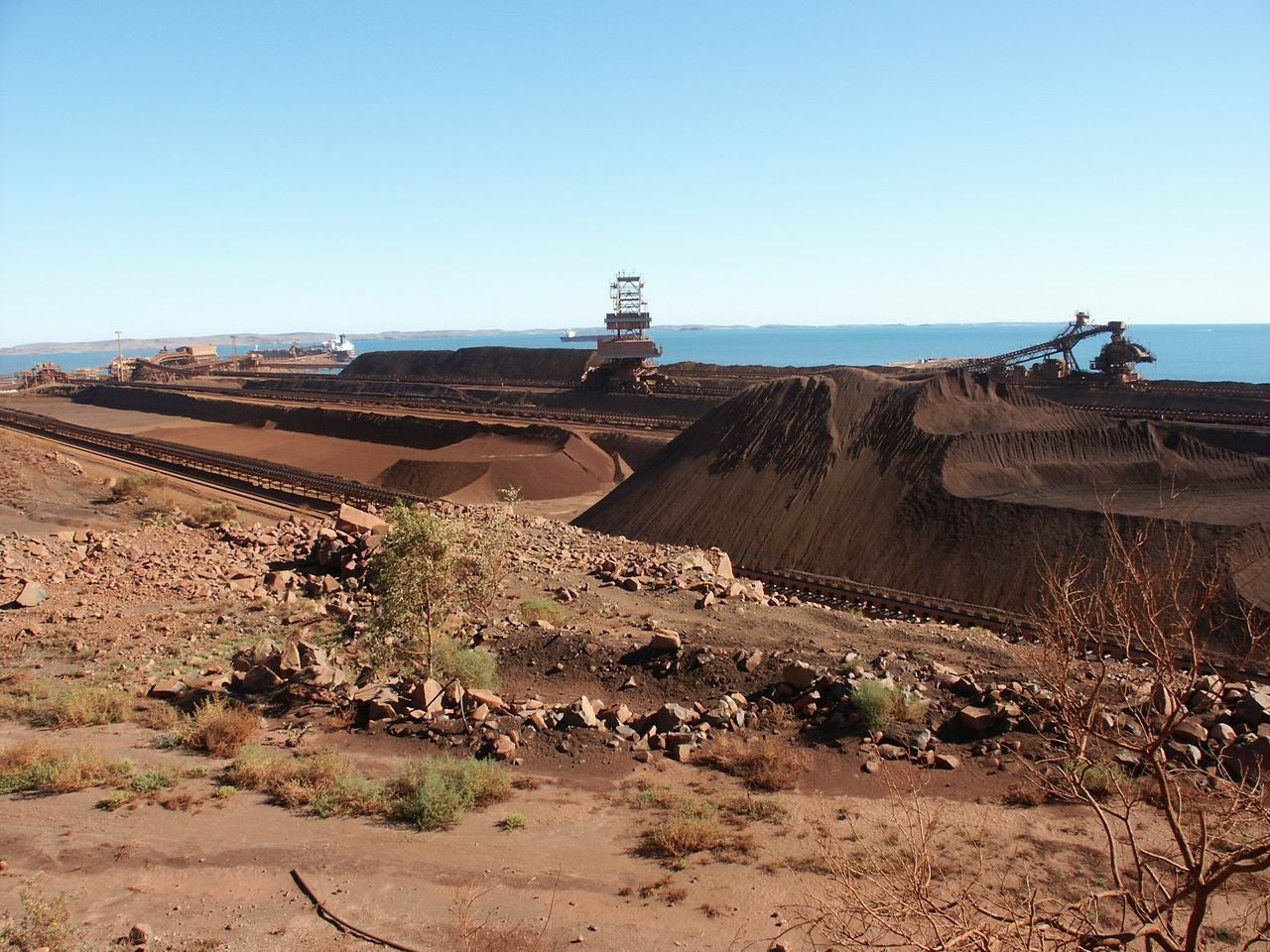 Iron ore has always been an important commodity due to its application in steel, a key resource for building infrastructure, housing, and manufacturing equipment. While the Pilbara region in Western Australia is rich in the metal, the country exports nearly all of its iron ore production, due to the lack of major steel production in the nation.
Australia has been exporting iron ore for over 50 years, having started providing to Japan in the 1960s to support its post-war development and growth.
The rapid growth of China's economy in recent years has made the country the world's largest steel producer and a main export market for the Australian iron ore industry. Today, China accounts for around 80% of Australia's iron ore exports by volume.
The history of Australian iron ore mining began in the Pilbara region with the first mine, the Goldsworthy, developed in 1965 by Mount Goldsworthy Mining Associates, a joint venture between the British-owned Consolidated Goldfields, the Cyprus Mines Corporation of Los Angeles, and the Utah Construction and Mining Company of San Francisco.
The Goldsworthy mine had a private railway line, along with port facilities at Finucane Island, adjacent to Port Hedland. The first shipment of iron ore from the Pilbara took place on 1 June 1966, on board the iron ore carrier Harvey S. Mudd.
While iron ore deposits in the Pilbara region, such as the Mount Whaleback deposit, were discovered as early as 1957, it wasn't until 1960 that the Australian government lifted an embargo on iron ore exports. A primary reason for their hesitation was a lack of research and concerns that the mineral might be of short supply in the country.
How well do you
really

know your competitors?

Access the most comprehensive Company Profiles on the market, powered by GlobalData. Save hours of research. Gain competitive edge.
Company Profile – free sample
Thank you!
Your download email will arrive shortly
Not ready to buy yet? Download a free sample
We are confident about the unique quality of our Company Profiles. However, we want you to make the most beneficial decision for your business, so we offer a free sample that you can download by submitting the below form
By GlobalData
By the mid-1970s, iron ore production had reached 100 million tonnes, with fluctuations in the 1980s and the 1990s. 2003, however, was to be the year that Australia's iron ore industry really began to boom.
2003: Iron ore exports begin to take off rapidly
While Australia's economic demonstrated resources of iron ore declined between 1994 and 2003, provoked by the combined impact of increased rates of mine production and companies re-estimating reserves, things rapidly changed post-2003.
Production increased to 200 million tonnes in 2003 and the average commodity price for iron ore was worth an average of approximately $30 dollars per dry metric tonne units, according to Statista.
This is also when Australia's comparative advantage started shifting from processed metal export towards the export of coal and iron ore, where volumes, and especially prices, were growing exponentially.
Between 2003 and 2004, sales of iron ore reached 233.2 million tonnes a year, according to Western Australia's November 2015 iron ore industry profile.
2010: Rio Tinto and BHP Billiton give up on controversial iron ore merger
On 18 October 2010, leading mining operators Rio Tinto and BHP Billiton finally abandoned merger plans after negotiations that went on for more than three years.
The merger of their Australian iron ore operations was deemed controversial, having received numerous anti-competition complaints from regulators and one of their biggest customers: China.
In a statement, Rio Tinto said that those refusing to approve the deal also included the European Commission, Australia, Japan, South Korea, and Germany.
Eventually, the Anglo-Australian companies were left to express their disappointment at the collapse of the $116bn deal, which was expected to save $10bn in shared costs.
Despite the being written off more than a decade ago, analysts still ponder the possibility of the two giants merging together at some point in the future.
2014: Western Australia becomes the world's biggest iron ore producer
In 2014, Western Australia was classified as the largest iron ore producer in the world, having shipped 719 million tonnes of iron ore between 2014 and 2015, leaving an estimate of 54 billion tonnes in the ground, according to Mining People International.
At the time, Western Australia's iron ore made up almost a third of the economically extractable iron ore in the world, followed by Brazil's reserves, which made up 16%.
The enormous Australian industry also established its large infrastructure requirements: between Rio Tinto, BHP, FMG, and Roy Hill, there were more than 3,000km of train tracks around the Pilbara region of Western Australia. Each of those trains on those tracks was equipped to carry more than 25,000 tonnes of ore.
According to the Minerals Council of Australia, iron ore mining in Australia directly employed 60,500 people in 2014, as engineers, geologists, infrastructure experts, operators, environmental experts, tradespeople, and accountants.
2015: Rio Tinto expands Cape Lambert and Cape Dampier
Rio Tinto completed its planned expansions at Capes Lambert and Dampier, which increased the capacity of the ports to 210 million tonnes per annum (mtpa) and 150 mtpa, respectively.
With this iron ore expansion project, the company hoped that it would deliver significant shareholder value in Western Australia. The efforts were also part of Rio's new phase of business – not only growing, but optimising its assets.
Two 40MW open-cycle gas turbines were also installed as part of a new power station near the company's West Angelas mine site, along with a 40MW open-cycle gas turbine built at the Yurralyi Maya Power Station near Dampier.
The investment also focused on additional power infrastructure such as substations, gas pipelines, and transformers.
As a result, the fuel network reached a total storage capacity of 100ML, with 56ML additional capacity at Parker Point port terminal at Dampier.
Two new inland distribution hubs were also created adding two trains to transport fuel from Port Hedland to the north.
2016: Western Australia's total cash cost of iron ore exports reaches a new milestone
Upon normalising production costs of iron ore products to a common benchmark, the average total cash cost of Western Australia's iron ore exports reached $22 a tonne (free on board) in 2016. After this development, Western Australia became the third lowest cost iron ore seaborne exporter in 2016, after Brazil and South Africa.
Western Australia, as the biggest iron ore producer and exporter in the world, was responsible for 38% of global production and 53% of global exports in 2016.
The Pilbara region itself accounted for 94% of Australia's iron ore exports in the same year and the iron ore industry reached 65% of the value added by its mining industry and 15% of its gross state product in 2015-16.
While Western Australia's iron ore production was particularly stable, it continued to face strong external international supply competition from Brazil, as the two countries have been at the forefront of the iron ore market for four decades.
July 2020: Iron ore becomes Australia's $100bn export industry

Iron ore became the first Australian commodity to reach $100bn in annual export value, according to the Australian Government's March 2020 Resources Energy Quarterly report.  Australian exports for iron ore climbed to $101.7bn in the 2019-20 financial year, rising above the previous annual export benchmark of $77.5bn in the 2018-19 financial year.
While iron ore prospects are normally vulnerable during economic downturns, the challenges brought by the Covid-19 pandemic did not particularly harm the commodity's performance, which has been showing resilience over the past few months.
Demand for Australian iron ore has been on the rise, thanks toChina's infrastructure growth and a weaker Australian dollar.
The development followed Australia's record trade surplus in the 12 months ending in June, provoked by surging exports to China, despite the political and trade tensions between the countries that escalated during the coronavirus outbreak.