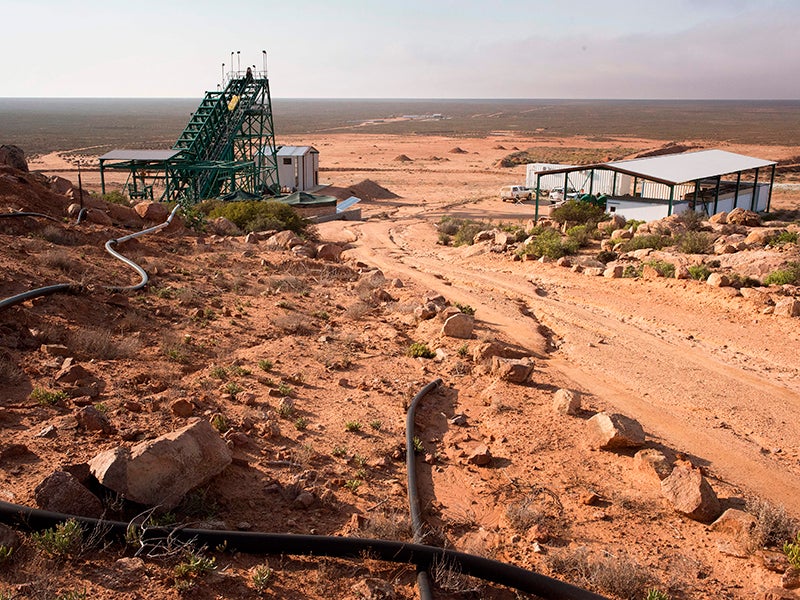 The EU and the UK are almost solely reliant on imports from China for rare earth minerals that are integral to low carbon and digital technologies. As the clean energy transition takes effect, diversifying supply has become a top political priority.
Developers of two new rare earth projects say they can provide part of the solution to Europe's supply project. Pensana, a new company started in 2019, has secured approval to build what it says will be the world's first sustainable rare earth separation facility in the new Humber Freeport in the UK.
The $125m facility hopes to produce around 12,500 annualised tonnes of rare earth oxides, including 4,500 tonnes of magnet metal rare earth oxides. This is approximately 5% of 2025 projected world demand, according to the company. To supply the facility, the company is in tandem developing a greenfield mine, called Longonjo, in Angola.
If built, the project would be one of only three major producers located outside China, including a Malaysian plant operated by Australia's Lynas Corp, and would create over 100 direct jobs processing purified rare earth sulphates, says the company.
Its ambition is to establish Saltend as an attractive alternative to mining houses who may otherwise be limited to selling their products to China, as well as to provide fully traceable and sustainable rare earth oxides to companies reporting on their Scope 1-3 emissions.
Diversifying rare earths production
The near surface, high-grade rare earth Longonjo mine located near to the Atlantic port of Lobito and the recently upgraded Benguela railway line is expected to produce 45,000 tonnes per annum of clean, high value mixed rare earths sulphate with a 20 year lifespan.
The mine, which will be built by the China Great Wall Industry Corporation, will feature hydro-electric power and a tailings storage facility to meet the recommendations of the Church of England Pensions Board and ICMM guidelines.
The mine has received financial support from the Angolan Government, which is a 27% shareholder in part through the Angolan Sovereign Wealth Fund. The company has said it hopes the government's involvement will provide stability for the project regardless of the outcome of upcoming elections.
The mine will make use of a patented processing technology. Pensana says it is 'one of the few in the world that has pioneered and championed it' and which could be applicable to other resources.
In a recent investor webinar Pensana said the mining project experienced slight delays due to pandemic related travel restrictions, but this isn't expected to continue further. Given that Longonjo will supply feedstock to the Saltend facility, investors had raised concerns about whether the mine, which is a greenfield project, will be ready at the same time as the processing facility.
Company executive director and CEO, Tim George, who previously worked at Anglo American, said the team are in discussions with three other similar projects that it can't name but which are expected to come online around the same time and could supply the facility for a short time. As a further contingency, they are trying to secure backup supply from established projects.
"We have put in a significant amount of work to ensure the timeline for Longonjo is adhered to, we want the best chance of commissioning these facilities at the same time, so they connect together," George added.
Pensana is also exploring the viability of another nearby mining project, called Coola, located 16 kilometres north of Longonjo. Coola carbonatite has an enriched distribution of heavy rare earths compared to the light rare earth elements including neodymium-praseodymium at Pensana's Longonjo project.
Responsible rare earths
Pensana says it hopes to become an alternative source for European automotive and wind turbine original equipment manufacturers. China has serious demand for these minerals, meaning it's possible the state will need all of its own production for its US$11tn Carbon Neutral 2060 plan, under which it will spend a further US$3.8tn on wind and solar up to 2050. Though there is nothing to stop Chinese companies also signing purchase agreements with Pensana.
Part of Pensana's proposed unique selling point, however, is to provide manufacturers with proof of provenance and an independently verified lifecycle certification of raw materials that will become increasingly important under the EU 2023 Carbon Border Tax. This will see importers be required to buy digital certificates representing the tonnage of carbon dioxide emissions embedded in the goods they import and be linked to carbon taxes.
The company has said it believes provenance of critical rare earth materials supply, life cycle analysis and GHG Scope 1, 2 and 3 emissions will also become significant factors in supply chains for major customers.
"For many miners around the world who are looking to access the European and US supply chains, it is becoming increasingly clear that the proposed EU and possible UK carbon border taxation would mean that it is no longer acceptable for manufacturers to source material extracted or processed unsustainably," it noted in a press statement.
In addition to this, Pensana, which is a founding member of the European Raw Materials Alliance which advocates for sustainable rare earth oxide production and separation capacity in Europe, is also exploring the possibility of a recycling facility. In January 2022, it signed a cooperation agreement with Equinor New Energy Limited to form a working group to share technical and commercial information to develop a low energy recycling methods.
Going forward
Company chairman Paul Atherley, a former executive director of the investment banking arm of HSBC Australia, has said construction is expected to commence at Saltend at the beginning of 2022, from which it will take a further 18 months. But this is contingent on financing.
Pensana has so far secured £10m in investment from M&G, one of the UK's largest and long-standing fund managers and has passed the first phase of the UK Government's £1bn Automotive Transformation Fund, set up to help build 'the world's most comprehensive and compelling' electrified vehicle supply chain. It's also seeking bond financing through the Nordic bond market which is one of the biggest in the world.
Once Saltend and Longonjo are established, the company is eyeing building another facility to convert the oxides to metal, for which it has space, says Atherley.