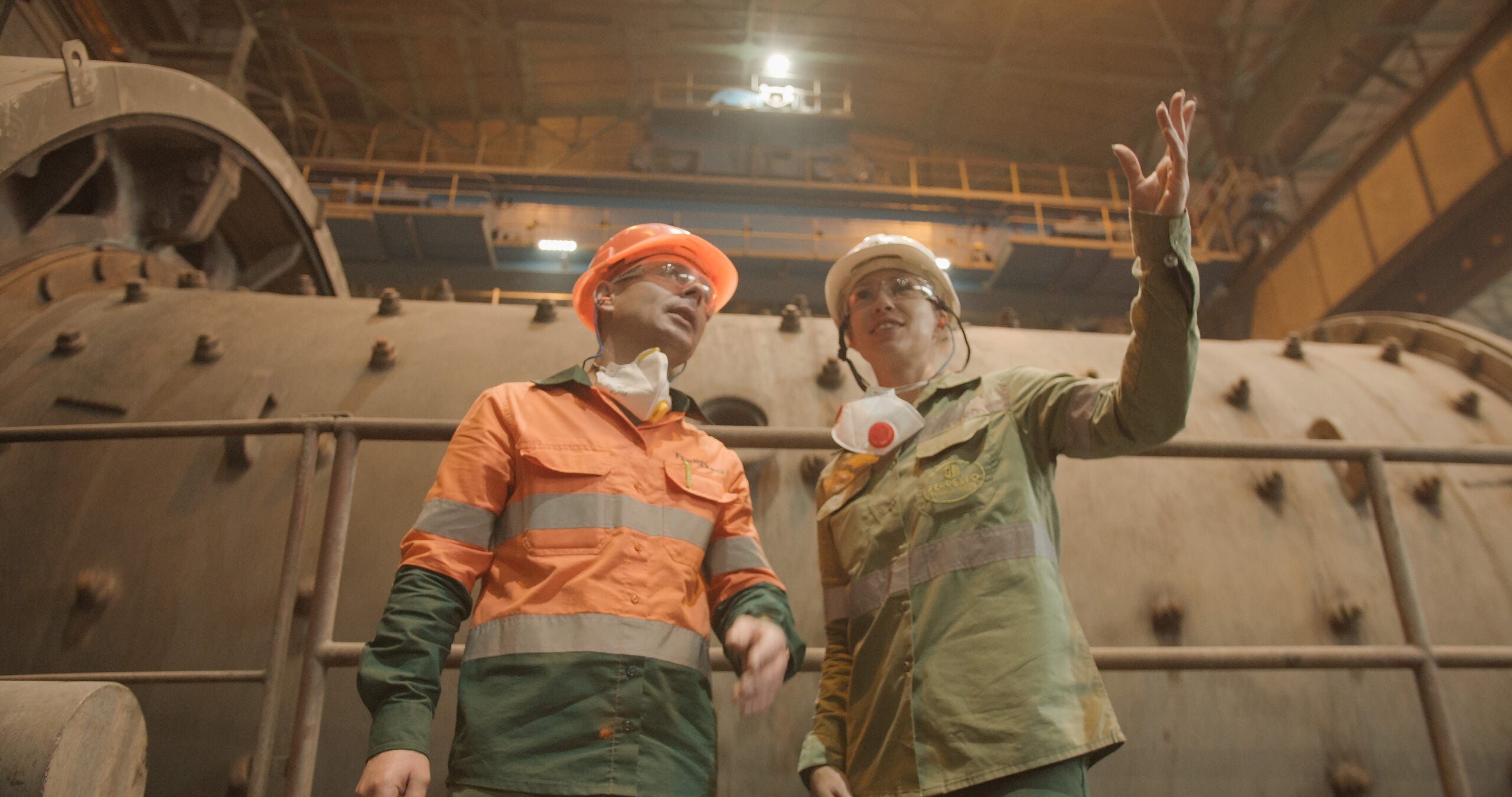 In January, Ferrexpo, the third largest global iron ore pellet exporter, reported a 22% jump in quarterly production, after the successful ramp-up of its concentrator expansion project.
For the FTSE 250-listed company, which already operates two iron ore mines in Ukraine, processing facilities and global distribution infrastructure, this is just the beginning of their expansion programme, however. The firm is now ramping-up decarbonisation, automation and diversification plans.
Heidi Vella (HV): It's been a tough year for everyone, how has the pandemic affected your operations?
Jim North (JM): 2020 has been somewhat challenging; our corporate offices are based in Switzerland and London, both of which have been ravaged by the Covid-19 pandemic. But overall, because we responded quickly, the impact has been minimal. Those that could work from home did so immediately, and our operations staff were reduced to skeleton crews so we always had people in reserve, protected from the virus and ready to work when needed.
We're also using some technology to assist us, such as facial recognition that can see if an employee is wearing a mask or not and can check their temperature, plus other things to help manage contact tracing, which we identified early on as very important for minimising infection rates. I think my team has done a fantastic job managing a very complicated year and still hitting our production targets.
HV: Are there any changes you'd like to keep on post-pandemic?
JM: Absolutely. Our senior guys used to travel every month to expos and for meetings. It was almost mandated. While we had toyed with the use of technology in the past, we've always decided in person is preferable.
How well do you
really

know your competitors?

Access the most comprehensive Company Profiles on the market, powered by GlobalData. Save hours of research. Gain competitive edge.
Company Profile – free sample
Thank you!
Your download email will arrive shortly
Not ready to buy yet? Download a free sample
We are confident about the unique quality of our Company Profiles. However, we want you to make the most beneficial decision for your business, so we offer a free sample that you can download by submitting the below form
By GlobalData
However, the pandemic has really forced us to reconsider the use of technology, and although it was quite uncomfortable at first, we are now used to it and I don't think we will go back to doing every single group level meeting in person. It's an inefficient use of executives' time.
While face-to-face meetings definitely have a place – I often believe it's the conversations that happen outside of the formal meetings that capture the real value – we will continue to do some remotely and to reduce the travel load on executives.
Another is that we have significantly reduced the level of paperwork and bureaucracy around our processes and reporting. The pandemic forced us to move towards electronic documentation and accepting things can be scanned and sent rather than have a wet signature.
HV: The company has said it's committed to reducing emissions, what action are you currently taking?
JM: We have spent a considerable amount of time understanding the need to reduce our carbon footprint and have carbon related risk listed on our corporate risk register.
Although we have not been in a position yet to formally publish our carbon reduction strategy, we have been auditing to understand how we are measuring our carbon footprint, verifying ourselves against our competitors, and understanding where we fit in the global sector.
A large proportion of our carbon footprint is generated through consumption of electricity, as power generation in Ukraine is fossil fuel heavy. We are starting a small trial installing 5MW of solar power that will come online in 2021. Our intention is to do a mix of things going forward; contracts with green energy producers and also to produce some of the power ourselves.
We also have high diesel consumption in the mine through the mining fleet. To reduce this, we're currently discussing electrification with our major OEMs. Additionally, we're considering replacing natural gas for pelletising. There isn't currently a proven solution, however, there are many organisations testing the use of green hydrogen to create ore pellets.
We've signed up to the European Hydrogen Alliance and are starting conversations with our key customers to investigate what they are doing with hydrogen. We've got a pelletising consultant on our payroll and he's doing some initial work studying hydrogen and hydrogen burners for pelletising.
HV: How much do you factor climate risk into your future planning, for example, the future possibility of a high carbon price?
JM: We started to discuss this recently, we understand a price will be put on carbon. However, for carbon neutrality – maybe I'm a little bit of a purist when it comes to carbon reduction – but I don't subscribe to the notion that it's possible to buy a forest somewhere which gives you carbon credits that you can either trade or use to offset your carbon footprint.
I mean, if you're honest with believing reducing carbon is the right thing to do globally, and we do, then it should be real carbon reduction, not generating or purchasing offsets to make yourself look good. We don't dedicate too much time to thinking about how we might offset, we would much rather focus our efforts on actually truly reducing our carbon footprint. Obviously, there's cost pressures that come through carbon pricing but at the moment it's not impacting our thinking.
HV: You're also making investments in automation…
JM: Autonomy is part of what we've been focusing on for the last 3-4 years. However, we're not a particularly large company, so we have a much smaller balance sheet to work with. Therefore, the approach we've taken is to be fast followers of the likes of Rio Tinto and BHP. They do the innovation and we buy that solution and implement it quickly.
For example, we hit the first phase of our autonomous drilling programme, which is on our heavy rock pit Vipers back in 2017. Our guys quickly learned to operate a drill from the office using a computer and some joysticks.
This significantly reduced the risk to the operator, removing them from a hazardous environment. It also created efficiency because the drill doesn't need to stop/start to change operator. We've got 10 operating drills, around 30% of our total, and as we build the capability we're going to continue to roll it out.
We also moved to drone surveys in late 2018. Surveyors used to walk around the pit with a GPS tracker to take face positions each week, in order to measure and verify the volume that is being moved by the excavators. As a safety improvement, we wanted to remove those guys from the machine-man interface.
There are also productivity benefits; the machines used to need to shut down for the surveyors but now we use drones they can keep operating and we can do two weeks of work in two or three days. We've taken some of those surplus surveyors and are retraining them into road builders for our autonomous truck fleet.
HV: You're also adopting autonomous trucks, but in a different way…
JM: About 18 months ago we decided to implement a non-OEM agnostic solution and instead work with US-based ASI Robotics, who have also worked with Anglo American and Barrick. I created a specified mining division about five years ago and we started talking to them about building a solution that would allow us to automate any particular mining truck.
I saw it as cost-prohibitive to move to a full autonomy solution. I wanted to take our existing machines and make them autonomous. Therefore, it doesn't matter in the future what truck we buy because our partner can make it autonomous and it will interface with our fleet management system and our autonomous truck management system.
Our first couple of trucks are already operational and we will expand on that. We're the first ones in Europe to embark on autonomy on such a scale, but we're taking it slowly. Not because we're trying to be cautious, but because we're building the capability along the way.
HV: What are your plans going forward?
JM: We intend to expand and grow our business and build out our production capacity. We commissioned our additional concentrator section late last year, and that's now in production. This is the first time, at least since I've been with the company and since listing, that we will be 'concentrate along' rather than 'concentrate constrained'- so we will have surplus concentrate production this year. Fortuitously, the market globally will be short of high-grade iron. We believe that positions us well.
We are also decoupling our concentrator and pelleting, which gives us additional capacity to determine how much additional concentrate we want to push into the palletisers, versus sold to our customers. I think this gives us another string to our model for our discussions with our customers in offering a range of products.
Tied to the world's need to reduce carbon, we see Direct Reduced Iron (DRI) plants playing a larger role for steel production moving forward. We've been working on cargoes with our existing customer base, and our strategy is to enter new markets for the US and the Middle East to supply DRI pellets into the future. We think the more we supply DRI pellets, the more we can play a role in that market going forwards.