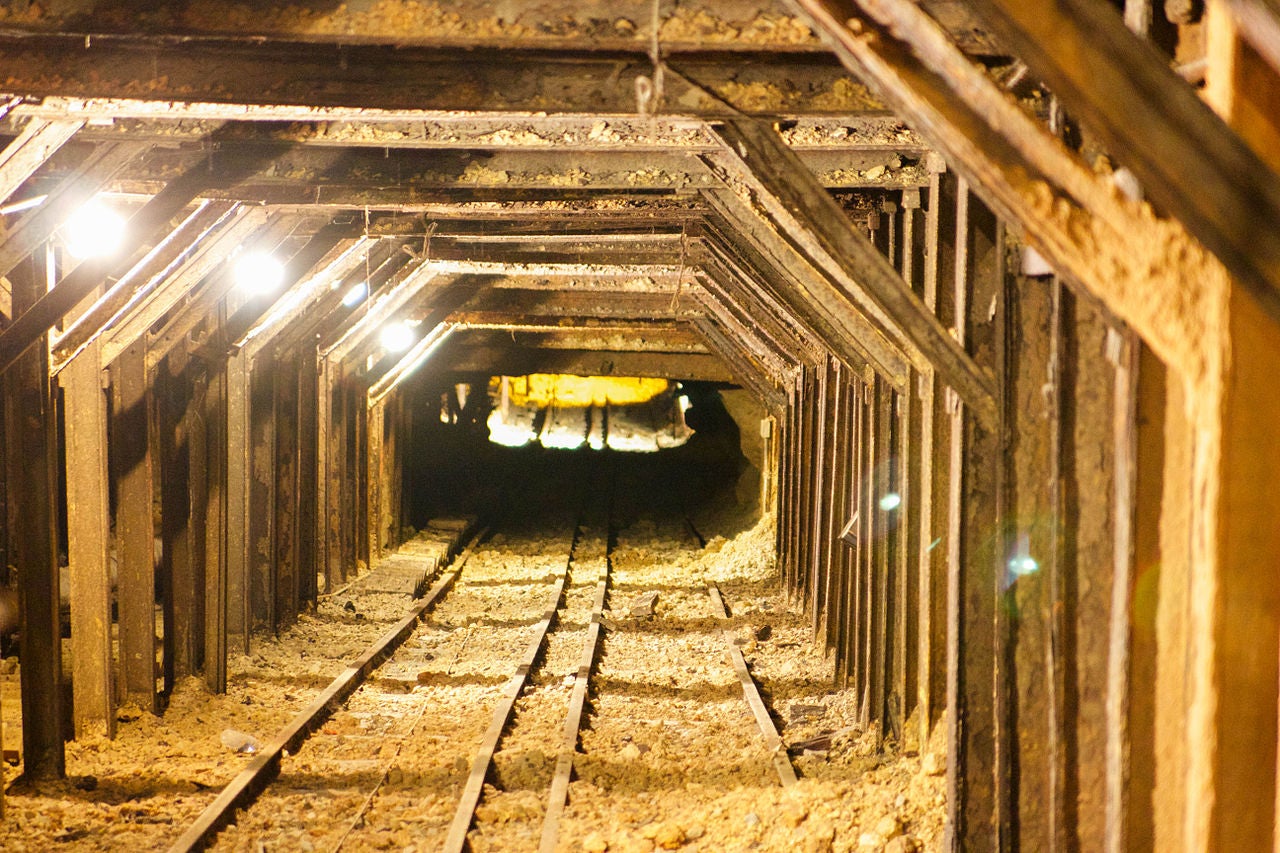 In the past decade, numerous studies and initiatives have been undertaken in Europe to turn abandoned coal mine fields into useful for society spaces.
According to the UK's Coal Authority, a non-departmental public body, one quarter of the UK's population lives above abandoned coal mines, some of which are warmed by natural geothermal processes while others are full of water. Some of these shafts are now progressively turning into sources of low-carbon energy to heat homes, to store energy, provide water, and offer alternatives to overground farming.
To understand their potential more effectively, the British Geological Survey, a partly public-funded body for advancing geoscientific knowledge,  along with the Coal Authority, recently released an interactive map tool to depict where the mines are and the extent by which temperature increases with depth so planners can identify new sustainable project opportunities.
Abandoned coal mines to be turned into underground farms
Mining engineering expert Professor Yijun Yuan, together with Professor Saffa Riffat from The University of Nottingham, have established a project focused on the potential of abandoned coal mines across the UK and China, which could turn mine shafts in underground food farms.
Mine shafts and tunnels are seen as "the perfect environment" for growing food; advocates say that subterranean farms could bring up to ten times as much as the yield of traditional farms.
The project is exploring crop growth in underground farms via hydroponic planters, which feed plant roots with nutrient-enriched water as coloured LED units enable photosynthesis with no sun exposure. The experts say that groundwater for the plants could be used directly, or water could be condensed from ambient air.
Riffat, who is also a president of the non-profit World Society of Sustainable Energy Technologies, believes that the scheme would be a cost-effective way of meeting the growing need for food and could be key in providing large-scale crop production for a growing global population.
With about 150,000 abandoned shafts and 25,000km2 of unused mines and tunnels in the UK, the project can accommodate many mines that have been closed since the decline of the UK coal industry in the 1980s and offer a cheaper alternative to vertical farming in greenhouses.
The idea has already gained support from mine owners, such as the Coal Authority and the Land Trust, as well as the government of China.
Such farms could be positioned close to or beneath city centres to reduce transport costs and carbon dioxide emissions.
Cost-effective underground tunnels for crop planting could be constructed using new drilling techniques and linked to existing coal mining and civil air defence tunnels, many of which have been abandoned.
The Dutch Minewater project and the Minewater 2.0 expansion
One of the most successful heating projects so far is the Minewater initiative, in the municipality of Heerlen, the Netherlands, which demonstrated how the geothermal energy stored by mine water can be used as an alternative ecological way to heat buildings. Two wells were drilled in the village of Heerlerheide to a depth of 825m beneath the ground, where water can be found at about 35°C.
The project ran between March 2005 and June 2008, with the low-temperature district heating system put in operation in October 2008, supported by a grant from the European Union under the framework of the Interreg IIIB NWE Programme. The fund contributed 48% towards the €20m total costs of the project.
The interest in geothermal energy as a sustainable energy source has risen enormously since the start of the Minewater project. Five years later, this project was upgraded from a straightforward pilot system to a full-scale hybrid sustainable energy structure called Minewater 2.0. 
The first phase of the Minewater 2.0 project became operational in June 2013, with a new concept dedicated to become an essential part of the sustainable energy structure plan of Heerlen.
The new Minewater concept features cluster grids for energy exchange between buildings and existing mine water grids; energy storage and regeneration in mine water reservoirs instead of depletion; addition of poly-generation; cooling towers for peak cold demands; and clusters and wells equipped with sophisticated control units that communicate with a central monitoring system through the internet.
'Water-Mining' project supported by the European Commission
In April 2020, the European Commission signed a grant agreement for €17m allocated to the Dutch initiated 'Water-Mining' project, which aims to demonstrate innovative water resource solutions. The project is led by Delft University of Technology in the Netherlands, with the participation of Brunel University London, and it is working with a public-private consortium of 38 public and private partners, and four third parties in 12 countries. 
The idea of the Water-Mining project came from senior scientific coordinator at Delft, Dimitris Xevgenos, who has been working on the exploitation of alternative water resources and the circular economy through brines since 2010.
As part of the project, related demonstrations will be built in Cyprus, Spain, Portugal, Italy, and the Netherlands to show novel ways to reclaim nutrients, minerals, energy, and water from industrial and urban wastewater and seawater. These end-products of the project are expected to fuel regional economic developments. 
The ultimate objective of the Water-Mining project is to provide examples of real-world implementation of the EU Water Framework Directive and help the transition to a circular economy. 
TU Delft professor of environmental biotechnology Mark van Loosdrecht said: "Water is essential for human health, certainly in urban areas. Flushing sanitary waste out of the city is one of its main functions. This programme will help recover this water and convert waste components to resources, thereby contributing to a stronger circular economy."

The project will also invite public input related to the social impact and possible concerns through science museums, such as NEMO in The Netherlands and Living Labs throughout Europe. It will also use AR to present the science behind the technology, its measured ecological footprint, and social impact. 
Brunel University lecturer in civil and environmental engineering Evina Katsou says: "It addresses not only technical and sustainability issues such as sustainable production, [but also] demonstrates secondary materials recovery from wastewater, recovery of water fit-for-purpose and energy waste, and sustainable consumption. [It] addresses social values, behaviours and lifestyle, which impede the transition to circular water economy and society."
The Water-Mining project will run for four years, from 1 September 2020 until 31 August 2024.
UK Startup Gravitricity targets abandoned mine shafts for energy storage
Disused mine shafts around the UK could also be used as giant gravity batteries, capable of reacting to grid demands in under one second.
In 2018, startup company Gravitricity received a £650,000 grant from non-departmental public body Innovate UK to turn abandoned shafts in storage for massive weights. As part of the plan, when energy is plentiful, the weights will be winched towards the surface similar to the way water is driven uphill in pumped hydro storage. The system will also be able to respond to rapid fluctuations in demand.
Gravitricity managing director Charlie Blair said: "As we rely more and more on renewable energy there is an increasing need to find ways to store that energy, so we can produce quick bursts of power exactly when it is needed.
"So far, there is a lot of focus on batteries, but our idea is quite different. Gravitricity uses a heavy weight, up to 2000 tonnes, suspended in a deep shaft by cables attached to winches. When there is excess electricity, for example on a windy day, the weight is winched to the top of the shaft ready to generate power."
The weight can then be released when required and the winches become generators, producing either a large burst of electricity quickly or releasing it more slowly depending on the need.
According to Gravitricity, the system can operate for decades without degradation and could have a lifespan of around 50 years. Models from 1MW to 20MW will be offered, with a part-scale demonstration.
In May 2020, the start-up signed an agreement with UK port operator Forth Ports to build its first demonstration on land within the Edinburgh Port of Leith. Work on this £1m project began at the end of 2020.