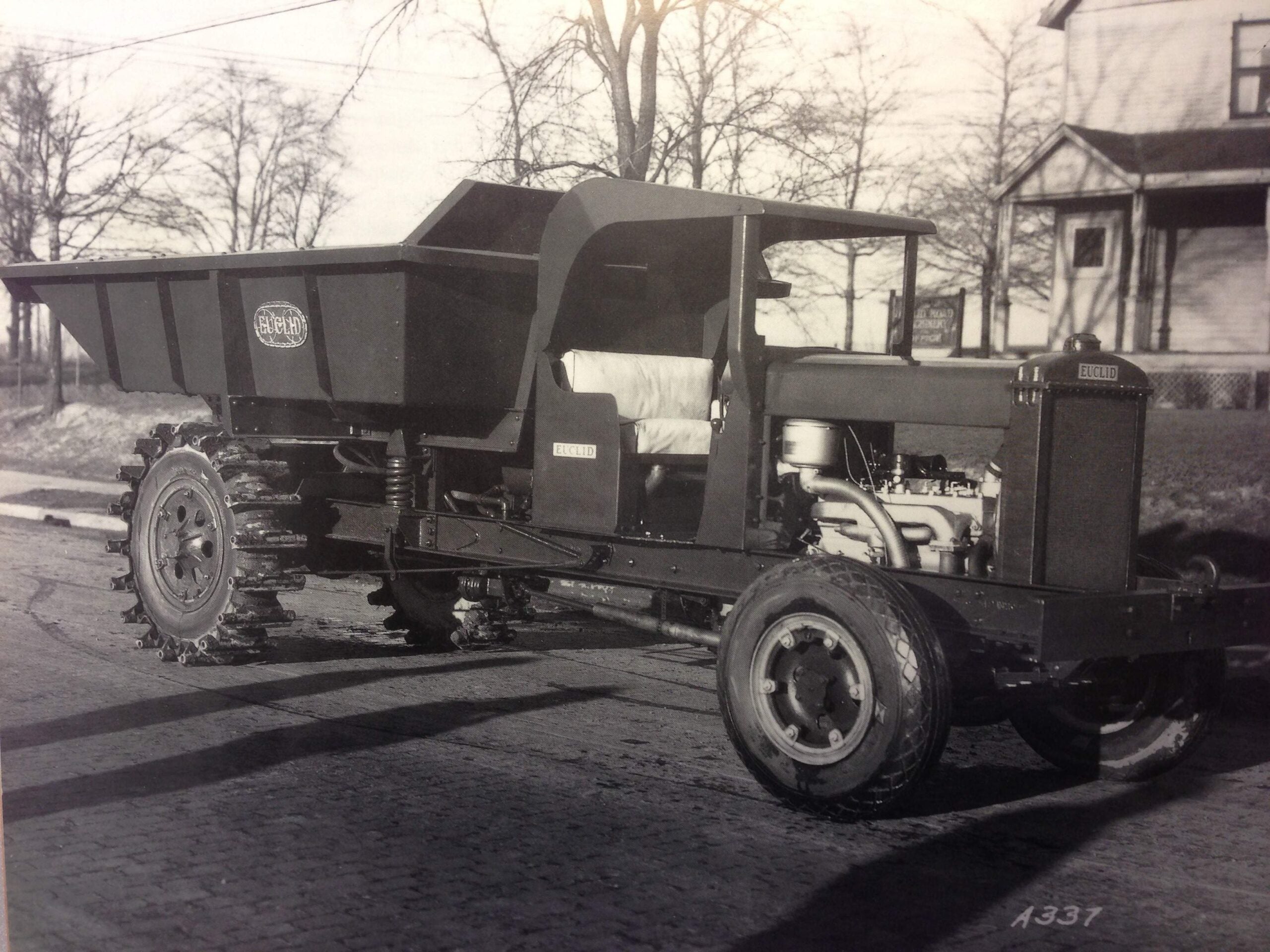 1500s – The original minecart
The minecart was developed hundreds of years ago, with examples of this style of vehicle dating back at least to the 1500s.
They were used to help move earth and minerals out from the deep tunnels bored into mountainsides. While they significantly predate it, minecarts are particularly associated with the American Gold Rush period, which began in the 1840s.
The simple cart was generally constructed of wood and metal, and moved along fixed tracks. They are seldom used in mining operations today, having been superseded by trucks and conveyor systems; however, they remain one of the most identifiable and iconic mining vehicles.
Early 1900s – Continuous miners
It is unclear exactly when the first continuous mining vehicle was developed. The English Channel Machine built in the 1870s and ran on compressed air could possibly be counted, but most agree that the technology was first used in mining in the early 1900s.
In 1912, for example, the Hoadley Knight Machine was developed for mining coal. Primitive by modern standards, it used an electric motor, hydraulic swings and water sprays to breakdown rock faces.
How well do you
really

know your competitors?

Access the most comprehensive Company Profiles on the market, powered by GlobalData. Save hours of research. Gain competitive edge.
Company Profile – free sample
Thank you!
Your download email will arrive shortly
Not ready to buy yet? Download a free sample
We are confident about the unique quality of our Company Profiles. However, we want you to make the most beneficial decision for your business, so we offer a free sample that you can download by submitting the below form
By GlobalData
Since the early 1900s there have been great advancements in continuous mining vehicles, but most still consist of rotating steel drums with tungsten teeth which dislodge chunks of coal.
These lumps then fall to the floor and are pushed into the throat of the machine by rotating arms. The rock is then moved via conveyor belt to be collected in trucks behind the machine. They account for as much as 45% of coal mining in the US, and many modern continuous mining vehicles are automated.
1934 – The first dump truck
In 1934, Euclid designed and built the Model 1Z truck, which is generally considered to be the first off-highway rear dump truck for mining. The heavy-duty vehicle was fitted with a 100HP Waukesha gasoline engine and was just 6.4m long.
Small by modern standards, the Model 1Z was the first step on the path to the monster dump trucks we see in the mining industry today. Euclid, now part of Terex Trucks, created the truck as a solution to haulage in the increasingly industrialised mining process in the US.
1978 – The Bagger makes everything bigger
The Bagger 288 remains the biggest land vehicle in the world, forty years after its creation, weighing 13,500t and standing as tall as an eight-story building. At 315ft-high and 788ft-long, this beast requires 16.56KW of external power to its colossal 21.60m bucket wheel.
The bucket-wheel excavator was built by the Krupp Company for Rheinbraun, originally to operate at its Tagebau Hambach strip coal mine in Germany. It is capable of extracting 240,000t of coal per day, and exhausted the Tagebau Hambach mine in just 23 years.
In 2001, the Bagger 288 made the 14-mile trip down the road to the Garzweiler mine over the course of three weeks. Roughly 100 million tonnes of coal per year is produced at the Garzweiler mine in the Rhine region, some 15% of German all energy supplies.
1998 – The classic CAT
The CAT 797 is one of the most successful and recognisable dump trucks ever developed.
Made by Caterpillar, it has been reincarnated multiple times, most recently in 2009 when the Cat 797F was launched. This model is the second-biggest dump truck in the world, with a payload of 400t, 40t more than the original.
Its 20-cylinder engine can produce up to 4,00HP, enough to move even the machine's bulk. At 14.8m in length, 6.52m in height and 9.75m in width, it was the biggest dump truck for years and despite being overtaken by the Belaz 75710, remains a common sight.
2008 – Automating mining
Automation is one of the biggest themes of the 21st Century so far, and within the mining industry this is most notable in the automation of vehicles. Capable of running for 24 hours a day without breaks, this new generation is efficient, economic and increasingly commonplace.
Possibly the greatest example of adopting this new technology is Rio Tinto's Pilbara iron mine, which uses 80 driverless Komatsu trucks. Using GPS, radar and laser sensors, the trucks can make their way around the mine site avoiding obstacles and delivering high-grade ore to be processed. In 2017, the trucks moved their one-billionth tonne of material and, overall, have cut unit costs at the mine by 15%.
Rio Tinto began developing autonomous mining technology in 2008, and the company continues to invest heavily in the process. In 2017, Rio Tinto announced that it would be expanding its autonomous fleet to 140 in two years, as well as launching a retrofit programme to automate 48 trucks already in use.
Other mining vehicle companies are developing their own autonomous fleets, with the likes of BHP Billiton and Suncor releasing driverless mining trucks. BHP Billiton has also begun deploying its trucks in iron ore mines in Australia, which it hopes will increase production levels.
2013 – The biggest dump truck
The world's biggest dump truck, the Belaz 75710, weighs in at an incredible 496t. It was developed by Belaz, a mining manufacturing company from Belarus, in 2013, and sales began in 2014.
At 20.6m-long, 8.16m-high and 9.87m-wide, the house-sized truck was the first to be able to transport more than 450t. The giant has two pivoted axis to increase its manoeuvrability, two diesel engines and eight wheels.
It has entries in the Guinness World Records as both 'the biggest two-axial dump truck' and 'the biggest body with capacity of 645.4m3'. Then in 2015, the truck was featured on a stamp in Belarus, highlighting its popularity and public appeal.
In the 75710's first year of operation at Chernigovets coal mine in Russia, it transported 4.6 million tonnes of rock. That's the equivalent of the weight of 1,115 railway locomotives.
2015 – Moving underwater
The European Union's Viable Alternative Mine Operating System (VAMOS) project is developing underwater mining vehicles specifically for flooded mine sites.
Remote operated underwater vehicles controlled by a programmable logic controller use cutterheads to gently dislodge rock without disturbing the groundwater. The ore is then collected and pumped to the surface for processing, and waste sediment and water is returned to the mine.
In Europe alone there are 30,000 flooded mine sites and VAMOS, which was established in 2015, hopes to take advantage of the vast resources within them. The project will run to later this year, after which point the company intends to make the technology commercially available.
Elsewhere, similar amphibian vehicles are being used in the pursuit of underwater mining at sea by companies such as Nautilus.
2017 – Electrifying mine machines
ETF's modular technical platform was developed as a potential solution to problems faced by its founders while working on mining projects in South East Asia and the Middle East. In 2016, ETF produced a proof-of-concept for modular haulage trucks, where each element or module could be switched in or out of the vehicle within the hour. It now readies itself to produce hybrid trucks with payloads from 100 to 300 Tons.
Initially powered by a mix of electric and diesel, these trucks have been specifically designed to enable retrofitting, so they can become fully electric within a week when battery developments reach a point where more practical haul cycles are possible.
The company is currently developing the next wave of trucks, which will be digital, AI and machine learning enabled. These futuristic devices will allow for a complete streamlining of services, drastically cutting repair and maintenance times using predictive technologies.
"Because these trucks are fully automated, you do not require a broad spectrum of payloads," explains ETF chief client officer Geoffrey Ejzenberg. "Because they can interact with themselves, know the payloads of their peers, calculate the haul load." Using this technology, the trucks will be able to automatically reorder haul load sequences, should for example a truck or a shovel breakdown.