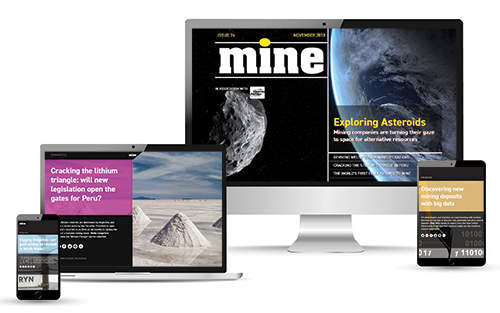 Alba Mineral Resources has bought a stake in the storied Clogau Gold Mine complex in Wales, aiming to restart gold mining operations by the end of the year. We sit down with the company to hear more about the prospects for a Welsh gold renaissance in the years to come.
Also in this issue, we find out whether a recent move from Peru's President to open the country's reserves of lithium could unlock the 'lithium triangle' in South America, investigate a new study that has shown how big data can predict where to find new mineral deposits, and delve deeper into Resolute Mining's Syama mine in Mali, which is expected to become the world's first fully automated mine.
Plus, we find out more about the benefits of integrating battery chemical production into a mine site's refining operations, and speak to Asteroid Mining Corporation about the possibility of mining the tens of thousands of asteroids that orbit Earth.
Click here to read the latest mining industry news and analysis, and join the conversation on Twitter.
In this issue
Digging Dolgellau: can gold mining be revived in North Wales?
Junior mining firm Alba Mineral Resources is starting exploration work in North Wales, in the hope of reviving gold mining operations that have been closed since the 1990s. Chris Lo finds out more about plans to bring production back to the Dolgellau Gold Belt.
Read more.
Cracking the lithium triangle: will new legislation open the gates for Peru?
Globally, lithium reserves are dominated by Argentina and Chile, but a recent move by the Peruvian President to open the country's reserves in as little as six months is raising the prospect of a massive mining boom. Molly Lempriere explores how the 'lithium triangle' can be unlocked.
Read more.
Discovering new mining deposits with big data
US mineralogists and scientists are experimenting with machine learning and big data to discover new, potentially lucrative mineral deposits. Heidi Vella speaks to experts from the Deep Carbon Observatory to ask how their research might one day transform mineral exploration.
Read more.
Sizing up Syama: the world's first fully automated mine
Production is expected to begin later this year at Resolute Mining's Syama mine in Mali, which is expected to become the world's first fully automated mine. Molly Lempriere finds out more about the technology, designed in partnership with Sandvik.
Read more.
Mines and batteries: a perfect match?
Finnish company Terrafame has received a permit from local authorities to build a battery chemicals plant at its Sotkamo mine. The benefits of integrating battery chemical production into a mine's refining operations are obvious, but can it be done in a sustainable way? Molly Lempriere finds out.
Read more.
Exploring asteroids: making space mining a reality
Awareness of our dwindling resources and the fragility of our planet have meant mining companies are turning their gaze outward – and upward – for alternative resources. Scarlett Evans explores space mining opportunities with Asteroid Mining Corporation CEO Mitch Hunter-Scullion.
Read more.
Preview – MINE December 2018
While most mining is done on dry land, a number of mining vessels are in operation on coastal deposits, particularly in the diamond industry. We take a look at the world of mining ships, and speak to Wärtsilä about its plans to refit De Beers' diamond mining ship.
Also in the next issue, we profile the countries moving to label metals as critical and the reasons for doing so and take a closer look at antimony following news of a new plant in Oman that could supply up to 20% of the world's antimony market.
We find out more about a project between mining technology developer Maptek and augmented reality experts LlamaZOO that aims to create real-time 3D visualisation for mines, and explore the new Mandela mining precinct in Johannesburg, South Africa, which aims to support local innovation and address issues such as mineworkers' health and safety.
Finally, in the last issue of 2018, we investigate the recent protests that have been taking place outside of the Amulsar mine in Armenia and the implications this could have on the country's mining industry.