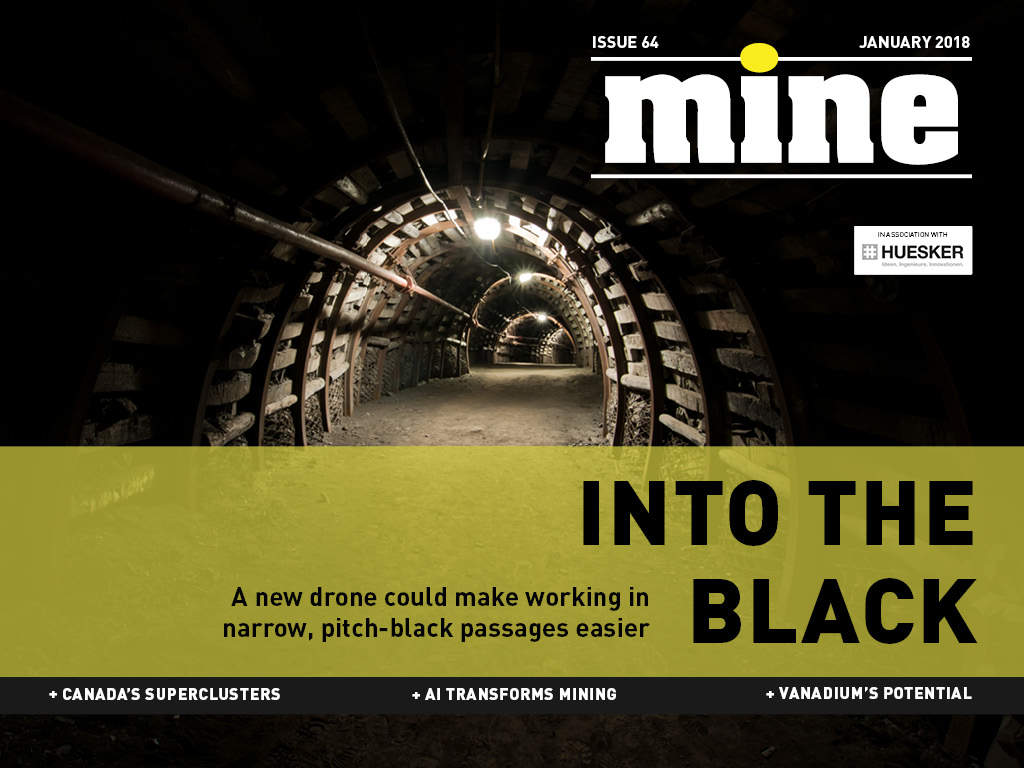 In this issue: Mining moon minerals, a Canadian supercluster, rising exploration expenditures, AI and drones for operational excellence, vanadium's time to shine, and more
Exploration budgets were up 14% in 2017 for non-ferrous minerals, the first rise five years. We look through the reasons to discover why this sudden leap of confidence and if this degree of investment is sustainable for the year ahead.
America has its eyes on the moon again with a range of projects aimed at not only walking on the surface again, but also building a base and mining the lunar crust. We take a look at the aspirations to see just how far we are from working on the moon.
Also, we ask why Canada is setting up its own mining supercluster, hear about AI improving ore analysis, the use of drones to map areas without any GPS or even light, and find out how battery development is impacting the extraction of vanadium.
Read MINE magazine free on iPad through our app and on desktop, and you can join the conversation on Twitter.
In this issue
Setting Up a Canadian 'Supercluster'
The Canadian Government is offering C$950m to five 'superclusters' that serve as innovation hubs for their respective industries. The Ontario mining submission proposes to reduce Canadian mining's energy and water use, and environmental footprint. Julian Turner examines the project's feasibility.
Click to read the article.
A New Age of Exploration?
New analysis by S&P Global Market Intelligence has found that non-ferrous mining exploration budgets increased in 2017. Chris Lo asks if this is a sustained surge in mining activity on the cards, or could there be trouble on the horizon?
Click to read the article.
Mining the Moon
As more space missions are announced, the possibility of mining on the Moon moves ever closer. Molly Lempriere explores just how far we are from mining lunar minerals and the major challenges presented.
Click to read the article.
The Fourth Industrial Revolution
Artificial intelligence will transform the way we do everything – or so we are constantly told. To find out what AI can offer the mining industry, Heidi Vella caught up with Jane Zavalishina, CEO of Yandex Data Factory, which uses AI to increase efficiency and reduce costs in the mining sector.
Click to read the article.
Into the Black
Swiss manufacturer Flyability has developed a new drone that's been tested in the Lac des Iles mine in Canada. Working in narrow, pitch-black passages is no easy task – Molly Lempriere asks, how was it done by drone?
Click to read the article.
From Buildings to Batteries
While mostly synonymous with steel reinforcement, vanadium has emerged as a useful mineral for electricity storage and batteries. As the world slowly transitions away from fossil fuels, the metal could have a big role to play, but the economics remain uncompetitive for mines, writes Ross Davies.
Click to read the article.
Anglo American's Health Fight
As an industry with inherent health and safety threats, there is both a corporate responsibility and social duty for mining companies to look after employees and their families. Following on from the success of World AIDS Day, Stefaan Van der Borght, global head of health, Anglo American Health explains how effective health programmes are critical to stemming the scourge of diseases such as HIV and tuberculosis.
Click to read the article.
Next issue
While the UK's days of intensive deep coal mining are largely gone, several smaller scale operations are blazing a trail with their innovative approaches. We pinpoint some of the standout British projects, including lithium mining in Cornwall.
We also take a closer look at a report analysing how beneficial Chinese mining operations in Africa were for Africans, consider whether the financial and strategic value of US uranium is worth the controversy of greenlighting more mining licences around the Grand Canyon in Arizona, and find out whether the recent price surge of rhodium is set to continue.
Also, in technology we consider the impact of using the Internet of Things to improve environmental monitoring in mining operations, and find out more about MineOptima, which was set up to plan and design the most efficient mine.
Yearbook Issue Available Now
In this jam-packed special issue we revisit the biggest stories, major projects, top performing commodities and technology breakthroughs of the past year to discern what challenges may lie ahead for the mining industry as it prepares for 2018.
The mining industry has undergone a flurry of changes and challenges in the past twelve months, with nation leaders across the world causing shake ups. While the UK struggled with the impact of Brexit, the US appointed a new president committed to pouring funds into an ailing sector, Australia has pushed on with controversial projects despite powerful opposition, and in South Africa, authorities have set tough targets to increase black ownership and involvement in industry, all of which have influenced investment and market growth.
As well as these headlines, we round up the significant technology breakthroughs of the year, such as exposing synthetic diamonds, mining apps, long-distance remote operating, automation, drones and decommissioning tools.
Plus, we cast a spotlight on the key commodities under discussion over the year – the factors influencing their stability and the drivers affecting the market – and profile some of the largest projects making headway.
Digital Magazine FAQs
You can read MINE for free on iPad when you download our app from the App Store – from here you can read the latest issue and browse the back issues in our archive.
You can also continue to read the desktop version for free on our web viewer. (Browser compatibility: The web viewer works in the latest two version of Chrome, Firefox and Safari, as well as in Internet Explorer 9 and 10. Some features may not be compatible with older browser versions). Don't forget to subscribe for the latest mining news.