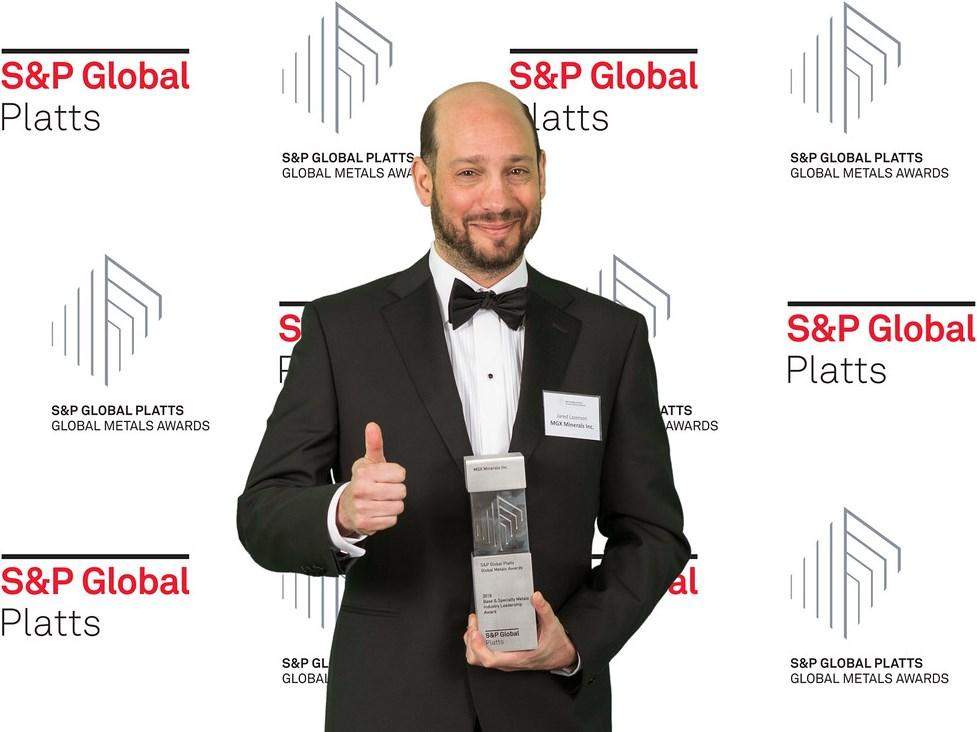 MGX is hoping to shake-up the lithium mining sector with its new extraction technology, developed by its partner PurLucid, in which it has a 51% stake.
Its novel technology provides a new, quicker and more sustainable way to recover lithium by extracting it from oil and gas wastewater, natural brine, and other brine sources, such as lithium-rich mine and industrial plant wastewater. This is performed using a combination of PurLucid's technologies that purify wastewater brine and a newly developed lithium recovery process.
In the middle of June, PurLucid successfully demonstrated the system. Meanwhile, MGX has bought mineral rights on more than a hundred thousand acres of federal land in Utah, US.
In May, MGX was awarded the Base and Specialty Metals Industry Leadership Award at the 2018 S&P Global Platts Global Metals Awards. Here, CEO Jared Luzon explains the context for this new innovation.
Heidi Vella (HV): What have been the main challenges faced when proving and developing your technology?
Jared Lazerson (JL): The biggest issue is getting people to really believe this technology exists and is on the cusp of commercial deployment.
Our technology represents a complete paradigm shift from the traditional models of lithium extraction, challenging the centres of dominance in the lithium sector, and including the oil and gas industry in the lithium market.
However, as we continue to show concrete and tangible progress, through the results of our samples and continued contracts with major oil and gas and mining companies, we're certainly finding less resistance.
HV: What are the main benefits of the technology compared with the traditional approach?
JL: It reduces the timeframe of lithium extraction compared with solar evaporation and hard rock mining from 18-24 months to less than 24 hours, and significantly reduces the capital cost of recovery.
Our process does not require investment in large, multi-phase, lake-sized, lined evaporation ponds, greatly reducing the physical footprint of the system.
It also expands the pool of viable feedstock by basically making nearly any industrial operation that produces wastewater containing lithium-rich brine a potential production site.
We enhance the quality of extraction and recovery across a complex range of brine's previously considered un-processable due to complexity or geographical location outside of solar evaporation appropriate zones.
These include oil and gas wastewater, natural brine and other brine sources, such as lithium-rich mine and industrial plant wastewater.
HV: How does the process make mining more sustainable?
JL: Methods like ours lower capital costs and turn today's "waste" into a resource. This represents the future of a more nimble, cost-effective and stable industry that's more sustainable, from both an environmental and a business standpoint.
HV: In April, MGX announced PurLucid is nearing completion of its second commercial-scale contract for the deployment of the extraction system at petrolithium sites in Alberta. How significant is this contract for the company?
JL: The contracts are a big moment for PurLucid and MGX. But they're also important for what they represent for the Canadian economy, specifically the oil sands and energy industry in Alberta.
Recent development and expansion of these oil sands wastewater treatment and lithium extraction systems were accomplished using funding from the Sustainable Development Technology Council (SDTC) and Emissions Reduction Alberta (ERA) that we received in late 2017.
The funding gave us a big boost toward bringing a new and extremely promising water purification technology to the Canadian oil and gas industry, as well as becoming a revenue-generating company within the next year.
HV: What is your outlook on the future demand and price for lithium?
JL: Lithium demand is not going anywhere and production is set to lag far behind in the near future.
Some market watchers are calling concerns over future supply bottlenecks 'overhyped', but they are ignoring the fact that most hard rock and solar evaporation projects take years to get online.
Technology like ours is likely to shake-up the market because it will stabilise production of lithium over the long term.
HV: What sets MGX apart from other companies trying to develop lithium projects?
JL: Three things come to mind. We're first to market and first movers in the space.
We are the only company in our niche with technology actually at commercial stage and we've received third party verification every step of the way.
We are involved in lithium, flow battery technology, vanadium and cobalt – all with low capital costs and a smaller environmental footprint.
Last but not least, the expertise of our board and staff bolsters our position as a market leader, with experts from the mining industry and oil and gas, both traditional and unconventional, as well as experts in more novel energy resources.
HV: What do you say to some analysts that have been critical of MGX's approach? For example, one told Reuters: 'Wildcatting for water is probably not a great business model.'
JL: We would have to disagree with the premise of the question. That term implies uncertainty.
We have done extensive research on the lithium quantities and chemical makeup of our resources. This research comes from decades of knowledge built by both private and public organisations and lithium is available in attractive concentrations across our portfolio, whether the Paradox Basin or our geothermal exploration near the Salton Sea in California.
We know, and the industry knows, that the lithium is there – what held production back was a lack of technological capacity, until now.
We did our homework. The challenge is not to find lithium, but to fine tune our system, which we've done.
HV: You've said MGX is talking with mining firms in Chile, can we expect some announcements soon?
JP: We recently completed pilot plant testing on brine samples originating from multiple salars in Chile and have entered into a joint brine testing agreement with a number of South American mining companies.
As of now, we're currently looking to solidify several joint ventures in the region and are excited to see our technology so well-received in the heart of the industry.
Early discussions have gone very well and we're on track with the timetables we've set, but we don't expect to make any announcements in the near term.
HV: What's MGX Minerals' next move?
JL: Our top priority is getting our deployments in the field. In the short term, we see this is as a turning point in the company, as we march towards being revenue-generating in the next year.
In the long term, we're seeking out innovative technologies to remain at the forefront of the mining industry and broad clean energy technology industry, like our acquisition of ZincNyx and partnership with Highbury Energy.