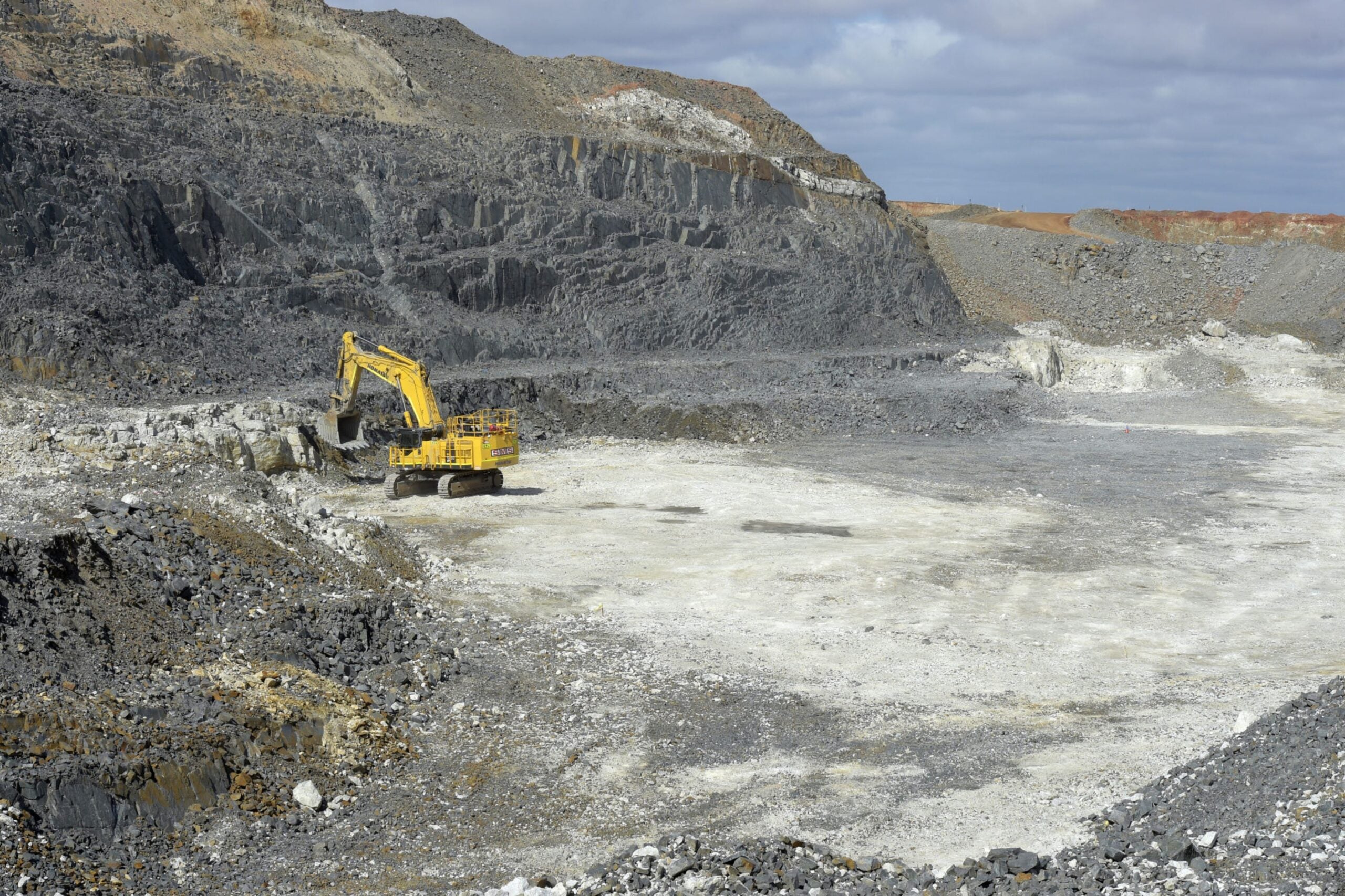 Despite their name, the 17 minerals labelled rare earth elements are not that rare. According to the US Geological Survey, they are about as common as copper. But REEs are both hard to extract, due to their ores oxidising rapidly, and extremely polluting, causing extensive water and soil pollution.
China's dominance of the market, holding some 44 million metric tons out of the world's total 120 million metric tons of rare earth elements, has sparked the need for a secure supply of the elements outside the country. This has been amplified by trade conflicts such as the US-China trade dispute in 2018, which threatened to disrupt numerous industries.
As those critical minerals were a priority of Trump's administration in the US, the White House signed agreements with Australia and Canada, in 2018 and 2020 respectively, to secure the supply of rare earth elements.
Similarly, the EU has concentrated its efforts to become less reliant on the imported raw materials by creating a list of critical materials that it plans to support locally.
MP Materials, California, US
Since restarting production in 2017, US miner MP Materials has emerged as a globally competitive rare earth elements producer, operating Mountain Pass, a mine with one of the world's highest quality rare earth deposits. The company currently produces approximately 15% of the global supply of rare earth elements.
The open-pit mine, situated in Mountain Pass, California, started production in 1952 and was the dominant source of rare earth element minerals in the world through the 1990s. The mine is currently the only rare earth elements mining and processing facility in the States.
MP Materials is a well-positioned global low-cost producer of high-purity separated rare earth oxides – including lanthanum, cerium, and neodymium-praseodymium oxide (NdPr).. The company can also serve as an integrated Western producer of magnetic materials by producing NdPr and satisfying the US mineral demand.
Some promising green technologies such as electric vehicles (EV), wind turbines, and drones depend on powerful NdPr magnets to turn energy into motion. As the adoption rate of EVs is expected to grow exponentially over the next few years, demand for NdPr is expected to rapidly exceed supply.
MP Materials is committed to achieve this mission as a sustainable, "green" rare earthsoperation, featuring dry tailings technology, closed-loop water recycling, and on-site reagent production to limit the environmental footprint of the processing facility. This approach could significantly reduce the radioactive presence associated with the extraction of rare earth deposits around the world.
Lynas Rare Earths, Western Australia
Lynas is one of the most notable producers of separated rare earth elements outside of China and the second largest in the world. Its deposit in Mt Weld, Western Australia is acknowledged as one of the highest-grade rare earth mines in the world and the company operates the globe's largest single rare earth elements processing plant, situated in Malaysia.
Lynas rare earth oxides are mined and initially processed at the Mt Weld Concentration Plant, before being shipped to the 100-hectare advanced materials plant in Gebeng, Malaysia, where the concentrate is separated and processed to produce high-quality rare earth materials.
The company has recently completed a new agreement with the US Government to build a new light rare earth separation plant in Texas. After this new project is completed and starts operating, Lynas will become the only non-Chinese player in the market to possess mass production capacity of rare earth oxide separation.
The facility is expected to produce about 5,000 tonnes of rare earth elements a year and help Washington's push to secure domestic supply of essential minerals used in magnets and motors.
Both Lynas and the US Department of Defense could potentially contribute about $30m each to the venture.
Commenting on Lynas' recent developments, Reo Liao, market analyst at trading advisory company IG says: "The pandemic has reduced the production capacity of Lynas' Mount Weld mine in Western Australia and the US' Mountain Pass mine in California in H2 2020.
"Following the boom of electric cars in major markets and the containment of the virus in the future, we believe that the demand for rare earth elements will soon pick up and Lynas' market share is highly likely to expand following the close cooperation with the US Government."
Iluka Resources, Australia
Australian-based resources company Iluka Resources is the largest producer of zircon and titanium dioxide-derived rutile and synthetic rutile globally.
Iluka has operations in the Australian states of Western Australia (Eucla and Perth Basins), South Australia (Jacinth-Ambrosia Mine), Victoria and New South Wales (Murray Basin), the US (Virginia), and Sierra Leone.
Established in 1998 in a merger between Westralian Sands and the titanium mineral business of Renison Goldfields Consolidated, Iluka Resources has an emerging portfolio in rare earth elements and is focused on delivering sustainable value to the minerals industry.
At the end of February 2021, Iluka Resources attracted attention for its talks with overseas governments seeking non-Chinese supply of rare earth elements and the company's plans to become the only fully integrated supplier on Australian soil.
A host of Western counties, including the US, are believed to be speaking to Iluka about support for a rare earths refinery at Eneabba, Western Australia.
Iluka Resources managing director Tom O'Leary said that the company could become a fully integrated rare earths supplier.
Iluka is looking to process large monazite stockpiles at Eneabba as well as taking feedstock from a long-life zircon-rare earths mine it would develop at Wimmera, Victoria.
The investment banking company Goldman Sachs has estimated that it will cost Iluka about $1.2bn for a cracking and leaching plant, a refinery producing 20,000 tonnes of rare earths oxides a year and to develop the Wimmera mine, potentially ready to start working in 2025.
Australian Strategic Materials, New South Wales, Australia
Australian Strategic Materials (ASM) is focused on producing specialty metals and oxides for advanced technologies and is the owner of the Dubbo Project, which will process zirconium, praseodymium and neodymium (both rare earth elements), niobium, and hafnium from a long-term resource in central-western New South Wales, Australia.
ASM's cornerstone Dubbo Project is a globally significant source of the critical materials for a range of emerging and sustainable technologies.
With all approvals and licences in place, the company said that Dubbo Project is ready for construction. ASM is monitoring product demand and will seek further investment for the project when market conditions improve.
In a joint venture with South Korea's Ziron Tech, ASM is currently developing oxide separation and metallisation technologies to create a range of value-added materials from existing precursors and, ultimately, Dubbo Project outputs.
ASM's pilot plant in South Korea has been completed with the successful production of titanium and neodymium metal. The company is currently progressing an optimisation study of the Dubbo Project that has the potential to positively impact the capital and operating costs of the project.
The firm has a long-standing partnership with the Australian Nuclear Science and Technology Organisation and a joint venture with South Korea's Ziron Tech, helping ASM to produce extremely pure and highly processed speciality materials essential to global manufacturing markets.
Energy Fuels, Utah, US
Energy Fuels is a major US producer of vanadium and an emerging actor in the commercial rare earth elements business, helping to re-establish a fully integrated US supply chain. The US producer is confident with its cash flow-generating opportunities, including vanadium production, uranium recycling, and rare earth elements processing.
On 14 December 2020, Energy Fuels announced its new three-year long supply agreement with the Chemours Company, a US chemicals firm, to acquire a minimum of 2,500 tonnes per year of natural monazite sands, one of the highest-grade rare earth elements in the world.
The company expects to process this monazite at its 100%-owned White Mesa Mill in Utah starting in Q1 2021, recover the contained uranium, and produce a marketable mixed rare earths carbonate.
The company is also in discussions with other organisations to acquire additional supplies of monazite and is working with the US Department of Energy to estimate the potential to process other types of rare earth elements and uranium-bearing ores produced from coal-based resources at the White Mesa Mill.
The company has a goal to process more than 15,000 tonnes of monazite and other sources of ore per year for the recovery of rare earth elements and uranium.