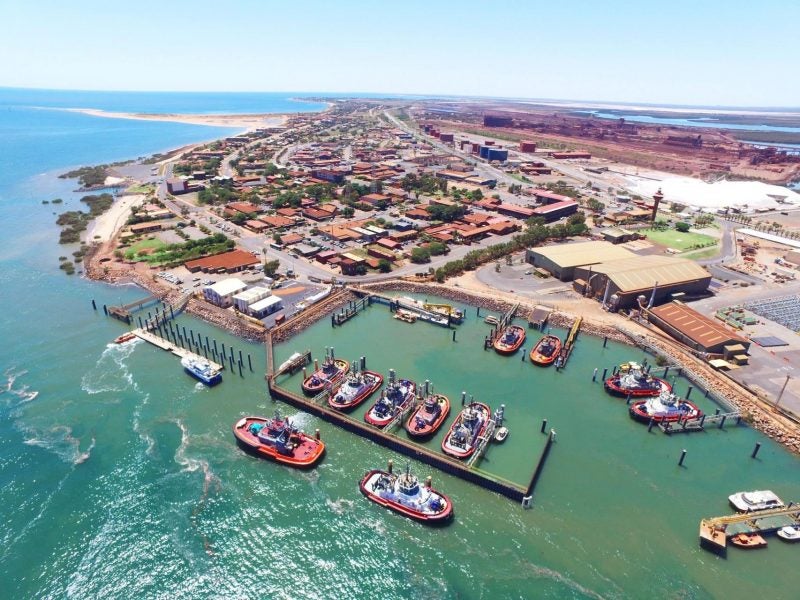 Port Hedland
Port Hedland is currently the world's biggest bulk export terminal, transporting half a billion tons of ore a year. It is also home to one of Australia's longest private railways which hauls ore about 400 kilometres (250 miles) from the mines of BHP Group and Fortescue Metals Group.
The two parts of the town — Port Hedland and South Hedland are divided by water and red piles of iron ore that sit between rail tracks waiting to be loaded onto ships that dock along the edges of the inlet.
The transportation line ran a record-breaking test in 2001 with a 7km train weighing almost 100,000 tons.
Port of Dampier
Port of Dampier is a major industrial port in the Pilbara region in the northwest of Western Australia. It is located near the city of Karratha and Port Walcott and is mainly used by mining companies.
Dampier Port is part of the Dampier Archipelago and is primarily a port for the export of iron ore from Rio Tinto mines, LNG and salt. Rio Tinto exports large volumes of iron ore, especially Pilbara blend through the port.
To boost exports of lithium and other materials, the port has invested over $55mn in the development of a general cargo facility Lumsden Point, and has identified potential multi-commodity export sites near Dampier.
Abbot Point Port
Located north-west of Bowen in Queensland, Abbot Point is Australia's most northerly coal port. With around 180 employees the port has been operating for 35 years exporting coal from Queensland's mines. The coal reaches the port via a GAP railway line from the Bowen Basin Coalfields.
In 2011 the port was acquired by Adani Group when it was privatised by the Queensland Government.
Abbot Point Terminal has so far undergone three stages of expansion that enable the passing of up to 50 million tonnes of coal per year. Adani is also currently looking to expand the terminal and allow additional 35 million tonnes of thermal coal to be exported each year. The plans have however received fierce resistance over concerns of environmental damage.
Port of Adelaide
The Port of Adelaide is the main port in South Australia and it is located 12 kilometres inland from Gulf St. Vincent. It includes an Inner and Outer Harbour and contains more than 20 wharves.
The port was one of the province's earliest settlements and during 2006-2007, over 10 million tons of cargo passed through the Port of Adelaide, including ores and concentrates.
Port Adelaide works with a range of outbound mining cargoes including: limestone, metals and scrap metal, iron-ore, iron and steel, mineral sands, mineral concentrates, cement and cement clinker.
This port was also recognised as the first State Heritage Area – a region with outstanding natural or cultural elements significant to South Australia's development and identity.
Port of Brisbane
The Port of Brisbane lies on Australia's eastern shores at the mouth of the Brisbane River and it is about 220 kilometres north of the Port of Yamba. The Port of Brisbane Corporation is a government-owned enterprise that manages and operates the third busiest container port in Australia.
Queensland Bulk Handling located at this port is a facility with the capacity to export 10 million tonnes of coal per year and it is Brisbane's biggest coal export terminal.
In the 2007-2008 shipping season, the port totalled almost 1.4 million tons of exports, and 123.6 thousand tons of transhipments. Major export cargoes included coal, refined oil, iron and steel, timber, and woodchips.
Port of Darwin
The port of Darwin is the main port and capital of Australia's Northern Territory. Located on Australia's north central coast, it lies on a peninsula at the northeast entrance of the Port Darwin Harbour.
Port Darwin supports the surrounding pastoral and mining areas exporting uranium, bulk ore and dry bulk.
Berth 2 part of the port specialises in bulk ore and has a rail mounted dry bulk ship loader with shipments loaded via the bulk handling facility at a rate of up to 2,000 tonnes per hour.
Berth 4 working with bulk liquids can also be used for container and general cargo liquid bulk and fuel facility.
Fremantle Port
Fremantle Port is the main port in Western Australia and one of Australia's largest ports. It is part of the Perth metropolitan area and it is located at the mouth of the Swan River on the Indian Ocean.
Fremantle Port's Outer Harbour (Kwinana) is an important bulk cargo port that works with fertilisers, sulphur, and bulk liquids. The Kwinana Bulk Terminal serves ships in loading and unloading cement clinker, liquefied petroleum gas, and silica. Both Fremantle's North Quay and the Kwinana Quay are connected by rail to the country's rail networks.
Some of Fremantle's notable exports for the 2018-19 period included 40,908 tonnes of ammonium nitrate, 2,840,817 tonnes alumina, 1,945,534 tonnes of bauxite, and 196,414 tonnes of spodumene.
Port of Gladstone
The Port of Gladstone is situated on Australia's north-eastern shores near the famous Great Barrier Reef. Currently, the Gladstone Ports Corporation (GPC) manages the Port of Gladstone and facilities to deliver natural resources and products to customers around the world. Located on a natural and protected deep water harbour the Port of Gladstone is the largest multi-commodity port in Queensland.
Major exports through the port include coal, aluminium, magnesium, fly ash, scrap metal, cement clinker, ammonium nitrate, limestone, and grain.
The port also imports minerals like copper, bauxite, and magnetite.
Esperance Port
Esperance Port is the largest nickel concentrate exporting port in the southern hemisphere and is Australia's door to world markets in the nickel mining region. Southern Ports' license allows the ongoing export of nickel sulphide and copper sulphide (up to 1.1 million tonnes per annum) subject to strict loading control.
Esperance Port handles over 200 ships per annum and more than 11 million tonnes of trade. The Port also operates with bulk imports such as fuel and fertilisers. With its $54mn port upgrade in 2002 Esperance became the deepest port in southern Australia, capable of handling Cape size vessels up to 200,000 tonnes and fully loaded Panamax size vessels up to 75,000 tonnes. As a consequence the port saw iron ore exports total 9.2 million tonnes in the 2010 financial year.
Its number 2 Berth contains a bulk ore loader with load rates of 600 tph (nickel concentrates) and 2000 tph (iron ore). The newer number 3 Berth iron Ore loading rates go up to 4500 tonnes per hour.
Port of Newcastle
The Port of Newcastle is located about 160 kilometres northeast of Sydney at the mouth of the Hunger River and it is managed by the Newcastle Port Corporation. Most of the trade through the port is coal, but the port also contains facilities to handle general and breakbulk cargo. The onsite infrastructure includes coal terminals, a bulk liquid terminal, storage facilities, and connections with local and national rail systems.
The Port of Newcastle's basin area is designated for general cargo handling, including containers, breakbulk, grain, and the port's ship repair facilities. The Eastern Basin handles general cargoes that include aluminium, steel, and timber.