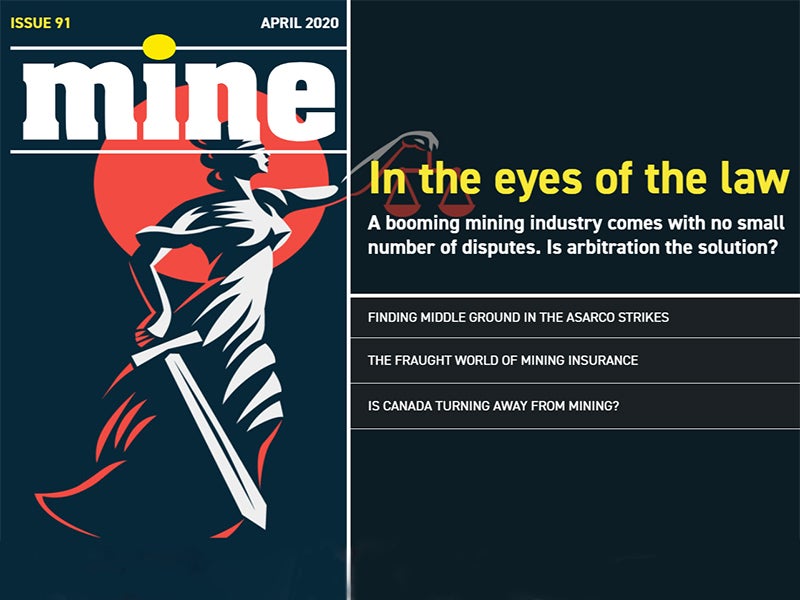 As the mining industry booms, so do the number of disputes. To find out more about the risks and issues mining companies face, and to what extent external arbitration can be of help, we spoke to experts from law firm Faegre Baker Daniels.
We also ask if there is middle ground to be found in the ASARCO copper mine strikes and profile Equatorial Guinea's new exploration agreements for six deposits. Plus, we investigate the fraught world of mining insurance, hear from DeepGreen about their efforts in mining the ocean floor, and catch up with progress at the Thorny River project.
Finally, we speak to NexTech AR Solutions and Romios Gold Resources about their partnership to develop 3D core samples in AR and assess whether Canada is turning away from mining.
In this issue
Talking mining disputes with Faegre Drinker's Adrian Jones
International arbitration is a common path for resolving disputes in the mining industry, but what are the common sources of disagreements in the sector, and how does the arbitration process work? Adrian Jones, partner at law firm Faegre Drinker, lends his insight to Chris Lo.
Read more.
Frozen pay and frosty relations: ASARCO's copper mine strikes
Close to 2,000 workers have been on strike in the US, at the facilities of one of the world's largest copper producers. With years of bad blood between local miner ASARCO and local union the United Steelworkers, JP Casey considers the potential impacts of the dispute.
Read more.
Equatorial Guinea: the first wave of modern mineral exploration
Equatorial Guinea has awarded 15 blocks in its first-ever licensing round for mining. Chris Lo asks, what is Equatorial Guinea's mineral potential, and could widespread criticism over corruption and human rights violations stand in the way of building a fair and profitable mining industry in the country?
Read more.
Does the mining industry suffer insurance extortion? Inside Codelco's Chile lawsuit
Despite a strong safety record, Codelco mineworkers and bosses are being charged insurance premiums nearly twice as high as the market average. The Chilean miner has filed a lawsuit alleging that miners' unions have inflated these premiums, raising a host of new questions for a miner already in transition. JP Casey finds out more.
Read more.
The potential and promise of ocean mining with DeepGreen
As an industry on the cusp, there is a lot to be both nervous and excited about when it comes to ocean mining. One interested party is DeepGreen, a sea mining organisation with an eye towards environmentalism and an aim of generating a circular metal economy. Scarlett Evans caught up with CEO Gerard Barron.
Read more.
Thorny River: inside a cutting edge project to mine diamonds in South Africa
Subterrane, the sciences and engineering researcher, is working commercially with mining company Botswana Diamonds on the Thorny River Project in the Limpopo Belt Province of South Africa using a technology first developed in the oil and gas industry. Yoana Cholteeva caught up with their progress as they seek to find lucrative kimberlite pipes.
Read more.
Visualising drilled materials with NexTech
Canada-based augmented reality developer NexTech AR Solutions has partnered with Canadian mining company Romios Gold Resources to develop 3D core samples in AR for the mining industry. Yoana Cholteeva finds out more about the challenges of intuitively visualising core samples from exploration projects.
Read more.
Cancel culture: is Canada turning away from mining?
The C$300bn industrials sector, comprising industries such as transport, construction, engineering and defence, has toppled mining and forestry stocks from their position as the third-most valuable collection of companies on the Canadian market. As the industry struggles domestically and internationally, JP Casey wonders if Canada is turning away from mining.
Read more.
Next issue
Rhodium is trading at its highest level since 2008, driven by demand from the automotive industry where the precious mineral is used in toxic fume reducing catalytic converters. So how is rhodium mined and who are the big players? We find out.
We also take a look at both Rio Tinto and Vale's approach to iron ore and ask what the future could hold for both, consider how better compliance could benefit miners across the sector, and examine whether the ICMM's new regulations could help clean up mining.
We also round up some of the most important innovations in chemical extraction and separation technologies, speak to the authors of a report about metals trading in the ancient world, hear from Odey Asset Management about mining risk, and investigate the world's largest electric mining vehicle.