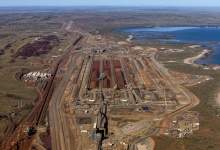 Rio Tinto mining trucks " height="295″ src="https://www.mining-technology.com/wp-content/uploads/image-digitalinsightresearch/Archive/nri/army/Rio%20tinto%20mining%20truck.jpg" width="431″ />
After much debate and political promises, the Australian Prime Minister, along with the mining industry, is jubilantly celebrating after the coalition government successfully brokered a deal on Monday to repeal the controversial Mineral Resources Rent Tax (MRRT), originally brought in by the previous Labour government in 2012.
The MRRT placed a 22.5% super profits tax on coal and iron ore producers and was designed to better spread the wealth of the mining industry.
The deal struck by Prime Minister Tony Abbott's government most certainly reaffirms the industry's powerful influence over Australian politics, as well as its pivotal position in the Australian economy.
However, as many analysts are saying, its repeal is unlikely to have a much of an affect on the cyclical downturn currently being experienced in the Australian mining industry, and won't impact new mining projects receiving funding or prevent the closure of mines.
Industry reaction – boost for investor confidence
Scrapping the MRRT was an election promise by Abbott. It's axing, which is estimated to cost Australia's fiscal budget $6.5bn over the next four years, was achieved after the government secured a deal with Senate crossbenchers, including the Palmer United Party, headed by mining magnate Clive Palmer.
"(The MRRT has) done a lot of damage to Australia and hasn't raised any money," The Australian quoted Palmer as saying on Tuesday.
---
---
Australia's goal to raise $2bn from the mineral resource rent tax was missed by a clear mile in 2012.
---
Meanwhile, Greens party leader Christine Milne suggested the new deal was a farce saying "This is a coal mining billionaire abolishing a tax on coal mining profits".
CEO of industry representative body, The Association of Mining and Exploration Companies, Simon Bennison, in a statement said "This is another step towards restoring Australia's international competitiveness."
The association added that the repeal of the tax, which was agreed alongside a delay in employer pension contributions to employee's accounts, will improve investor confidence and create more jobs for Australians.
However, the likely-hood of it resulting in more jobs has been disputed.
In its first six months of operation the tax earned only $126 million for the government, much less than what was projected ($3bn for the first year).
Minerals Council of Australia chief Mitch Hooke told The Australian last year that the tax wasn't making any money for the government because of a high dollar and low commodity prices.
Not much has changed, and if very little was being paid out in the first place it's unlikely it'll provide much of a boost, never mind end jobs cuts now its been scrapped.
Cuts being the order of the day, Rio Tinto this week announced 100 job cuts at its Queenstown Kestrel coal mine and earlier in August Glencore announced it will cut 100 jobs at its Newlands coal mine.
An overcomplicated system resulted in little gain
Australian Mines and Metals Association (AMMA) chief executive Steve Knott called the tax an "unnecessary and irresponsible barrier to investment and jobs growth in Australia" but warned "Repealing the mining tax doesn't provide us with a competitive edge, but it does get us back on a level playing field."
"Repealing the mining tax doesn't provide us with a competitive edge, but it does get us back on a level playing field."
Lead mining analyst at Timetric, Clifford Smee, says the MRRT tax failed to generate income because it was changed from being relatively simple to over complicated.
"It was focused on iron ore and coal miners of a certain profitability level but the inclusion of rules that allowed miners to use prior capital spending as a tax deduction which ensured few made payments. This meant the tax raised little revenue.
"I understand that BHP paid $200 million in mining tax in the 2013 financial year and $24.8 million in the 2014 financial year, and Rio Tinto has had all its payments refunded by the tax office."
He adds that this is "quite hard to believe" considering iron ore mines run by BHP and Rio Tinto produce iron ore at less than US$40/t and then sell that Iron ore for over US$100/t throughout 2013 and most of 2014.
While abolition of the tax reinforces the mining industry's political and economic prowess and will give foreign investors one less thing to worry about, it is unlikely to make any noticeable difference to companies and employers on the ground, especially not the juniors. It will, in fact, only reduce the tax burden of large mining companies slightly, says Smee. Therefore it seems to have been a lot of political wrangling for little gain.
In fact, some argue that workers, including mining workers, will be worse off because, along with scrapping the tax, increases to the amount employers are required to contribute to employee's pension accounts will be delayed for several years. The mining tax was supposed to fund this increase.
"The repeal is unlikely to have a dramatic affect on new mining projects receiving funding, or preventing the closure of mines," says Smee.
"I definitely wouldn't say the repeal will assist the mining industry which is currently in a cyclical downturn."