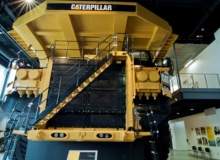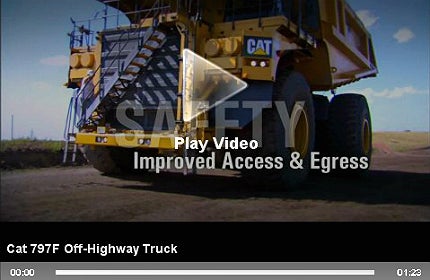 In a mine, nothing is more important than the steady and reliable equipment that is used to transport the huge amount of ore and waste that is produced every day between the different mineral process stages.
Haul trucks, belt conveyors and stackers can potentially increase output, control costs and maximise productivity.
Good material handling also improves safety, both in-pit and underground, by eliminating expensive infrastructure such as crusher stations and large bins.
Miners and manufacturers are taking note of these facts and as a result, today's transportation equipment offers higher payload capacities, better maneuverability and easier accessibility than ever before.
Caterpillar 797F
"Haul trucks, belt conveyors and stackers can potentially increase output, control costs and maximise productivity."
A prime mover in the transportation process within a mine site is the haul truck, and at more than 21ft tall, Caterpillar's 797F is the largest in the world. The ultra-class 797F is a third-generation model in the 797 series and entered full production in late 2009.
The truck offers one of the largest nominal payload capacities in the world – up to 400 tonnes – and has a 3G monitoring system which provides the operator, and service technicians working remotely, with payload data to prevent overloading and improve fleet effectiveness.
The vehicle is fast – it can move at a top speed of 42mph when loaded – but the hydraulically-activated, automatic retarder control system is designed to modulate the brakes during the descent of a steep hill.
What's more, the transmission control electronically senses engine conditions and automatically up-shifts one gear to prevent over-speeding.
Cat's 797F has a 20 cylinder, quad turbocharged engine and an electronically controlled system, which senses operating conditions and regulates fuel delivery to meet US emission requirements.
The vehicle doesn't come cheap; a single tire costs around $43,000 and its overall costs comes to more than $5m. But, with such a high payload capacity for gold, copper or iron ore, there's no doubt it's earning its keep.

Related content
---
As the demand for raw materials rises and commodity prices increase, Fortescue is set to recover from a tough 12 months.
New, automated technologies are setting the tone for a future of mining characterised by increase in production rates, safer operations and high profit margins.
---