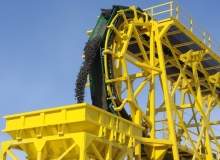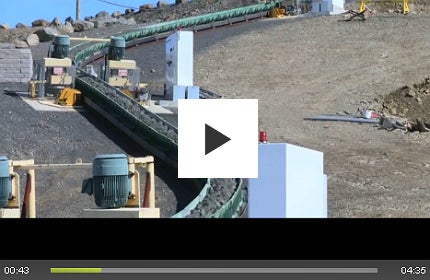 The mining industry is facing huge challenges, as the global demand for resources soars and supplies dwindle. Add a shortage of skilled labour and rising mining costs to the equation and you get a 5,000-year-old market in need of a make over.
Mines of the future will need to be smarter, with innovative business models and new technologies to make mining simpler, faster, cheaper and more efficient.
In a recent white paper, entitled 'Envisioning the Future of Mining', International Business Machines Corporation noted: "The most fundamental change will be in flipping the supply chain on its head, where the goal won't be to the push product out of the ground to dump on the market, but to respond nimbly to sophisticated customer relationships and market dynamics."
These needs have signalled a shift in operations and a new age of automated programmes and systems.
Smart tech for future mining
One system driving the market in the right direction is the Rail-Veyor – an industrial material handling solution developed by Rail-Veyor Technologies Global for underground or surface mines.
"Mines of the future will need to be smarter, with innovative business models and new technologies to make mining simpler."
Operated remotely through a control centre, the automated train can load, unload and transport industrial materials, enabling safer mining, according to Vale, the Brazilian mining giant that has spent almost $50m to install and test the system in the nickel-rich town of Sudbury, Ontario.
Vale Base Metals manager for technical systems development Kate Mclaughlin said in an interview in October that Rail-Veyor enables her company to move run-of-mine muck out of surface mines and deeper underground up to a shaft.
"It enables us to eliminate a lot of infrastructure underground, where we historically have accidents and have our men hurt. So things like ore passes, crusher stations and large bins – all of these massive pieces of infrastructure that we normally have to spend a lot of capital to install and then maintain, are eliminated with the material handling system."
Since the system was installed at the 114 orebody, Vale has doubled its daily production rate to 2,500 tonnes, and expects a faster return on investment.
---
Related content
---
Brazilian mining giant Vale says it is wholly focused on technological solutions to improve the efficient use of natural resources and to reduce emissions from pollutants.
An unmanned aerial vehicle developed for the Slovenian military recently completed a record-breaking 80-minute mapping mission above one of the world's highest mines, the Los Pelambres complex in the Chilean Andes.
---