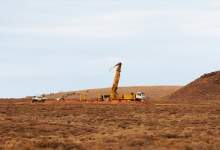 Despite mineral and petroleum production in South Australia (SA) topping $7.5bn in 2013-14, the highest level on record, investment in the region's crucial exploration sector, the 'engine room' of the industry, has dropped from $328m to just $116m over the past three years.
But, as the SA Government increasingly prioritises attracting fresh capital to struggling junior explorers – through geo-scientific data gathering and co-funded drilling programmes, among other things – is the exploration sector about to get the boost it so desperately needs?
Mining has become an absolutely key priority for the SA Government, with Mineral Resources and Energy Minister Tom Koutsantonis announcing in November 2014 that SA would create 5,000 new jobs across the sector by 2017, as well as attract ten more service companies and increase private investment in mineral and energy resources exploration to $1bn per year.
For Jason Kuchel, chief executive of industry body the South Australian Chamber of Mines and Energy (SACOME), it's the focus on attracting exploration expenditure that could really impact the future of the industry. "Junior explorers or exploration itself, which is mostly undertaken by junior explorers, is the engine room for discovery, which in turn leads to project development, which in turn leads to mining," he says. "So it's really critical that we're able to restart the exploration sector."
Currently junior explorers are struggling with volatile commodity prices and constrained capital markets, both of which impact their ability to attract fresh capital.
---
---
The Northern Territory has unparalleled resource potential, but realising it won't be an easy task.
---
New data, new discoveries
The SA Government has clearly recognised the importance of successful exploration to the industry's continued growth, launching a slew of initiatives specifically aimed at encouraging exploration investment, including releasing new geo-scientific data on previously underexplored areas, as part of its PACE (Plan for Accelerating Exploration) programme.
For example, in November 2014, data on 6,500 square kilometres of the Musgrave Province in the remote north west of SA, which, Koutsantonis stated, is highly prospective for nickel, copper, chromium, platinum group elements and base metals, was made available in what he called "an important step forward towards understanding the mineral potential of this next frontier area."
The data provides much higher resolution coverage compared to existing data, according to Koutsantonis, and, he emphasised, will encourage companies to continue their search for new resources, delivering "broader economic activity and regional benefits".
Prior to November, data had also been released on several other areas in the state, including the highly prospective Gawler Craton and Marree regions, as well as the Eucla-Gawler region near the Western Australian border. And more recently, in December, a new 3-D model of the Eastern Gawler Craton, the first of its kind in the world, was issued in an effort "to stimulate new mineral discoveries".
"The government recognises the importance of delivering pre-competitive information as an important driver underpinning mineral discoveries and its PACE initiative has a long heritage of delivering new data to stimulate exploration. Now in its tenth year, it has delivered a huge amount of open file data, shining the light on prospective areas, and this has been a great starting point for many greenfield exploration programs," says Dr. Steven Hill, director of the Geological Survey of South Australia (GSSA), which played a key role in delivering the new data.
"The SA Government has clearly recognised the importance of successful exploration to the industry's continued growth."
"It has substantially boosted the entry and activity and retention of new companies entering South Australia, and in the next five years the PACE Initiative will continue to focus on reducing exploration risk and identifying prospective areas to increase tenement exploration activity and investment."
Drilling into the future
Geo-scientific data gathering is just one aspect of the PACE initiative, which, since its launch in 2004, has become one of the state's greatest returns on investment, generating an additional $700m in private mineral exploration expenditure and yielding an increase in mineral production in the region to the tune of $2.4bn for an overall expenditure of less than $50m.
It certainly won't be stopping there. Indeed, over the next four years, the government has committed an extra $4m to the next phase of the programme, PACE Frontiers, which will focus on addressing geological and technical challenges facing explorers in SA with the aim of continuing to drive industry confidence to invest in the region.
Programmes within PACE include the discovery drilling programme through which the government co-funds promising exploration projects, and the new Minerals System Drilling Programme, which is trialling leading-edge technologies including real-time drilling analysis.
The former has already resulted in success stories, including the Carrapeteena copper-gold discovery and the Challenger gold mine expansion, as well as testing new exploration models and deposit styles and increasing understanding of the geological profile of SA, in turn stimulating international interest. In 2015, the programme is going to be more important than ever.
---
---
Vocal support for coal as a power source among the global elite is rare in the modern era of sustainability goals.
---
"PACE Discovery Drilling is intended to stimulate the next round of greenfield discoveries," Miles Davies, PACE general manager, notes. "And during this time of global constraint in the exploration sector, the commercial sector and government must work hard to bring forward the next discovery of projects to feed a pipeline of future projects and mines."
The PACE team also has high hopes for the Minerals System Drilling Programme, which, as well as investigating leading-edge drilling technologies, will draw on innovative approaches developed by the GSSA, designed to look for big new mineral footprints and define new ore bodies.
"The programme is incredibly innovative – the only place taking this suite of approaches, and it is expected to lead to breakthroughs in understanding major mineral systems," Hill says. "Participating explorers will also benefit in a number of ways – they will gain access to a new array of technologies, gain a better understanding of the context of broader mineral systems, and will be ideally placed to use data generated to better target future exploration programs. It's an excellent example of combining strengths of science, government and the commercial sector to pioneer and embrace new methods."
SA Government: overall, on the right track
Clearly, exploration is becoming an increasingly important focus for the government, but is it doing enough to kick-start the sector?
Says Kuchel, of course more could be done. "For example, there's certainly an opportunity to increase the funding towards the discovery drilling programme, which still requires money from the exploration sector," he notes.
"A significant step change may well encourage exploration companies to come to South Australia rather than looking elsewhere. This could be quite a valuable way for the government to try and increase its market share, so to speak, of exploration expenditure that comes to the state."
Overall, however, the state is on the right track. "I think both the Premier and Minister Koutsantonis understand the critical importance of the sector and they also understand the vitally important role it plays in the SA economy, and that it is one of the few industries that can actually provide significant wealth generation to the state. Could they do more? Absolutely. But we do applaud the fact that they understand how important the industry is to our future prosperity," Kuchel concludes.