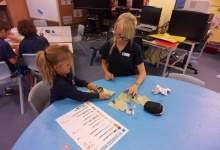 Encouraging young people to think about the industries behind commodities they benefit from every single day, such as coal, oil, gas and rare earth minerals, is a well-known challenge. More often than not, like most adults, teenagers never give such things a second thought.
Even in a country like Australia, which is often said to have been built on mining, engaging youth in the extractives industries can be a somewhat arduous task, especially those outside the STEM (science, technology, engineering and mathematics) subjects or those who do not live in mine-facing areas. Nevertheless, it is an important process in mitigating the potential growth-slowing future skills gap.
In a bid to inspire the local youth to think creatively about mining, the South Australian Chamber of Mines and Energy (SACOME) is adopting a modern approach, sweetened with a cash incentive. It has launched a video competition, called 'Dirt TV – what mining means to me', which offers an A$10,000 cash prize to the winner.
Far from a dull geography or geology lesson, the competition, which is sponsored by BHP Billiton, Santos, OZ Minerals, Linc Energy and IMX Resources, asks students to create a short and 'compelling' video clip illustrating what mining or oil and gas means to them. Entries will be judged by media personalities and winners will be announced at an awards ceremony towards the end of the school year.
Modelled on a competition that started in Canada four years ago, SACOME deliberately launched its version at the beginning of the year to coincide with the start of the Australian school year. Organisers are hoping teachers will integrate the competition into the school syllabus. SACOME chief executive Jason Kuchel gives an overview of the new public awareness scheme.
---
---
Mining has a reputation for being rough, remote and dangerous, as well as being one of the most male-dominated industries in the world.
---
Heidi Vella: SACOME's Dirt TV competition is modelled on a similar competition run in Ontario, Canada?
Jason Kuchel: SACOME has developed a close working relationship with the Ontario Mining Association (OMA), and was presented with their version of the competition, So You Think You Know Mining, on a visit to Canada last year. The initiative has been successful in generating a positive public perception of mining in Ontario, and I was impressed by its outreach and growth.
The OMA's competition has almost doubled in size each year with a number of entrants now coming from outside the Greater Toronto Area instead of just the immediate region.
We hope to engage students throughout the state, but also in regional areas of South Australia in the same way, particularly as the majority of our operating mines are in the northern remote parts of the state and very much on the doorstep of schools like Coober Pedy Area School and Roxby Downs High School.
SACOME sought permission from the OMA to replicate the competition and have since maintained a relationship throughout the start-up process.
""The program has revealed a general lack of awareness of the mining industry and its opportunities""
HV: How aware do you think young people in South Australia are of the mining industry?
JK: SACOME already runs an extensive Careers Promotion program, which delivers face-to-face presentations in both primary and secondary schools. The program has revealed a general lack of awareness of the mining industry and its opportunities, particularly amongst schools in the Adelaide metropolitan area and also girls in secondary schools.
In some cases, schools that are in close proximity to a mine site have a positive relationship with community outreach staff at the mine and students are very much aware of what is being mined there, what it is used for, and how it impacts their community. This competition aims to grow that awareness beyond the coal face.
HV: What do you hope to achieve from the competition in the long-term?
JK: The competition was designed in Ontario to address certain industry challenges, one of which is the ambivalent or inaccurate public perception of mining in Ontario. SACOME's long-term goal is the same, to change the way young people think about the industry in South Australia and to promote the opportunities outside what they have considered in terms of job opportunities and career pathways.
In the short term, the competition represents a unique opportunity for students to express creativity through music, art, dance and acting. In addition, video production involves various activities that integrate research, technology, social interaction, and the construction of words, pictures, video and audio.
---
---
Northern College in the busy mining province of Ontario, Canada, has teamed up with the local Confederation College to deliver its century-old international mining course to more students..
---
HV: What challenges do you face in making this competition a success?
JK: A big part of making this competition a success is to get teacher buy-in. For this, SACOME needs to make teachers see the value of including a competition like this in their curriculum.
The competition has been deliberately designed to be cross curricular; it is not just a competition for students engaged in STEM subjects, but could be used as a project in English, Media Studies, Languages, Drama, Music and ICT. We hope this will be a big draw card for teachers, who are always looking for new and exciting ways to engage students.
The main challenge for SACOME and teachers will then be to help students see the value of taking part in the competition. The financial incentives are a large part of this.
HV: The age gap for entrants, 12 to 14, is quite wide.Will different age ranges be judged in different age categories or all together?
""In the short term, the competition represents a unique opportunity for students to express creativity through music, art, dance and acting.""
JK: SACOME did consider this point in early discussions about the competition, but agreed that entries from all age groups will be judged together based on the idea that Year 7 students are just as capable of demonstrating incredible originality, resourcefulness and imagination in their work, as well as delivering a message. The 2013 OMA winners were from this age group. SACOME has created five award categories, including one that is based on a public vote, which will help create a level playing field for all competitors.
HV: The competition task will inevitably attract those with a more creative flair, which is an attribute not commonly associated with the mining industry. Is there a place for artistic and creative individuals in the mining industry?
JK: While the competition is aimed at students engaged in the arts and media, the competition aims to address this age group as a whole; everyone can have a voice. It is our goal to enable, inspire, influence and engage opinion makers and the workforce of tomorrow – the digital age generation.
Many of these students spend more than 16 hours a week online; 96% of them have joined a social media network; they don't trust or care about controlled industry-driven messaging. These are the students we are hoping to engage through the competition and they most definitely have a place in the mining, oil & gas industries – every industry needs people at the cutting edge of technology.
HV: What response have you had from the mining industry and is it actively involved in promoting mining to young people?
JK: There has been a positive response from industry since the official launch of the competition, with several expressions of interest from member companies to sponsor the initiative.
Industry has been sponsoring SACOME's Careers Promotion program for over 15 years. This has allowed our manager of careers promotion to deliver face-to-face presentations in both primary and secondary schools about the mining oil & gas industries.
There are also examples where our members have gone above and beyond in terms of their support of SACOME's education activities, including OZ Minerals and Iluka sponsoring our careers manager to travel to schools in the area of their mine sites to present the program to these students.
This included facilitating a trip to the Anangu Pitjantjatjara Yankunytjatjara (APY) Lands and presenting at Aboriginal schools in four of the communities there. The APY lands are almost in the centre of Australia. This is on top of the education programs and outreach activities that many of these companies already deliver to communities in the area of their mine sites.