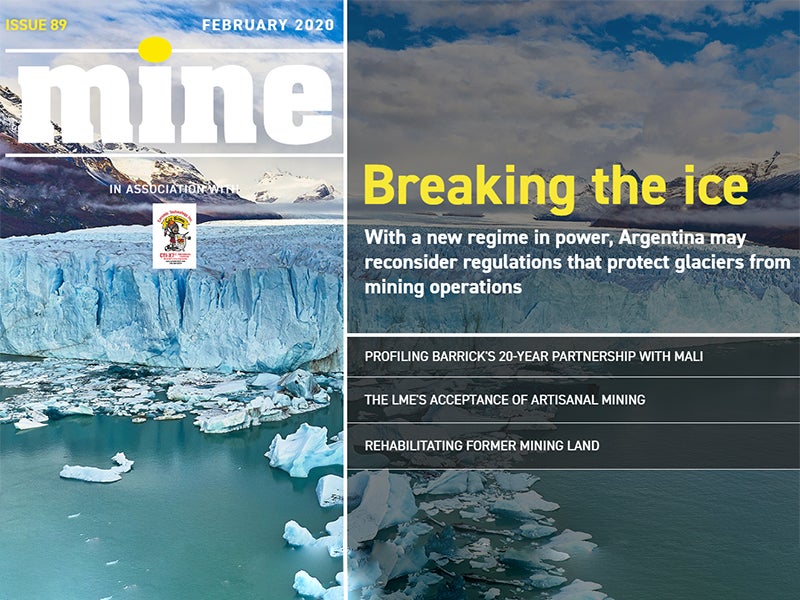 At the end of October, Barrick Gold Corp president and CEO Mark Bristow made a speech in Mali to celebrate the company's partnership with the Malian Government and to pledge further commitment to the country's mining sector. We talk to Bristow about the development of mining in Mali, as well as the company's history and future plans in the country.
We also look at the potential impact of the LME accepting metals from artisanal miners, and report on the state of mica mining and the ethical challenges the sector faces.
Also in this issue, we examine whether a new regime in Argentina could change a mining industry in stasis, speak to the Coal Authority about rehabilitating former mining land, and learn about the most important technologies helping to keep miners safe.
Plus, we round up the major players leaving coal behind, and hear from Bryan Cave Leighton Paisner about securing alternative sources of funding in the mining industry.
Click here to read the latest mining industry news and analysis, and join the conversation on Twitter.
In this issue
Barrick and Mali: inside a 20-year partnership
Barrick is celebrating two decades of work in Mali, having kick-started the country's gold-mining industry and delivered benefits for shareholders and locals. JP Casey considers the miner's history of production and controversy in Mali, and how it could be uniquely positioned to affect the country's future.
Recognition, but with risks: the LME accepts artisanal mining
Earlier this year, the London Metals Exchange announced plans to accept wares from small-scale miners to ensure that those who rely on artisanal mining for a living can trade internationally. Some say this will help legitimatise the beleaguered industry, while others think it will encourage further illegal activity. Scarlett Evans investigates.
Mining mica: can the industry overturn its legacy of exploitation?
Mica, a shimmering, heat resistant mineral used in everything from car paint to make-up, is in large-part produced by artisanal miners in India and Madagascar, where child labour and unsafe conditions are rife. Heidi Vella finds out what can be done to rid the commodity of its unethical origins.
Argentina: will a new regime change a glacial mining industry?
During his election campaign, the newly appointed Argentinian president, Alberto Fernández, courted the mining industry with promises to simplify the country's mining code and reconsider a controversial glacier protection law. So now he's in office, what can the industry expect next? Heidi Vella reports.
Building over former mines: a new guide for the UK
The UK Coal Authority and the Construction Industry Research and Information Association recently released a new 500-page guide to help those building on or remediating land previously used for mining. Yoana Cholteeva spoke with Coal Authority mining consultant and information manager Dave Parry about the value of the new guide and the details surrounding it.
How tech can improve miner health
Health technology firm BridgeHead has developed a number of solutions to help assist in the management of miners' health in remote locations. Umar Ali talks to Georgina Hurst, private healthcare and partners director at BridgeHead, to find out more about the important technologies helping to keep miners safe.
Exit stage left: the big miners moving away from coal
Rio Tinto sold its last coal mines in 2018, becoming the first mining major to go coal-free. Since then other mining companies have followed Rio Tinto's lead and exited the coal industry; could the days of mining majors investing in coal be numbered? Umar Ali rounds up the big names leaving coal behind.
Securing alternative funding in mining with Bryan Cave Leighton Paisner
A number of alternative sources of finance, such as strategic investments, joint ventures and equity based fundraisings, are available to mining companies, but what do miners need to know before they take the plunge? Yoana Cholteeva speaks to Alexander Keepin, corporate finance partner at international law firm Bryan Cave Leighton Paisner, to find out more about these options.
Preview – MINE March 2020
With Bolivian President Evo Morales forced from office in November, could government policy over the country's massive lithium reserves at the Salar de Uyuni salt flats be about to change? We profile the Bolivian mining sector post-Morales and ask if change is on the horizon.
We also investigate the ICA's new global standard for copper production, look at some of the potential mining hubs in Asia other than China, and examine ZImbabwe's 'use it or lose it' policy for mining assets.
We also explore mining mysteries yet to be resolved, see what lessons can be learnt from the Burkina Faso attack, discover the potential of block caving, and consider the impact of the US House's vote to ban all uranium mining near the Grand Canyon.