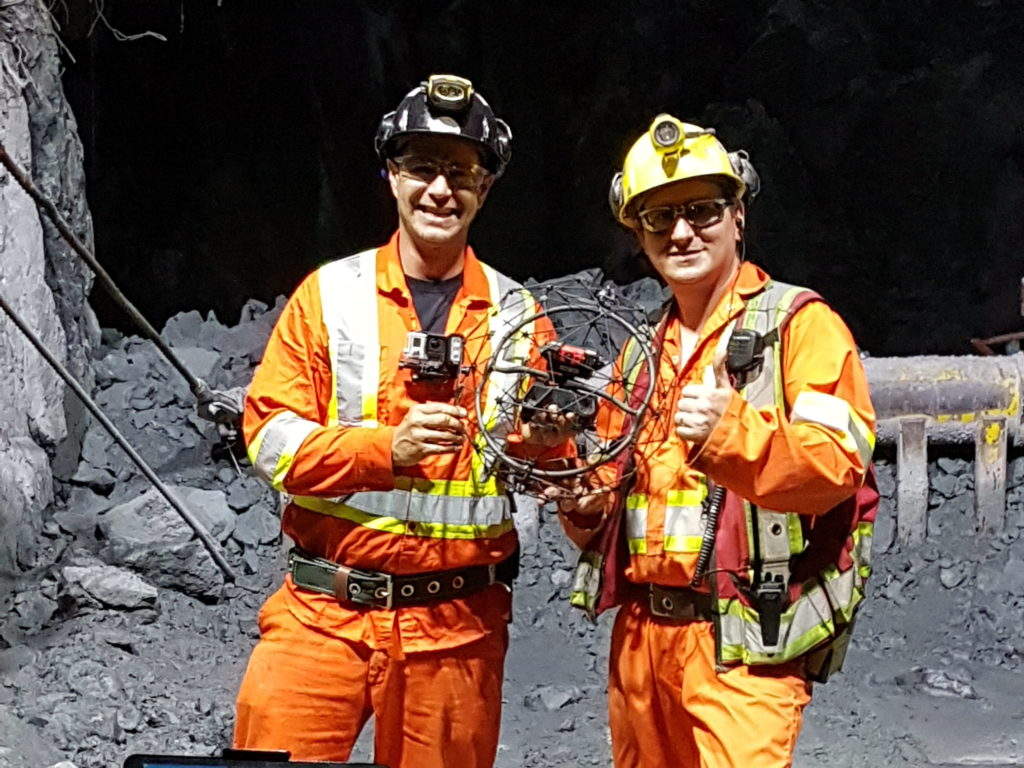 Inspecting a mine can be a perilous task, with the threat of falling rocks and unsteady ground. Yet sending robots into such spaces has offered limited solutions, with obstacles to signal and sight. But this may all be changing thanks to advancements in drone technology.
Unmanned Aerial Services (UAS) teamed up with drone manufacturer Flyability to explore and check every nook and cranny of the North American Palladium Lac des Iles mine near Thunder Bay, Ontario, Canada. The partners used a drone named Elios, which was able to see into shadow zones regular scans are incapable of, while being sturdy enough to survive collisions in the pitch back caverns of the mine.
Flyability's Elios is different to most drones, as it is surrounded by a cage, making it extremely tolerant of collisions. Made of carbon fibre, this structure can protect the drone against crashes and knocks at up to 15km/h. This makes it perfect for operating in the unpredictable and varied environs of a mine.
A call from a drone enthusiast
Drones are being used in a range of industries, for everything from assessing maintenance requirements to creating virtual reality videos. For Marc Gandillon and his team at Flyability, however, Lac des Iles presented the company's first opportunity to work in mining.
"One of the guys from the Lac des Iles mine contacted us a year ago, saying he was using a Phantom 4 drone to explore some parts of the mine where he worked," says Gandillon. "He was a drone enthusiast who had done some trials on his own already. He said, 'I'm interested in a solution to one of the biggest problems with regular drones, that if you touch an obstacle then you crash and you break the drone.'"
Thus, the Elios collision-tolerant drone was chosen to investigate a number of areas in the mine. Elios's cage protects the propellers, cameras and lights attached to the drone, ensuring a bump never leaves the drone in the dark.
"The stability of the drones is extremely impaired in a mine, so you can't just fly any kind of drone as it goes beyond line of sight, so you actually can't see the drone, you can only see what the drone sees," explains Gandillon. "If you're in a very narrow space there's a high chance that you'll hit something, then you can break a propeller and then your drone is left there because there's no way you can collect it. So the cage was necessary to be able to explore that kind of environment."
A dangerous industry, even for a robot
The Lac des Iles site is the only pure play palladium mine in the world, and has been in operation for over 20 years. It includes both an open pit and an underground mine, which take advantage of an estimated 2.78 million ounces of contained palladium. As such, it has a complex mix of old and new galleries that must be managed properly to ensure that the mine is stable and secure.
The key benefit of using a drone in the mine is the improvement to safety. "These kinds of environments are extremely dangerous," says Gandillon. "The risk of accident is very high, because you may have rocks falling from the ceiling, or you can sometimes get vertical, 1000m deep galleries."
Mining is a dangerous industry, with a number of hazards that miners must avoid and overcome throughout operations. In 2016, 63 deaths occurred in just the International Council on Mining and Metals-registered companies, and one of the major causes was fall of ground. Elios is able to view potentially dangerous areas, looking for cracks or other indicators that the area is unstable without placing weight upon the ground, which might disrupt it and lead to rock fall or other potentially hazardous scenarios.
"It's just impossible to involve a human in some spaces because there is no standing, you could put rope access, but then you're still threatened by some rocks that could fall on your head, so it's a dangerous environment," says Gandillon. "Robots are just logical."
Elios and the mine
The Lac des Iles mine was the first time Elios has been used in a mine site, and UAS made sure to take advantage of the technology, sending it on several missions. "Firstly the ground had moved in one of the galleries and this created an open cavity alongside the gallery," explains Gandillon. "They wanted to know the size of this space." Instead of using traditional scanners, which can rarely give a picture of the entire space, leaving shadow areas as they are rooted to a central point, Elios was dispatched.
The drone was used elsewhere to map important indicators within the mine, such as dykes. This inspection was particularly used for checking stope ceilings, after they have been blown out. Experts need to know what these ceilings look like to prevent problems on future levels.
Finally, Elios was set to easing the expensive and time-consuming task of backfilling the spent galleries. "They did a scan and there were some shadow areas," says Gandillon. "They wanted to know how much backfilling was needed, so they wanted to know the size of this shadow area. As well as the sealing of the open cavity, on top of that cavity you have an open gallery and you need to know when you roll over it in a truck, it won't fall through the ground." As such, the confidence a drone scan can provide with regards to backfilling is very attractive.
Sensitive signal propagation
While the benefits of using drones are clear, Flyability team needed to overcome several challenges inherent to working in a mine.
"The main problem that is quite sensitive is the signal propagation; to control the drone you need to have a radio signal connection between the drone and the remote controller," says Gandillon. "The environment, a rocky or concrete environment, is constantly absorbing the signals energy so if you go too far away then you lose signal and you can't bring the drone back."
Flyability turned to partner DJI to solve this particular challenge, integrating the Lightbridge 2 transmission system into the drone. This is efficient enough to allow Elios to fly 150m away, down curved, underground passages and tunnels without any loss of signal coverage, and sending a constant video stream of what the drone can see.
The potential of drones is only beginning to be realised in the mining sector, but with Elios's ability to fly without fear of the knocks and bumps inevitable in such an inhospitable environment, the technology continues to prove adaptable enough to meet the industry's needs.