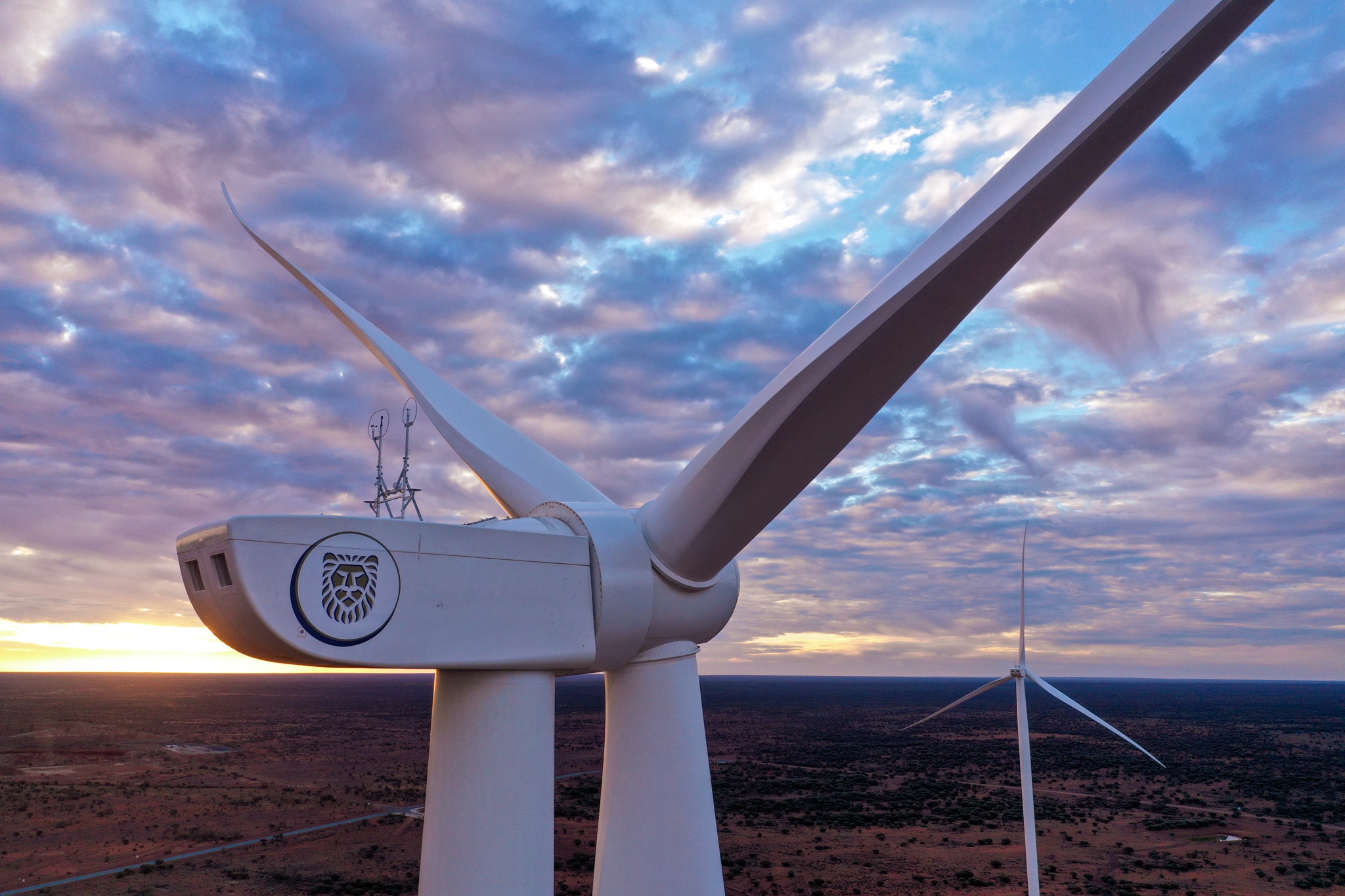 Gold Fields owns and operates the Agnew gold mine in remote Western Australia. In June 2019, the company announced plans for Agnew become one of Australia's first mining operations to be predominantly powered by renewable and low-carbon energy, signing an agreement with energy producer EDL for the creation of a "world-leading" energy microgrid, combining wind, solar, gas, and battery storage. The agreement constituted an A$112m (approximately $80.2m) investment, with EDL owning and operating the microgrid. The Australian Renewable Energy Agency (ARENA) provided A$13.5m in funding as part of its Advancing Renewables Program.
The 56MW Agnew Hybrid Renewable Project was completed in May this year, with four key components controlled by an advanced microgrid system: five 110m wind turbines with a rotor diameter of 140m delivering 18MW, a 10,710-panel solar farm generating 4MW, a 13MW/4MWh battery system, and an off-grid 21MW gas/diesel engine power plant. The culmination of all those parts is Australia's largest hybrid renewable microgrid.
Towards a decarbonised mining landscape
Following the initial project announcement in June 2019, Gold Fields Executive Vice President Australasia Stuart Matthews said: "We are making staged investments across our mines in Western Australia to significantly ramp up the innovative use of renewables to meet our dynamic and growing load requirements."
The viability of powering a mine, and the options to do so, form a major consideration for companies looking to move forward with development after exploration work has identified lucrative targets. If power comes at too high a cost as to reduce the economic rationale for a mine, the project could be scrapped. Perhaps adding another layer to those considerations is the growing importance of ecological management – with mines having a historic reputation as heavy polluters owing to their reliance on carbon-heavy power generation. It was a problem identified by the Agnew Hybrid Renewable Project's manager James Koerting – with climate considerations increasingly important, Gold Fields set about on a target to achieve more than 50% power from renewable sources at Agnew.
In reality, the microgrid has hit between 50-60% of renewable penetration consistently since its completion in May, according to Michael Lippert, innovations and solutions director at Saft. In favourable conditions, this figure can be closer to 70%. Battery company Saft was contracted by EDL to create the battery energy storage system for the microgrid. EDL enlisted Saft to deliver and install the system, and the contract is accompanied by a 10-year service and maintenance contract.
"[Agnew] is certainly the first mine in Australia with this level of width, innovation, and storage," Lippert explained. "So when the project partners sat around the table, they were not just building upon experience and existing systems. It was like, what do we really want to achieve? How do we go about it?"
Hybrid renewable microgrids are one route to decarbonisation of a mine site, with the right energy mix and infrastructure allowing for a consistent supply of less polluting power. Gold Fields opted for a mix of solar and wind generation for Agnew owing to the climate of the site.
"We have found that solar and wind are the most effective technologies for our Australian operations given that we have abundant sunshine in the Goldfields region and a moderate wind resource that can be harnessed with modern wind turbines," James Koerting explained. "These resources are complementary: winds are stronger at night when the sun has set, and therefore, for a project with a high amount of renewable energy, our preference is to have both."
Saft's battery energy storage system also reduces the reliance on the existing non-renewable energy sources – the 56MW microgrid still features gas and diesel generation in its mix. Saft's battery energy storage system was created to be dynamic while also being stable – wind and solar generation is obviously affected by variation in weather conditions.
"It is essential to have this battery that can react very rapidly, so this battery is at full power within milliseconds in order to compensate for any short-term variation of the wind or of the solar… if there wasn't a battery, of course, the operator would need to run this diesel and gas basically all the time in idle, because if ever there is an outage, if ever the wind goes away or the sun goes away, you need to compensate this – and this is what the battery is doing," Lippert said.  
The future of mine power?
Following the success of the Agnew microgrid, Gold Fields announced in October the completion of the hybrid microgrid at its Granny Smith gold mine in Western Australia. The Granny Smith system has been integrated with an existing gas fired power station and is powered by more than 20,000 solar panels, and supported by a 2MW/1MWh battery system. Once fully operational, Gold Fields said it will reduce the mine's fuel consumption by 10-13%, or the equivalent of removing 2,000 cars from the road.
In a statement, Matthews said: "Here in Australia and globally our company is committed to addressing climate change impacts by transitioning towards an energy mix that increasingly embraces renewables and lower carbon fuel sources.
"The Granny Smith microgrid and the renewable energy solution at our Agnew mine are a clear demonstration of the innovative steps we are taking to ensure the ongoing sustainability of our operations."
The microgrid at the Granny Smith mine was installed by energy services provider Aggreko. Aggreko's AusPac managing director George Whyte said that demand for decentralised energy solutions has skyrocketed over the past few years as companies look beyond the grid for power solutions that can help them meet their unique needs.
Lippert said that Saft is looking to provide solutions for microgrids, and could work with more mine sites: "We have another significant project in northern Canada, and it's significant because it's on the other side of the globe where we have a very low temperature and the environment conditions are more snow and ice… what we do is provide storage solutions for microgrids. And they can be mining sites, because we often have these mining sites that are remote, difficult conditions, they are not connected to the national grid, and they do need – or they do have a strong will – to reduce the carbon footprint."