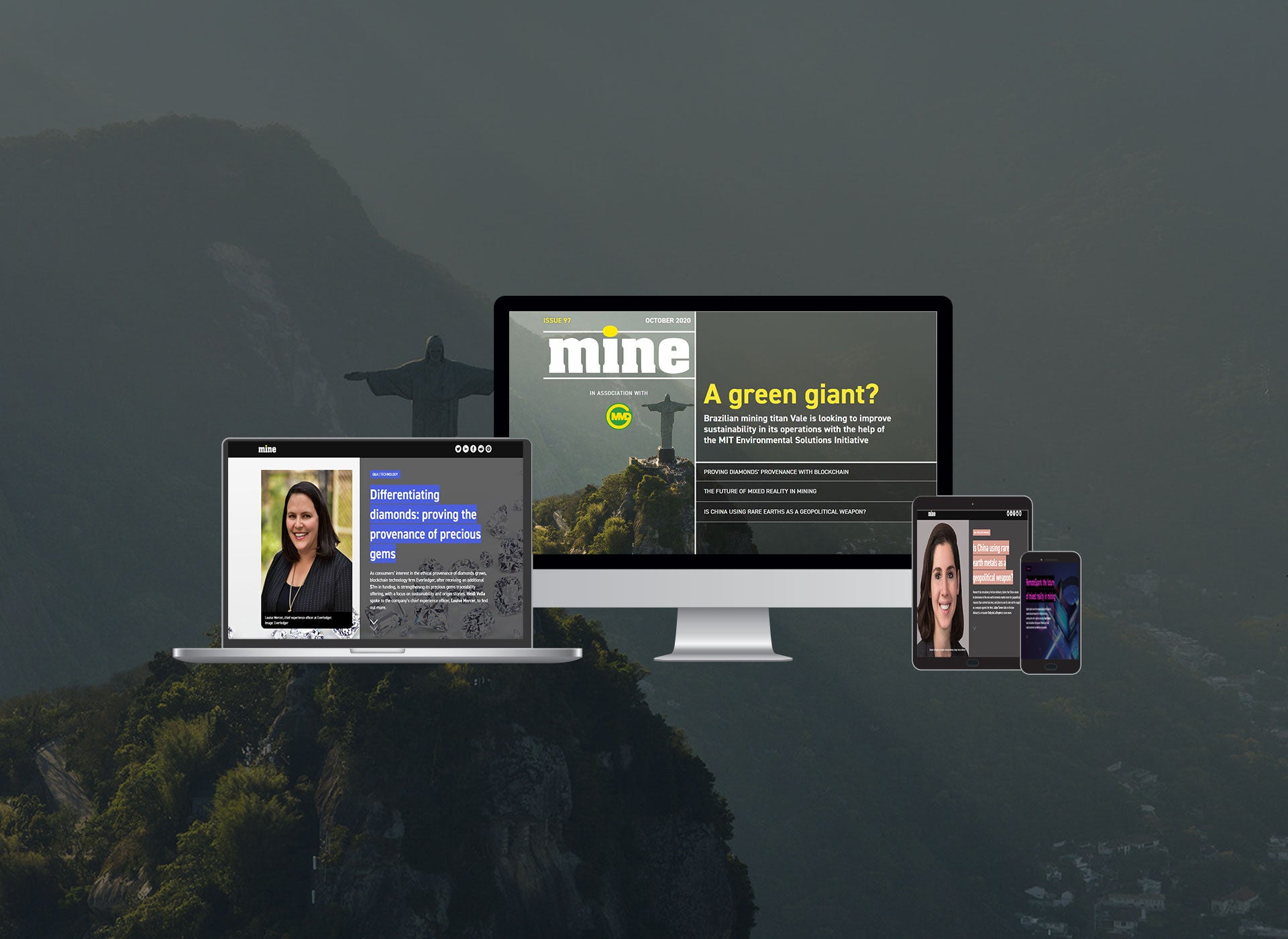 Brazilian mining giant Vale is moving to address concerns and reduce its emissions by a third by 2030. As part of its efforts, experts from the MIT Environmental Solutions Initiative are contributing to the company's Mining Innovation in a New Environment programme. We ask the MIT team about the keys to nurturing a sustainable mining culture.
We also hear from Energy Fuels' CEO about the role the White Mesa Mill has to play in the US' rare earth ambitions, speak to Everledger about eliminating conflict diamonds with blockchain, and talk to Kognitiv Spark about the future of mixed reality in mining.
We also examine how mercury can be mined and used safely, learn about the Future of Resource Taxation initiative, sit down with HUBER+SUHNER to find out about the importance of fibre optics, and look at the political aspects of the rare earths market.
Whether you are on a desktop, tablet or smartphone, you can read the magazine for free online, and join the conversation on Twitter.
In this issue
Vale and MIT: training sustainability into a mining giant
Following a series of disasters, Brazilian miner Vale has sought to tighten up its operations. JP Casey learns about the Mining Innovation in a New Environment scheme, which worked with experts from MIT and the startup sector to bring a collaborative, entrepreneurial approach to mining safety.
US rare earths and blunting China's monopoly with Energy Fuels' Mark Chalmers
Tensions between the US and China have been exacerbated this year by the Covid-19 pandemic. As the US Government seeks routes to counter China's strength in rare earths production, Matthew Hall speaks to Energy Fuels president and CEO Mark Chalmers about the ongoing situation, and why his company's White Mesa mill may be the ideal facility for processing US rare earths.
Differentiating diamonds: proving the provenance of precious gems
As consumers' interest in the ethical provenance of diamonds grows, blockchain technology firm Everledger, after receiving an additional $7m in funding, is strengthening its precious gems traceability offering, with a focus on sustainability and origin stories. Heidi Vella spoke to the company's chief experience officer, Louise Mercer, to find out more.
RemoteSpark: the future of mixed reality in mining
Kognitiv Spark is one of the companies tapping into the ability to visualise data and respond to it in real time and in-situ, providing miners with a significant advantage. Yoana Cholteeva looks at the abilities of the company's 'RemoteSpark' mixed reality tool and how it can benefit the mining industry.
A focus on mercury
The use of mercury in mining is known to be so damaging that treaties exist to curb its production and emission. However the material is still used in significant quantities, despite new evidence from mining communities in the Amazon of the devastating downstream impacts. Scarlett Evans takes a look at how, and if, this metal can be safely mined.
How effective resource taxation could be key to the Covid-19 economic recovery
The Future of Resource Taxation is a new initiative aiming to improve the way that governments collect revenue from the mining sector. Matthew Hall looks at the problems with existing methods of taxing mining companies, and how resource taxation can be improved.
Wired up: how fibre optic networks are used in mines
Working with Ampcontrol, a key player in the mining industry for power solutions, HUBER+SUHNER has created a toolbox to enable rapid deployment of fibre optic networks in mines. Scarlett Evans speaks to the company to find out more about the importance of fibre optics for mining today and how it could help usher in an automated future.
Is China using rare earth metals as a geopolitical weapon?
Research by consultancy Horizon Advisory claims that China values its dominance of the rare earth elements market more for geopolitical reasons than commercial ones, and plans to use its rare earths supply as a weapon against the West. Julian Turner talks to Horizon Advisory's co-founder Emily de La Bruyère to learn more.
Preview – MINE Magazine November 2020
The global standard for safe tailings management, spearheaded by the International Council on Mining and Metals (ICMM), launched on 5 August and is now publicly available online. Now that this global standard, which has been years in the making, is finally in the wild, the natural next question is: how will it be implemented?
We also look at minerals whose importance could surge in the coming years, examine plans for net-zero lithium extraction in Cornwall, and learn about a new breakthrough that could unlock low-grade copper ores.
We also chart the last decade of coal mining in the UK, profile the Russian mining sector, investigate the geopolitics of mining in the Arctic Circle, and talk to Sandvik and Exyn about pushing the boundaries of automation and robotics in mining.