With currently more than 140 vessels in its portfolio, BBC Chartering is a global leader in the heavy-lift and multi-purpose tonnage segment, with vessels ranging from 3,500dwt to 37,300dwt. In terms of shipping units the company currently operates the single largest portfolio of vessels in the market with lifting capacities reaching up to 800t. With a fleet age averaging below five years, BBC Chartering offers vessels with the most up-to-date technical characteristics.
Building mining gateways
The mining industry relies on BBC Chartering's fleet portfolio for its break-bulk, heavy-lift and project cargo capabilities as it provides shippers and charterers with flexible tonnage, high lifting capacity and regular connections to destinations that are designated mining gateways, or just starting to develop as such.
BBC Chartering helps to ship:
Bulk minerals as direct output
Mining equipment needed for the exploitation, expansion and maintenance of mines
Other cargo relating to materials handling, port infrastructure and hinterland infrastructure; for example, conveyor technique, harbour cranes, railroads, locomotives and trucks
Cargo handling for international mining projects
In resource-rich Australia, BBC Chartering's services have been used for most major mining developments or upgrades in the Pilbara Region of Western Australia in recent years. The ports of Dampier and particularly Port Hedland have been our gateway, especially for iron ore developments in the region.
BBC Chartering ships mining equipment, materials handling cargo and bulk materials.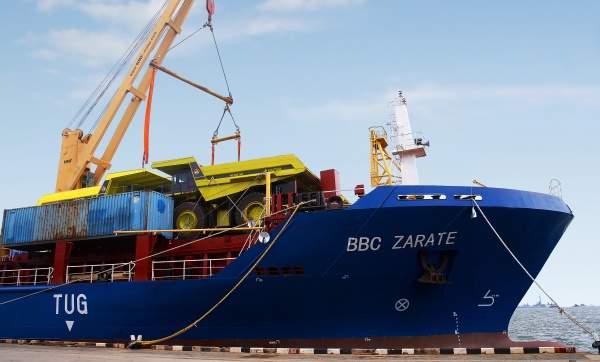 BBC Chartering's fleet range from 3,500 dwat to 37,300 dwat, and are capable of lifting cargo up to 700t.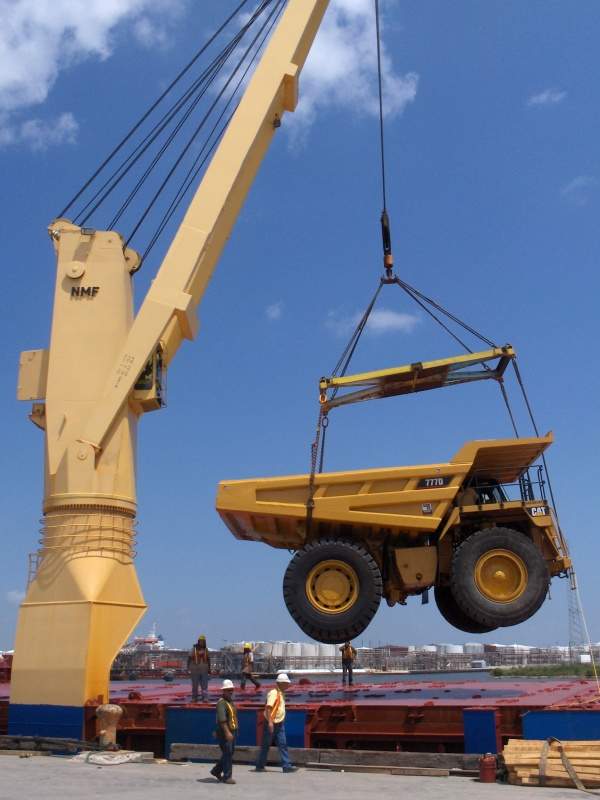 We are capable of calling at many private and mill-dock facilities that larger bulk vessels are unable to navigate.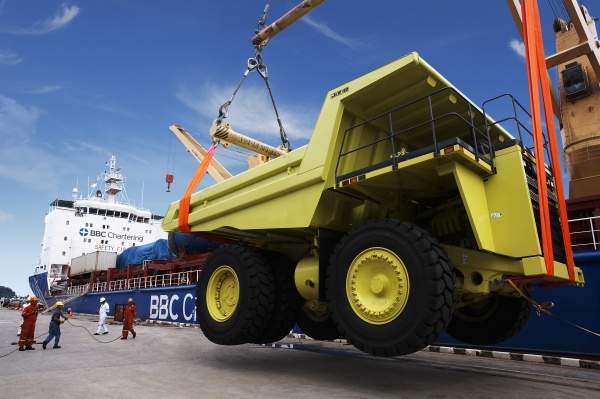 BBC now offers liner services to support customer requests.
In Latin America BBC Chartering has been involved as carrier in several mining projects; for example, the Pascua Lama gold mine on the Chile/Argentina border, and the Casarones copper mines in northern Chile. BBC Chartering has built up regular services to Latin America's east and west coasts, which connect to the manufacturing markets in the US Gulf, Europe, the Mediterranean and Asia. These connections now play a major role for the development of the mining industry.
On a regular schedule, these BBC Chartering services employ heavy lift vessels that allow flexible and safe cargo handling, and a minimum lifting capacity of 160t.
Extensive fleet renewal and modernisation programme
BBC Chartering has launched an extensive fleet renewal and modernisation programme, with 22 new heavy lifters scheduled for completion by 2013/2014.
Two new vessel types are instrumental for this programme. The 14,360dwt 'BBC Amber' type consists of 14 new buildings and has a combined lifting capacity of 800t (2 x 400t), and currently marks the top of BBC Chartering's heavy lift fleet portfolio. Interesting features of this vessel are a large cargo hold measuring 83m x 19m and a wheelhouse located forward of the ship.
The 'BBC Everest' type is a series consisting of eight new buildings with a combined lifting capacity of 700t (2 x 350t). With only 9,300dwt this vessel type is compact yet tough, suitable for a broad range of heavy lift assignments.
Tender management and transport engineering capabilities
In 2011 BBC Chartering launched its global 'project division'. This service offers dedicated tender management and transport engineering capabilities, particularly in the 500t-plus lifting segment but also for the handling of specific projects and large-volume contracts.
BBC Chartering provides the appropriate vessels, delivers solutions for the cargo operation, develops stowage and lashing concepts, simulates cargo operations if needed, and handles the cargo arranging materials and paperwork as may be required by charterers. BBC Chartering clients can be assured that our transport projects are managed and engineered to meet project requirements without compromising on operational quality, environmental aspects, or occupational health and safety issues.
Global heavy-lift fleet solutions
In general BBC Chartering offers its ships through three lines of service. Shippers can book their cargoes on tramp services for full charters or part cargoes, on affreightment contracts for the shipping of large volumes over time, or on one of the regular liner services the company offers across the globe. Any tonnage can be flexibly assigned to any type of service as may be required.
BBC Chartering provides leading multi-purpose and heavy-lift fleet solutions to the world's logistic challenges, purposefully supporting global economic development. Continuously improving, the fleet concept allows the employment of suitable tonnage for any project cargo shipment.
'Move to improve' with BBC Chartering
In the past 15 years BBC Chartering has grown from operating ten vessels to now over 140 ships. This development was supported by people that embrace the BBC Chartering idea of becoming the leading supplier of tonnage in the multi-purpose and heavy-lift market, people that 'move to improve'.
We employ more than 300 dedicated staff in 25 offices around the world to assist charterers in planning and executing their transport projects. BBC Chartering representatives look forward to discussing your project opportunities.