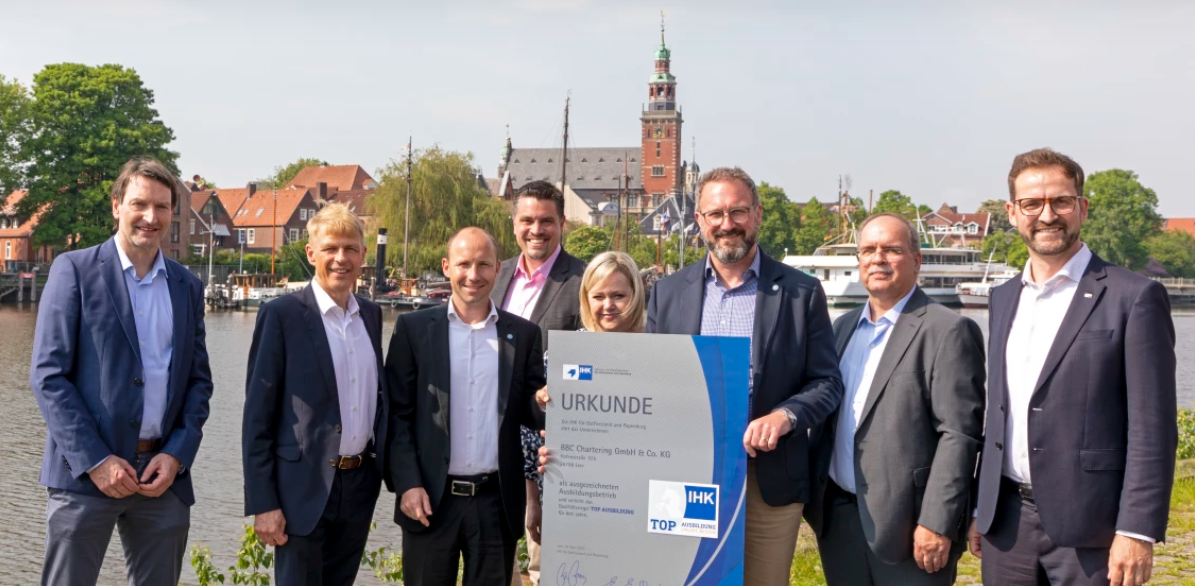 The Chamber of Industry and Commerce (IHK) for East Frisia and Papenburg has awarded BBC Chartering GmbH & Co. KG the nationwide "TOP Training" seal of quality. "First-class training is becoming increasingly important for companies against the backdrop of demographic change and the retirement of baby boomers from working life. As IHK, we are pleased that with BBC Chartering we now have another "TOP training company" in our region," says IHK President Dr Bernhard Brons.
BBC Chartering impressed the auditors with its well-thought-out structure throughout the training. "We have been training mainly shipping clerks since 2002. Training is important to us in order to prepare the company for the future," explain training managers Nicole Nellen and Torsten Mansveld.
The company offers its trainees a broad overview of the entire operational processes. The well-thought-out training concept enables you to carry out your own tasks independently after appropriate instruction, noted auditors Peter Detmers and Günter Geerdes.
"The competition for the best young talent has already begun and will increase," says IHK Managing Director Max-Martin Deinhard. For this reason, it is becoming increasingly important to regularly review and improve company processes. Deinhard: "The IHK seal of TOP training is not only intended to help companies improve the quality of their training and retain skilled workers in the long term, but it is also intended to be a guide for trainees who value the quality of their training."
BBC Chartering GmbH & Co. KG is already the thirteenth company to be recognized by the IHK for East Frisia and Papenburg. The seal has now been awarded for the fourth time in Leer. The process leading up to the awarding of the seal includes three stages: from a short initial check to a detailed questionnaire. At the end, the company undergoes an on-site audit lasting several hours by experienced human resources experts. Further information about the seal can be found at www.ihk.de/emden .