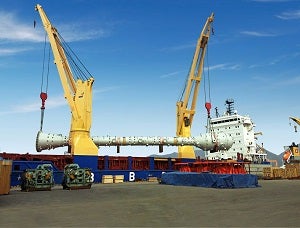 BBC Chartering announces has won a strategic volume contract from Japan-based TOYO Engineering Corporation, a leading specialist plant engineering company.
Closed already in 2015, the agreement covers more than 400,000 FRT of project and heavy lift cargo volumes to be moved globally for four major projects during 2016 and extending into 2017.
TOYO is contributing to the global economy in various industrial fields, including gas and new types of energy such as LNG and DME, as well as engineering, procurement and construction of oil-refinery, petrochemical and general chemical plants.
"BBC Chartering and TOYO will be working together on a number of projects in the future", said Svend Andersen, CEO of BBC Chartering.
"TOYO's achievements are highly regarded by oil majors and chemical companies around the world, and we are extremely pleased that we can contribute with our flexible high-performance transport services to support their growth."
In a highly competitive market for project shipping, the agreement exhibits BBC Chartering's capability to deliver on risk-managed, high-impact and high-volume projects as a strategic partner to leading engineering, procurement, construction and commissioning (EPC) experts.
For more information, please contact BBC Chartering.