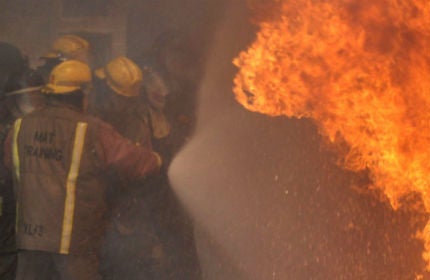 ETS Emergency Training Solutions specialises in emergency response services, training and management solutions in all types of industries, including mining and power generation, for employers that understand the importance of having a trained, competent and prepared emergency response capability.
The company is based in South Africa, in southern Gauteng, but its services are available throughout South Africa and Africa.
Emergency response and safety training
ETS Emergency Training Solutions is an accredited training provider with the South African Qualifications Authority (SAQA) to present various emergency response and safety-related training programmes.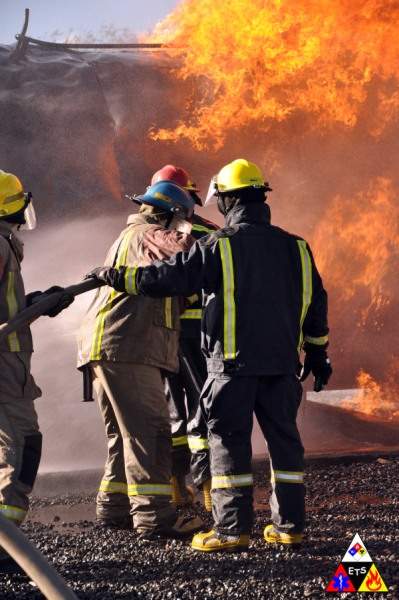 Realistic scenario-based fire team training.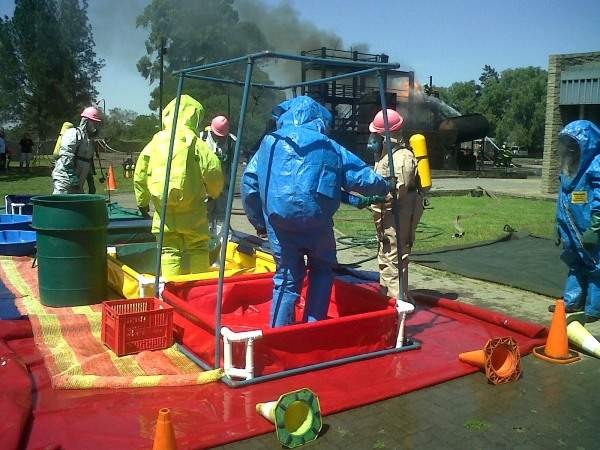 Decontamination in progress.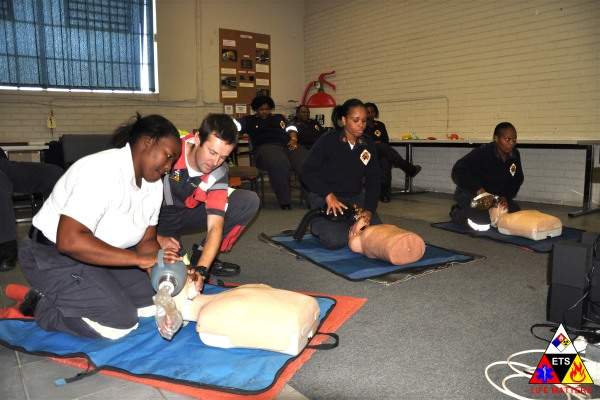 Retraining for first aiders and health care professionals.
Various options and techniques are explained.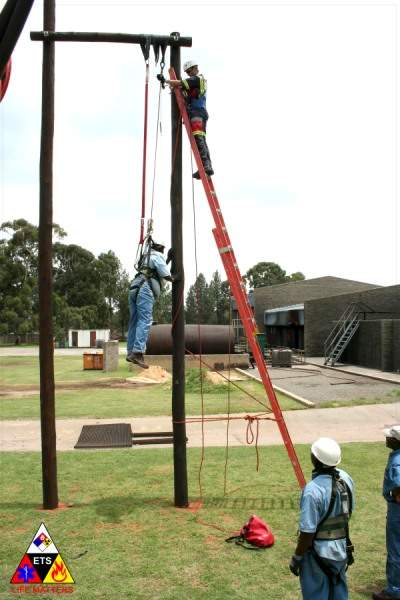 Students are involved in all aspects of training.
Training programmes are based on realistic, skill-specific scenarios that meet the expectations of the risk requirements of the employer.
The training programmes are designed to assist learners to respond to and assist in an emergency incident. Training programmes are developed to meet internationally accepted standards and can be grouped to gain formal qualifications. The emphasis is placed on practical skills, and the application of these skills in a workplace incident or accident.
Training programmes consist of the following:
Fire-fighting: fire awareness in the workplace, including specialist fire teams and incident command
Rescue: working at height safety and buddy rescue to technical rescue teams; rope rescue; vehicle and machinery rescue; water rescue; building or trench collapse rescue
Hazmat: product specific emergencies and response to Hazmat technician and incident command
First aid
Various safety programmes
ETS Emergency Training Solutions has presented training in the following countries:
South Africa – (industrial, municipal, private and mining teams)
Namibia – (mining and government)
Mozambique – (petro-chemical and mining)
Tanzania – (mining)
Zambia – (mining and exploration drilling)
Burkina Faso – (mining)
Democratic Republic of Congo (DRC) – (mining)
Seychelles – (government)
Lesotho – (government)
Emergency team support
ETS Emergency Training Solutions provides trained and competent team support to its clients in various industries. ETS Emergency Training Solutions provides its clients' emergency response personnel with support in their emergency duties, with particular reference to the job description and contracted scope of work.
The service includes proactive and reactive functions in preventing and mitigating the effects of fire, rescue, medical and Hazmat incidents. Such a service is vital within any large industry's risk management strategy, and there are a number of management options from which to choose. At the core of ETS Emergency Training Solutions' emergency response strategy is the 'PET Principle,' the capability to have Personnel that have Equipment and are Trained, and the company's strategies strive to achieve this goal.
Emergency response management services
ETS Emergency Training Solutions helps employers evaluate their emergency response capabilities through incident simulation exercises. These simulations are based on realistic and possible accident scenarios in the workplace. Simulation assessments enable employers to have a clear understanding of what their response capabilities can do, and their state of readiness.
ETS Emergency Training Solutions provides comprehensive feedback sessions and reports after these simulation exercises to enable management to make informed and factual decisions on what is required to maintain and improve their emergency response readiness.
About ETS Emergency Training Solutions
ETS Emergency Training Solutions has grown from its humble beginnings in 2004 with a total of four personnel and 18 courses to its current position with 64 personnel and 48 emergency response training courses, 24 safety courses and five operational emergency response support sites.