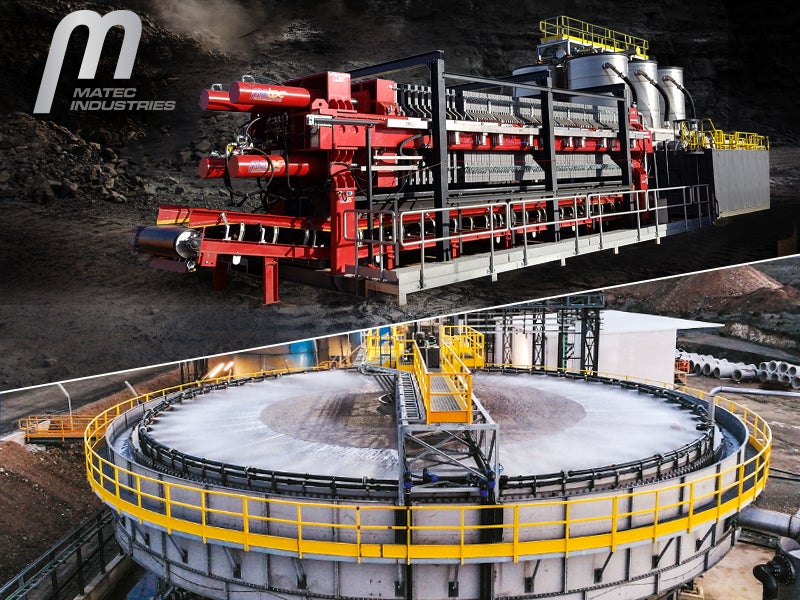 Matec Italia is part of Matec Industries, the worldwide leader in design, manufacturing, and installation of water filtration plants for solid / liquid separation and process tailing management systems.
We are experienced in mining process water recovery, concentrate filtration, dry stacking tailings process integration and washing equipment.
As the original equipment manufacturer (OEM), we deliver projects on an engineering, procurement, construction (EPC) approach and can provide complete turnkey solutions from the design to the installation and after-sales project services.

Panoramic view in our plant in Cedro Mineracao mine in Brazil.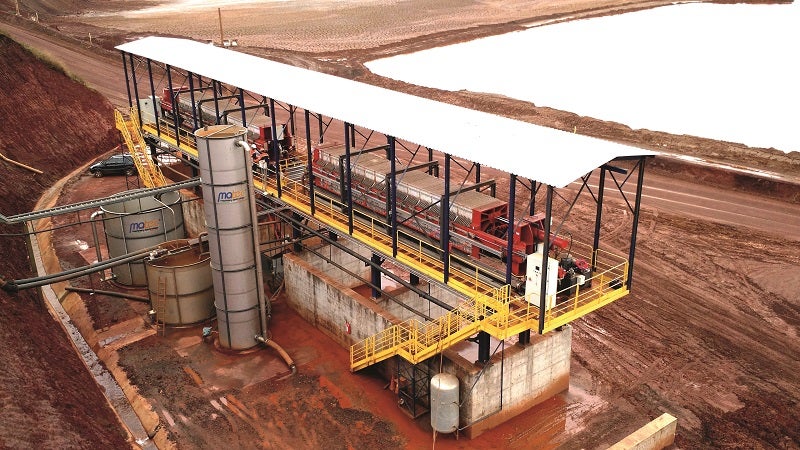 Tailing dam solution by Matec in Vallourec in Brazil.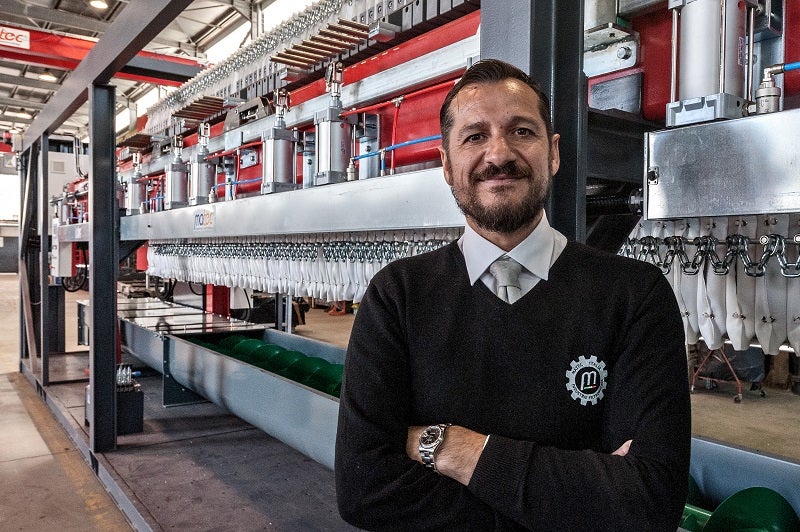 Our CEO Matteo Goich in front of one of our Magnum filter presses.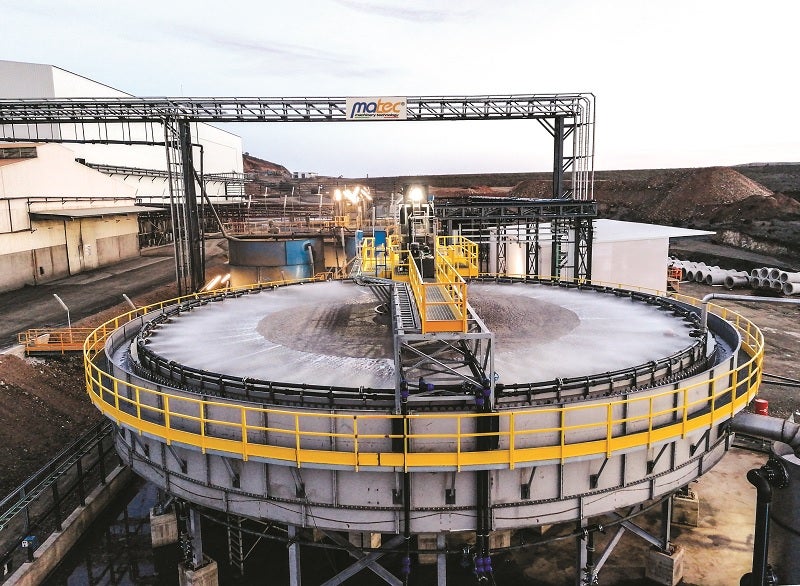 Our 25Mt Paste Thickener in a mining application in Portugal.
We have so far installed more than 3,000 plants worldwide for the mining, quarry, industrial and recycling sectors.
Filter Press (High-Pressure Filtration above 16 bar and 21 bar feed)
Matec manufactures a range of high-pressure filter presses that are suitable for various sizes of production sites for the mining, quarry and recycling sectors.
The Aquae range of filter presses can be installed at small to medium-scale plants while the Ignis series can be used at medium production sites.
For larger plants, clients can install the Terrae and Magnum up to the Megalith FP2500/220 series with counting 220 plates size of 2.5m x 2.6m and up to approximately 50m³/cycle.
We do offer also containerised plants and modular set up in a plug-and-play formula and a large range of options from automatic washing systems to in-situ cake washing.
The high-pressure technology presents a lower capital and operational cost when compared to low-pressure filter presses, as capable of reducing cycle time required and increase efficiency of the filtration and cake de-hydration.
This will render to a smaller equipment size and smaller number of units to achieve an equivalent given production throughput, thereby allowing to outperform (and be more cost-effective than) competitor offerings requiring longer cycles.
Matec's virtually unique ability to feed filter presses at 21 bar and in some cases even higher is a further significant advantage. This aids processing of even the most difficult materials with a relatively standard specification machine, where other suppliers may need to rely on the additional complexity and cost of membrane squeeze plate systems or with the addition of further chemical aids.
Deep Cone Vertical Thickeners, Radial and Rake Thickeners and Clarifier
Matec has an extensive range of options when it comes to solid liquid separation equipment.
Our thickeners are made of stainless-steel or concrete depending on use and application. We can offer flat bottom clarifier and rake raised design up to a 60m diameter.
While the decantation principle is more or less the same occurring in vertical decanters, the rake mechanism stirs the sludge through its rotation movement pushing it to the bottom.
The discharging is automatic and adjusted to the rake effort in order to reach the specified thickness.
Automatic flocculant units
Matec Italia allows a fast and automatic dilution of the powder in water for the seamless reaction of the flocculant in turbid water.
Thanks to the 2 and 3 tanks design, the maturation of the polyelectrolyte flocculant preparation station is guaranteed in order to activate all the electric charges, expediting the decantation reaction and significantly reducing the consumption.
An important unique feature of our flocculant units is our patented Doson system.
This is a photocell-based system that inspects and adjusts the flocculant according to the amount of suspended solid particles in the water. The solution regularly takes a few samples of the sludge and analyses them in a closed chamber using electronic sensors. It also adjusts the product dosage and decantation speed in that specific time of the cycle according to the density of the materials.
Doson is fully automatic and reduces flocculant consumption by 30%.
Slurry tanks
The Bifang homogeniser tank for slurries keeps the mud at the specified thickness by stirring it to facilitate the filtration process. The mud arrives into the homogeniser tank from the decanter silos, before being sent to the filter press.
The slurry homogeniser tank is used to keep in constant movement the slurry discharged by the decanter silo in order to maintain a certain density and avoid its settling.
Pumps and valves
Matec can offer a wide range of pumps from vertical, submersible, horizontal single, double and triple stage centrifugal pumps. Applications go from as little as the injection of flocculant into process streams to the large feed of slurry at high pressure for our filter presses.
We also offer a large range of valves manual and pneumatic as part of our turnkey plant supply, as well as media filtration systems.
Modular plug and play plants
Matec can offer a complete turnkey plant in a modular setup and plug-and-play formula. The CUBE concept is a plant built in container modules and delivered to site pre-plugged and pre-wired for a fast and easy construction process. We can also offer a wide range of small skid and testing units.
Washing Equipment
Matec has made significant investments in product development for the washing sector to bring our customers a complete product portfolio. Simultaneously launching Matec Washing Systems and our new ONE philosophy we now offer customers a single supplier and point of contact for complete projects: from feed hopper to total water and fines management. With our 360° experience and capability for washing projects, ONE underlines Matec's unique proposition: complete closed-loop projects including washing, crushing, water management and filter presses. In-house engineered by Matec. In-house manufactured by Matec. In-house project managed by Matec. Installed locally by Matec and our service partners. Welcome to ONE.
Customers employ washing systems for a variety of reasons but not surprisingly the goal is broadly the same: to improve the quality of the target product via reduction / elimination of contaminants. These contaminants may be considered undesirable due to their chemical / mineral content and/or due to their particle size. In some cases, washing is also employed as a means of accurate size separation. Fine screening at small apertures is more efficient and therefore higher capacity when using washing screens. The water helps separate particles and acts as a carrier for the finest material through the screen. Dry separation systems rely entirely on gravity or air currents, neither of which offers the same ability to select precise cut-points as water-based systems.
Matec can offer a versatile range of product, that can be supplied standalone, or as an integrated turnkey plant both in a fixed or modular design.
Sandtec is designed to recover fines and ultra-fines present in the slurry coming from aggregates washing plants. Compactness is one of the key features of Sandtec, which has been conceived for uses with minimal feeding material oversize. It guarantees the recovery of 90% of fines exceeding 75 microns, the almost total elimination of clay and lime impurities, the recovery of materials with less than 15% in residual moisture and the reduction of the solids present in the discharge water with reduction of materials to be treated in the water treatment plants.
Aggretec is a quick-to-install solution for sectors such as aggregates, recycling, remediation and mining. Since the system is semi-mobile, it becomes highly portable and also ideal for working in construction and demolition sites, Aggretec proves to be equally effective in applications with raw material.
Screentec is the machine that efficiently washes and selects materials such as gravel, coal, crushed stone slag, recycled materials, concrete, iron ore and silica glass. The screen parts are easy to mount and assemble and make the Screentec a suitable match for the other washing machines.
The Attritec is used to remove effectively the pollutants on the surface of the sand contained in the contaminated slurry by the action of scrubbing. The machine has two or more cells, according to the contact times needed to achieve the optimal separation. Usually, they are used before the hydrocyclone process.
Logwashers are used to wash very dirty materials. The material is washed through inclined blades arranged in series inside the machine. These blades slow down the advance of the material when it is very dirty, but facilitate progress when it is cleaner. The washer is lined with interchangeable anti-wear steel armours. The machine is driven by a motor reduction unit.
Buctec range of bucket wheels and sand recovery units are used for the recovery of sands coming from aggregate washing plants. They are mainly composed of a slurry storage tank in steel inside which a wheel with buckets in perforated steel plates is fitted.
Thanks to its rotating motion, it can recover the sand, partially separating it from the water, and carry it through to the discharge outlet. The bucket wheel can have one or two Archimedean screws that carry the sands through to the centre of the storage tank. The transmission is via a reduction gear unit driven by an electric motor.