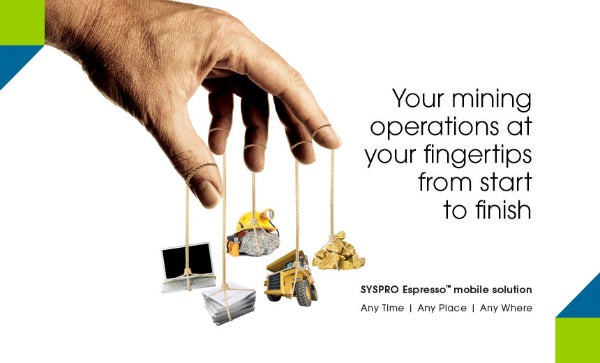 Find the best balance of process fit, IT functionality, and ease-of-use in the mining and resource industry with SYSPRO Enterprise Resource Planning (ERP) software installed on premise or in the cloud.
For more than 35 years SYSPRO has remained a leader in the ERP space by listening to the needs of customers, anticipating industry and technology trends, and continuously evolving the software's functionalities based upon these needs and trends. Today, SYSPRO is a globally-recognised ERP supplier with thousands of customers in more than 60 countries.
Mining and resource operations often exist in remote or poor infrastructure areas, and the complexity of these operations manifests in a number of areas: visibility, data reliability, functional silos, accessing and managing high volumes of data, and grade control, among others. SYSPRO recognises the challenges of implementing, using and maintaining software systems in this sector, lack of skills to implement and support systems; lack of operational skills, particularly with regards to use of IT; level of complexity, functionality, and ease of use of systems; and the cost vs. the benefit (or RoI) of IT in such environments.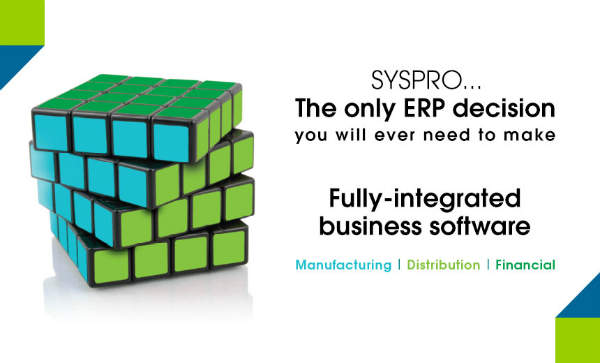 The ERP offers a range of features including business modelling and financial analysis planning tools.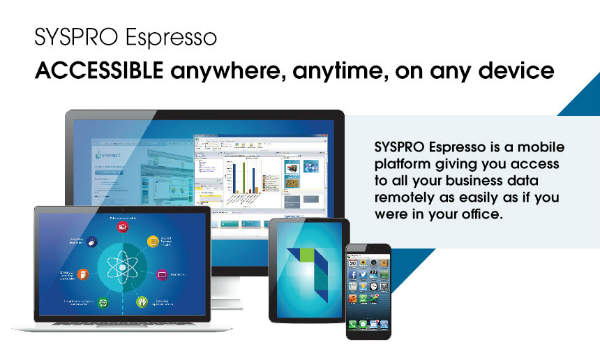 SYSPRO Espresso mobile and desktop application makes your information accessible on-the-go.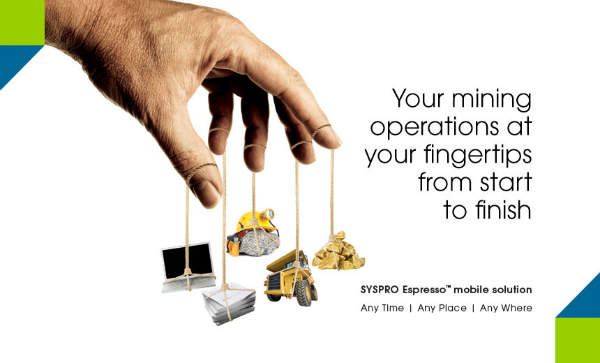 SYSPRO enterprise resource planning software brings the tools for running your mining operation to your fingertips.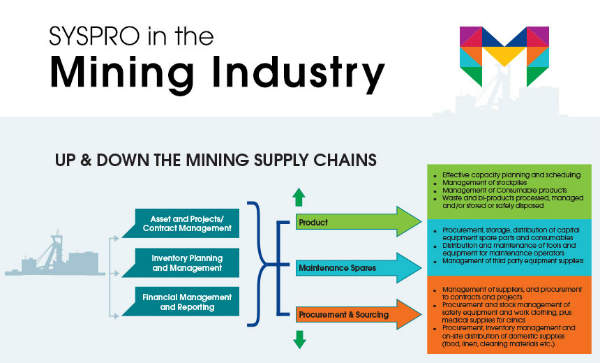 SYSPRO provides solutions throughout the mining supply chains.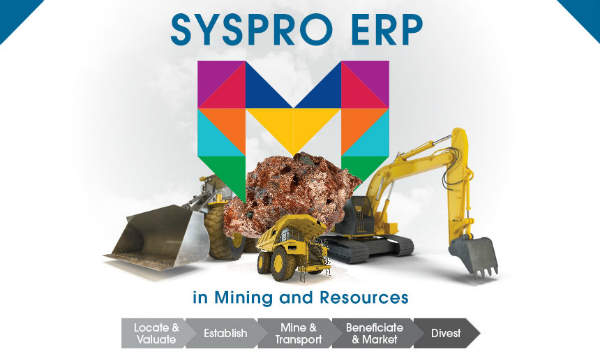 SYSPRO ERP provides mining and resource solutions.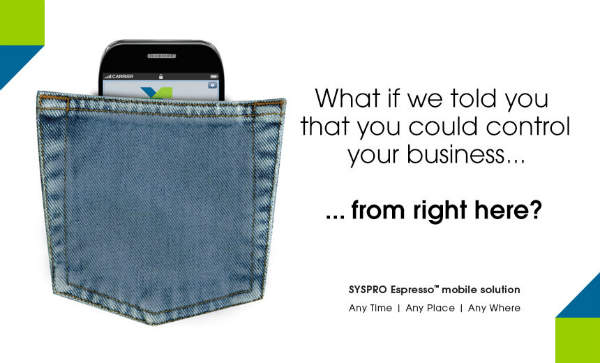 SYSPRO's mobile solution enables businesses to be controlled remotely.
End-to-end operational visibility and data accuracy for the mining industry
The ability to get end-to-end operational visibility and accurate data proves to be a challenge in the mining and resources sector. Scalable for rapid growth SYSPRO is designed with the 'keep it simple' principle and is an ideal fit for both simple and complex supply chains. SYSPRO's global footprint enables multinational customers to use SYSPRO not only in the head office, but also in smaller divisions elsewhere, allowing the business and employees to operate as a cohesive unit.
SYSPRO's 'buy what you need when you need it' philosophy enables customers to add on to the core solution as and when the need arises, whether this is for additional functions, or additional users. This unifies into a single vital ecosystem that serves to nurture customer interaction, develop long-term relationships and, most important, mitigate risk.
Lower total cost of ownership (TCO)
With the SYSPRO approach of 'Simplifying your Success', the total cost of ownership (TCO) is kept manageable while value is maximised. The TCO is measured over a period of time and includes the cost of hardware and software purchase, software maintenance charges, initial implementation consulting charges, and on-going technical and business support and training.
There are also the less obvious costs like employee time to perform transactions, learning the system, travel costs for specialist help, system administration costs, and network and infrastructure charges and reliability.
Using SYSPRO ERP keeps the solution strong but not overly complex, easier to use than available solutions targeted at very large user numbers; and faster to implement by keeping processes simple.
Future-proof technology that grows with your business
There is constant demand on technology to help businesses be agile and to perform at maximum efficiency. SYSPRO has the flexibility to meet these constantly changing economic and unpredictable business requirements by providing stability, innovation and right-time technology solutions.
Companies selecting SYSPRO gain more than a software solution. They are able to leverage SYSPRO's software expertise, obtain periodic software upgrades that further SYSPRO technology leadership, and enjoy an ongoing relationship that has at its core the success of the customer.
An appropriate IT roadmap into the future ensures as the operation and users become more disciplined with using SYSPRO ERP, that more complex IT can be introduced or integrated to the SYSPRO solution, and enable business analytics, advanced planning and logistics.
Solutions tailored for mining and resources operations
SYSPRO provides the necessary data and information to enable complete visibility up and down the mining and resources supply chain:
Planning: SYSPRO caters for the replenishment planning of engineer and maintenance spares, reagents and operational consumables
Procurement: management of suppliers and the procurement of stock and contract mining services, with the added functionality of workflow for approvals
Inventory: for receiving, quality checking, putting into storage, picking, packing, issuing, ( for own, consignment and vendor managed inventory) as well as managing stock piles and metal content throughout the beneficiation processes
Sales: for customer management, sales order processing, pricing/discounting, shipping
Operations: for managing direct and indirect materials and relationships, capacity planning and production scheduling / execution, receipt of manufactured items
Costing: to allocate and manage the costs of materials, labour, overheads, and inventory at all stages, down to a cost per ton for each operational area
Financials: to manage costs through raw materials, WIP to finished goods, financial accounts in multiple currencies
Maintenance: to manage inventory and costs of maintenance operations
Project system: to manage new projects through the build phase through to release to operations, together with CAPEX budgeting and control