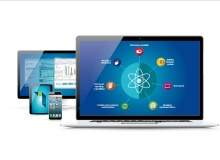 SYSPRO 7 is the latest version of SYSPRO, the enterprise resource planning (ERP) software that enables companies to optimise and improve their business processes.
SYSPRO 7 is based on the latest Microsoft® Windows® technology and brings active tiles and touchscreen capabilities to the existing user interface. Manufacturers and distributors can customise environments for individual systems without lengthy maintenance and upgrade time.
To support a simpler installation of the software, SYSPRO 7 has Fastrack technology where a pre-configured version can be rapidly set-up and modified at a later date.
The Quantum Architecture implementation framework function allows customers to easily expand, automate and improve business efficiency through comprehensive modelling providing full visibility into the organisation's operational layer across business units.
The software is easy to adopt and intuitive to use, enabling companies to optimise their ERP investment. SYSPRO 7's latest features include:
Extended scalability for greater performance
Mobility access on any device
Enriched UI so the tool fits your needs and style
Quantified implementations to map entire business systems
Enterprise-wise customisations that adapt to companies' processes and languages
Streamlined processes for faster interaction and control
Simplified installation