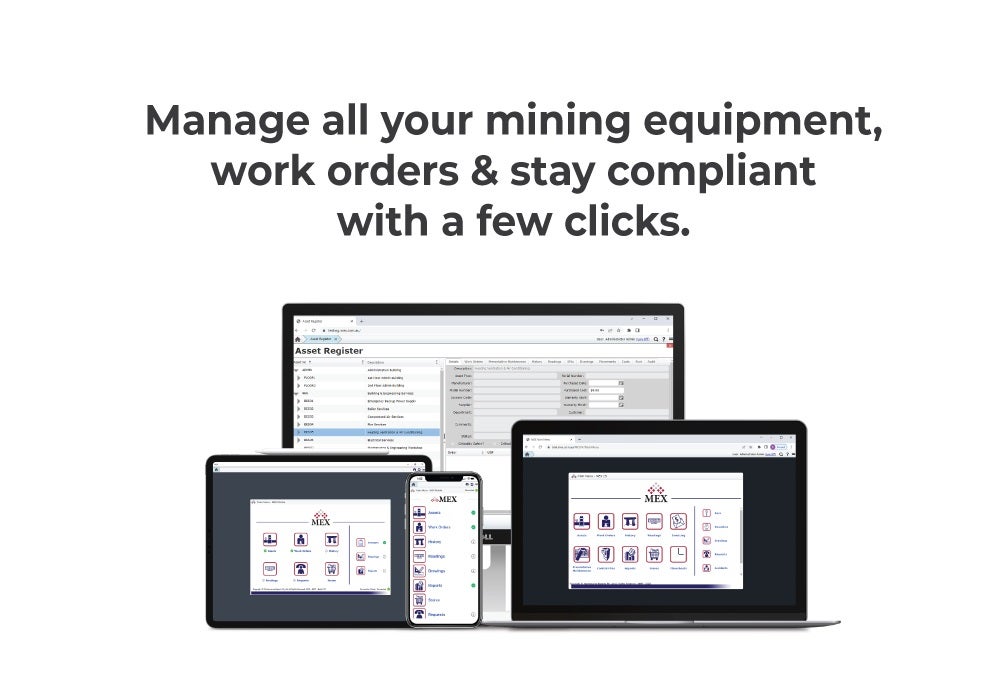 Maintenance Experts (MEX) is the primary computerised maintenance management system (CMMS) with more than 12,000 users worldwide.
An asset management system is essential in the everyday demands of the mining industry. Here at MEX we understand this and have developed a comprehensive maintenance management solution to suit all types of mining operations.
For almost 30 years, MEX has remained a leader in the CMMS space by providing an effective solution for any company needing to track assets, parts, and labour. We understand mining operations often exist in remote or poor infrastructure areas and require a powerful tool to track, record and manage information from anywhere.
We give you the flexibility to install the software on-premise or run it through the MEX Data Hosting service. MEX is completely web-based and works on all devices from phones to computers and even tablets, ensuring the system is accessible at any location.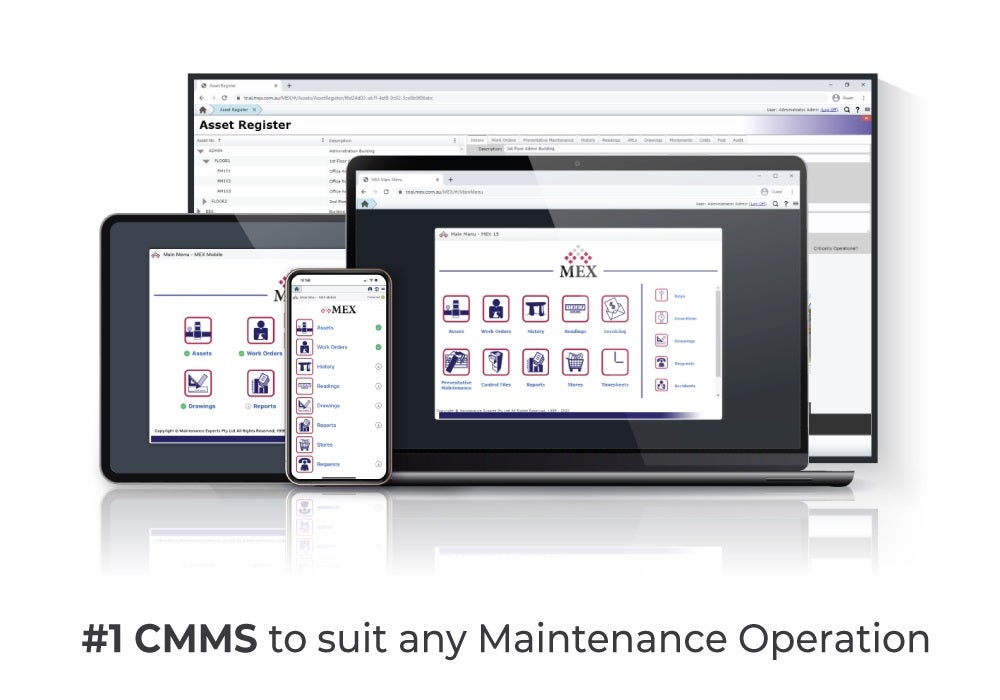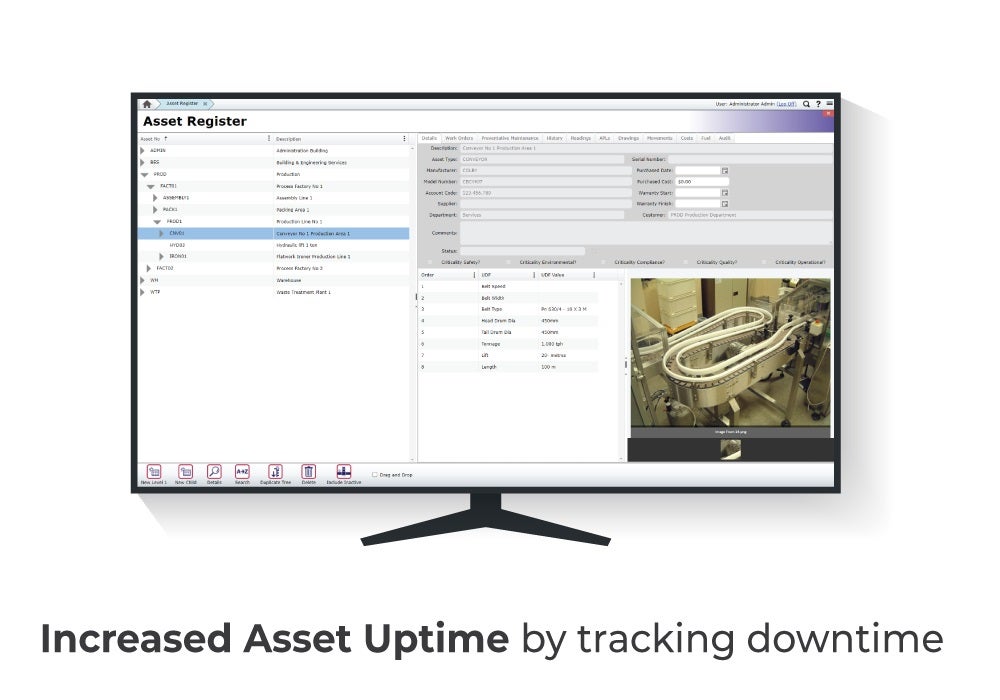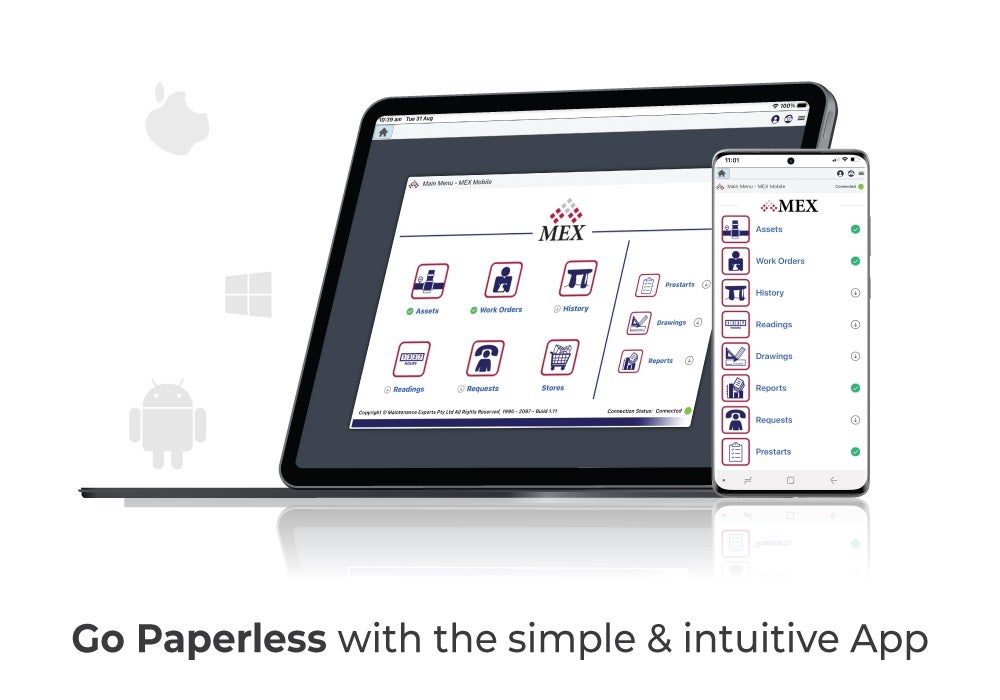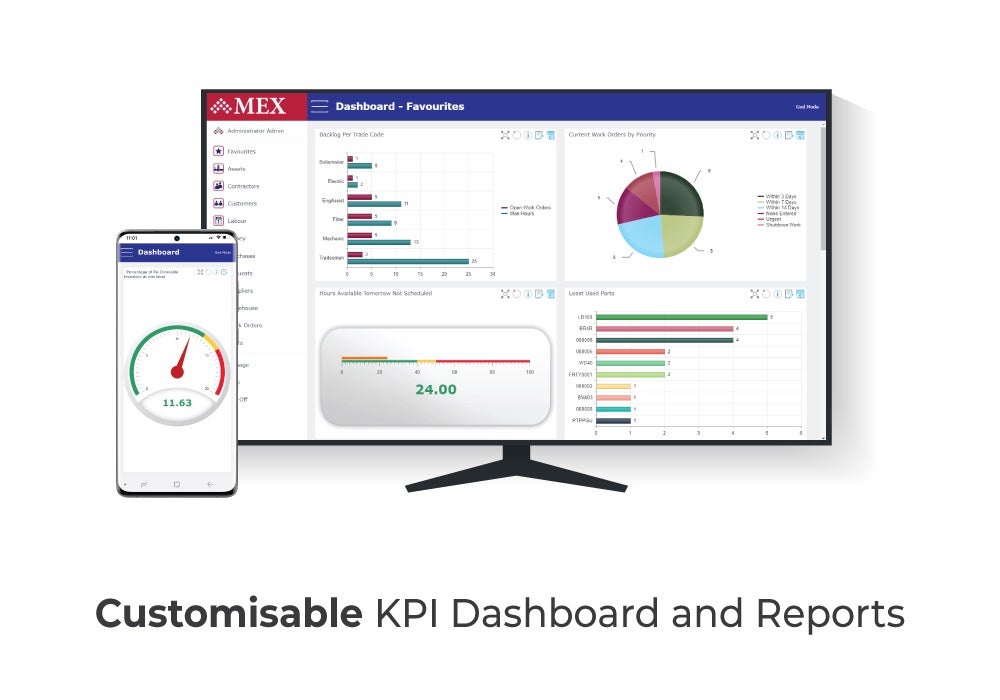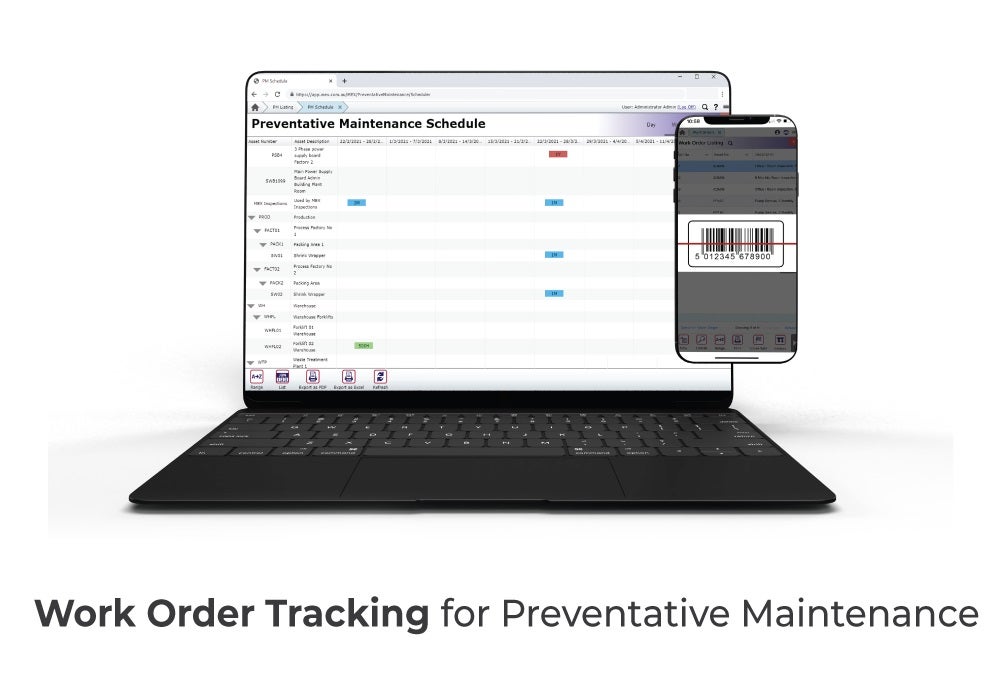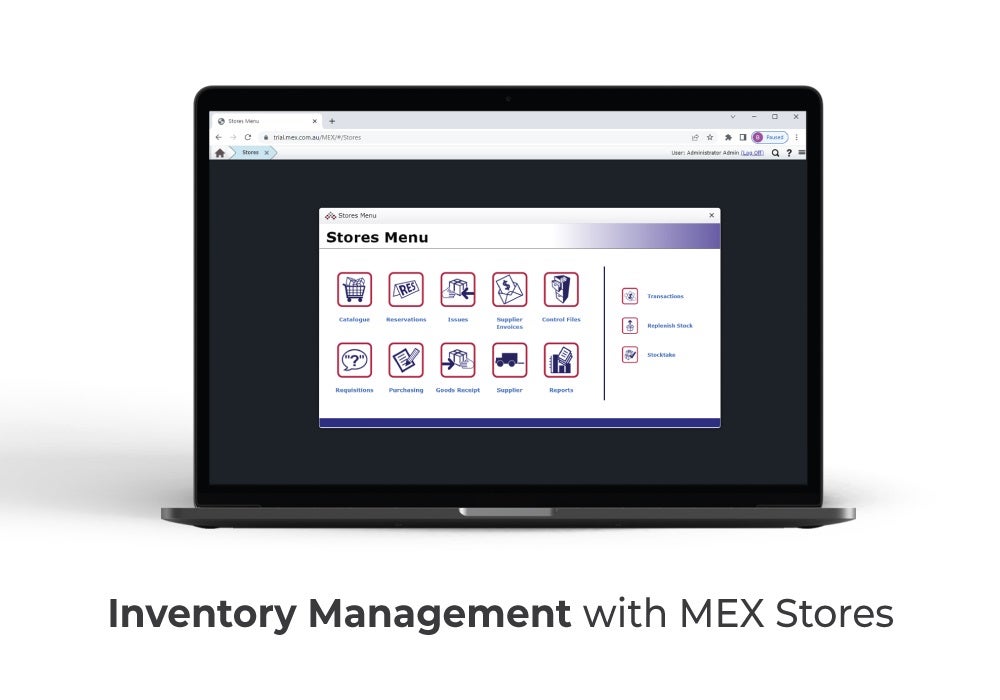 The MEX Solution
Maintenance management in the mining sector has been unnecessarily complicated for far too long. MEX is designed with the 'keep it simple' approach whilst specialising in maximising uptime and keeping costs to a minimum. The software is filled with rich features that are easily customisable so you can tailor the system to work exactly the way you want it to.
Over the years, MEX has forged a number of long-standing relationships with some of the largest mining operations in Australia and around the world. No matter your type of Assets, your Fleet or your entire business, MEX has the experience, the know-how and the solutions to meet your specific needs.
Up-to-date with the mobile world of today's mining industry
Toss the paper out and start assigning maintenance tasks from the palm of your hand with the MEX Mobile App! Available on Android, Windows and iOS, MEX Mobile allows users to control, manage and record information from anywhere. You can be truly on-the-go with your maintenance and keep your mining operations at your fingertips from start to finish.
MEX Mobile gives you everything you need to get the job done right directly from your mobile device. Boasting a robust offline capability, users can work with or without a network connection and easily sync once connected back online.
You can also use your camera, scan NFC tags or connect a Bluetooth device to find important maintenance information on the fly. As maintenance shifts to a digital world, MEX is primed as an industry leader in pushing for a maintenance environment that is entirely paperless.
MEX keeps mining operations running smoothly
We understand that mining companies need to pay constant attention to the health of expensive equipment, properly plan their shutdowns and track real-time reliability. MEX will comfortably manage your Mining operations as well as;
Maximise uptime and keep repair costs to a minimum with capabilities for reliability-centred maintenance (RCM) and preventive maintenance
Ensure regulatory compliance and appropriate financial reporting with mining-specific functionality
Manage costs and ensure accurate reporting with integrated project management, asset maintenance, MRO purchasing, and inventory components
Streamline processes and improve visibility to accurate, current data
Reduce maintenance expenses with comprehensive appropriations, contractor and supply chain management capabilities
Enable greater productivity with automated workflow, unlimited work breakdown structure, and graphic work scheduler
Reduce inventory expenses with purchasing and inventory management functionalities
Take control of maintenance and resource management
For mining companies, assets and machines are the focal points of the business. Maintenance of these is essential. With the MEX CMMS, mine personnel can schedule and assign maintenance tasks and send notifications immediately after a job has been created. The MEX Asset Register allows users to record assets and all associated maintenance data to measure their performance and schedule reminders for maintenance.
When MEX is setup, productivity will skyrocket where mining managers can take control over maintenance spending. The system allows you to set up equipment/job maintenance budgets and compare planned versus actual spending, leading to more informed decisions being made.
Forget about the old spreadsheets and easily capture data, report accurately and eliminate human error. MEX brings all information into one place and mine operation personnel can check updates whenever they want and make decisions promptly. MEX has a powerful range of reports and an inbuilt KPI Dashboard to give you the insights you need to drive operational improvements.
CMMS training and consulting
MEX is a simple product to implement with effective Training options available that can be conducted online or face-to-face. A two-day introduction course and a one-day advanced course, a three-day training investment to be able to use MEX, is as good as it gets. This means that companies can have MEX installed, key staff trained, system setup in a very short timeframe and achieving ROI while other providers are still working out the implementation strategy.
When you couple that with the guidance provided by our experienced Consulting and Training staff our customers are able to start realizing the return on investment very quickly – by average around 6-12 months. Where they will start to see a decrease in breakdowns, a reduction of downtime and costs of maintenance, work becomes more PM based and not reactive. All in all, they can better control stock, have a better knowledge of costs, and better track their equipment.
System deployment and online hosting options
MEX gives you plenty of options for installation and hosting. You are able to run the program from individual computers, through a network, or online via our Data Hosting service.
When you choose our Data Hosting option, your whole system is held in our secure data centre. You'll be able to access MEX through any computer, tablet or mobile phone.
By using MEX online, you can reduce management overheads, save money on infrastructure and increase the security of your data. No IT personnel are required as we manage everything, including your database and the servers that MEX operates on.