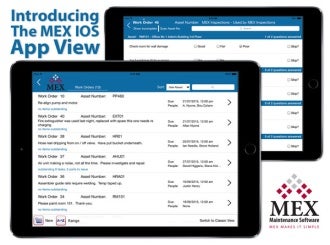 MEX Maintenance Experts is proud to announce the release of the new MEX iOS app with a brand new feature called App View.
MEX iOS 2.2 was created with customers' needs at the forefront of every development choice. The main priority of MEX iOS 2.2 is to build on the success of the original MEX iOS app and implement features to improve usability.
Based on customer feedback, MEX decided to create an all-new, simplified and readable app, and thus MEX App View was born.
Entering data on an iOS device particularly an iPad can be a challenge and when you throw in a bit of sunlight, a challenge becomes a mission.
MEX App view is designed to combat these challenges with enlarged text and operational buttons that simplify navigation and data entry. The new black and white colour scheme makes content easily readable in field. MEX App View means you can say goodbye to the squinty eyes and shade hunting when trying to get field maintenance done.
The main distinguishing feature of MEX App View is its simplified functionality. The most common outdoor MEX tasks have been streamlined to make life easier. The most common task include: work orders, stocktakes, issue returns, and asset readings. App View contains only the bare essentials to get the job done making it easier to read and use. The simplicity of App View makes it a great learning tool for new users. App View requires no training so users are able to pick it up and use it straight away with no hassles.
The MEX iOS app classic view is still available for more detailed granular control that App View does not provide. With the press of a button, MEX iOS 2.2 can display the particular modules in the classic view. The two separate display platforms make the app accessible for all MEX users.
For more information, please visit the company website.
---
Image: MEX app's new feature, the App View. Photo: courtesy of Maintenance Experts.