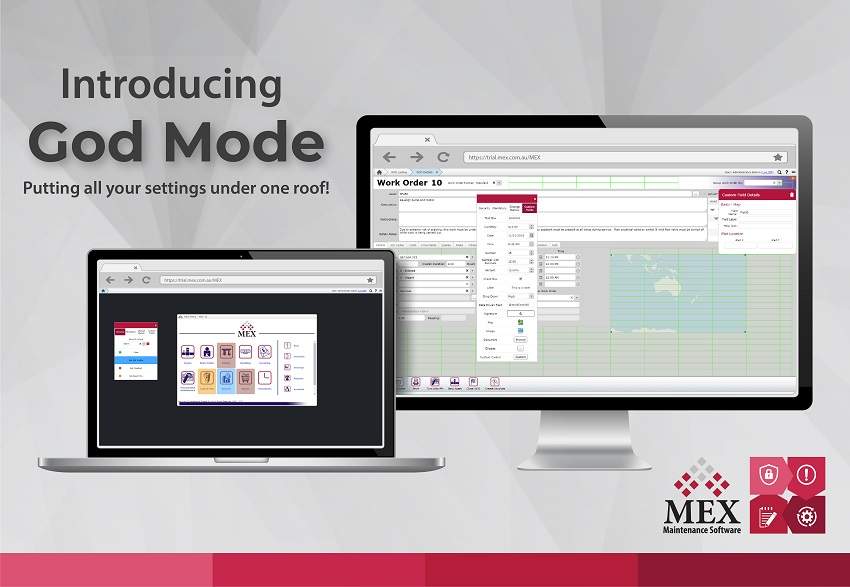 MEX Maintenance Experts are leaders in the field of CMMS Software, however, this hasn't stopped the Australian-based provider from developing new safety and security standards for the Mining industry. On Tuesday 17 July, MEX introduced the latest update to its CMMS platform, with this update came the addition of its newest feature; God Mode.
Security and User Experience take top priority in the research and development at MEX Maintenance Experts. In their latest push to improve across the board functionality for CMMS users, MEX has introduced God Mode. With the implementation of this feature, MEX has raised the bar for Maintenance systems. Security and administration settings are now changeable at the click of one easy-to-use remote.
Setting up security is the most important thing when setting up MEX Maintenance Software, and so it should be the most accessible procedure. Implementing and administering a CMMS software should not require a lot of time, and so God Mode allows complete optimisation of Security settings with a simple click, allowing users immediate access to all four of the key components; Security, Mandatory, Change Names, and Custom Fields.
Processes which previously required multiple steps to achieve the desired result are now streamlined into a simple one-click process. Using visual markers, God Mode is easy to identify and utilize.
Functions include:
Floating, remote-style control center with full security administration functionality
Click and drag security setup on any listing, menu and form in MEX
Colour-coded markers on listings and forms to allow for quick and easy editing, as well as previewing what settings are already in place
The ability to change text on any label, button, heading and more throughout MEX and all on the fly
Customise any form with ease with a multitude of drag and drop controls
If you do have any questions however, whether it be the system setup or general administration, MEX's locally based Support team are always available either by phone, online chat, or email. MEX God Mode streamlines processes which have previously required multiple manual efforts, with a focus on security and the ease of customisation. God Mode acts as a call-upon instrument for all Maintenance components, allowing the control of such settings with one powerful tool.
To read more about God Mode or trial it today, go here.