SCUTTI is a leading global manufacturer of cement silos and lime silos for industrial applications.
Our extensive experience in storage solutions allows us to develop a wide range of high-quality equipment to supply a turnkey storage solution.
In addition to silos, our portfolio includes cement terminals, screw conveyors, dust filters and powder valves.
Bulk storage silos for the mining industry
SCUTTI has a large selection of silos with capacities ranging from 20m³ to 3000m³.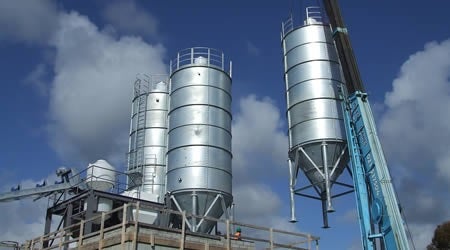 SCUTTI develops a wide range of storage silos for industrial environments.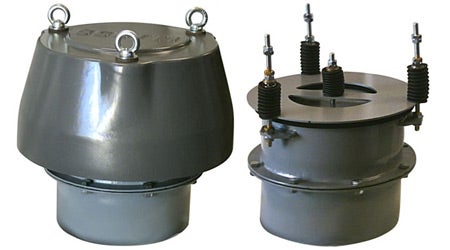 We provide butterfly, slide and pressure relief valves.

Our equipment can be easily transported worldwide using standard containers.
The silo structure is designed to adhere with EUROCODE 3 Part 4-1 standards to ensure compliance and safety with seismic and wind requirements. Silo safety devices, dust collectors and screw conveyors are also available.
Modular steel silos are available in diameters from 3,500mm to 12,500mm and capacities from 50m³ to 2,600m³. These silos are designed for easy transportation and increased cost-efficiency.
Telescopic silos are designed with a two-piece barrel, making them easy to transport via lorry or container. Due to their design, they can easily be packed by potting the higher section of the barrel into the lower one, saving space on the lorry.
Modular flat silos for cement
SCUTTI's flat silos are designed with a special compact system that allows installation on harbour docks or inside a building.
All parts are bolted for facilitated transportation and assembly.
The flat storage terminal is a modular plant comprising one or more HC 1,400m³ silo. Each silo is equipped with a tubular screw conveyor-enabled cement extraction system, making it suitable for all types of tank lorry.
The quantity of cement that can be unloaded from each discharge point is 140t/h. On customer request, the flat terminal can be equipped with a cell system for the weighing of cement before unloading.
Screw conveyors for discharging dry powders
SCUTTI's screw conveyors for dry powders are available in different sizes with tubular or 'U' trough designs. Manufactured using heavy-duty components, our screws conveyors can be easily assembled and installed in a wide range of industrial sectors.
Our tubular screw conveyors are commonly used to convey dry inactive powders such as cement in concrete batch plants.
Available in sizes from 150mm to 350mm, our 'U' trough screw conveyors are commonly used for industrial applications. They are supplied with a direct drive unit and powder-proof covers.
For heavy-duty applications, SCUTTI offers vertical screw elevators with diameters ranging from 193mm to 458mm. They are designed to convey large quantities of product, save space, offer easy maintenance and no pollution.
Heavy-duty manual or pneumatic dry powder valves
SCUTTI's valve portfolio includes butterfly, slide and pressure relief variants. They are available in different sizes, with manual or pneumatic drives for processing abrasive or hot materials.
Mild steel butterfly valves are commonly used as a discharge valve under silos. Recommended for heavy-duty powder handling applications, the valve is supplied with a manual lever while aluminium butterfly valves feature either a manual lever or pneumatic drive.
For powders or granular products, our heavy-duty cast iron slide valve ensures a high seal level and can be supplied in three different sizes.
SCUTTI's pressure relief valves are designed to release excess air from the silo in order to retain its structure. Valves are made in mild steel and can be supplied for hot products on demand.
Dust filters for dry inactive powders
SCUTTI dust collectors are recommended for dry inactive powders
Available in a wide range of models and capacities, the cleaning system comes with an air or mechanical vibrating system for static or dynamic execution.
In addition to bag and dust filters, we also supply a vent filter featuring a 24m² filtering surface and air cleaning systems is designed to be installed on top of the silo as vent filters.
Compact dimensions and quick opening devices ensure full safety and trouble-free maintenance for the operator.
Bolted cement terminals
SCUTTI's bolted cement terminals allow a flexible storage design for large quantities of cement, ensuring a low processing cost due to simplified process engineering.
Our equipment can be easily containerised and shipped worldwide using standard containers.