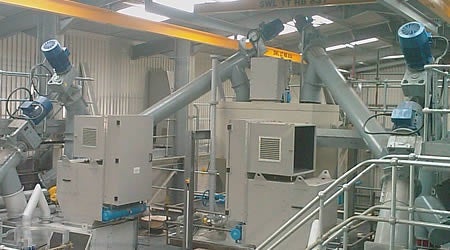 Tubular screw conveyors
Tubular screw conveyors for dry inactive powders are commonly used to convey cement in concrete batch plants.
They are supplied in standard sizes from 114mm to 323mm with direct drive unit standard RM gearboxes ratio available in speedds of 140rpm, 200rpm and 240rpm.
Low ratio, long life seals, anti-wear flight and special manufacturing for abrasive or hot materials are available on-demand.
VFA butterfly valves
Aluminium butterfly valve for handling powders available from 100mm to 400mm. The valve can be supplied for hot materials with a manual lever or pneumatic drive.
FGS round dust filters
Round cartridge filters with automatic air cleaning system, available from 9 to 39 cu.m filtering surface. The filter is fully made of stainless-steel and can be accompanied by a dust collector hopper and electric fan.
WICOMSILO safety systems
Filling a powders storage silo is always a critical operation because the air pressure can rise inside it at such a rate that it could put at risk the silo's integrity.
WICOMSILO is a safety system which use a series of devices to prevent a dangerous build-up of internal pressure, such as would threaten the structure of the silo and the safety of anyone in the vicinity.