Recognized as a world leader in quality and innovation, Nelson Irrigation Corporation is focused on providing exceptional products – including Rotator® sprinklers, pressure regulators, control valves and Big Gun® sprinklers – for agricultural and industrial applications.
Nelson products have a solid reputation due to a rigorous quality assurance program and the company's enduring commitment to workmanship and customer service. State-of-the-art technologies, such as CNC machinery, robotic welding, plastic injection molding and automated assembly, provide a consistently superior product. A dedicated R&D team works closely with the customer at all levels and develops new products while also improving existing products. Nelson products are supported worldwide by an experienced network of distributors and dealers.
Field-proven sprinklers for mines
Due to the rugged durability of the Nelson Big Gun sprinkler it has been used in the extreme environs of mining, time and time again. Nelson's Big Gun – the original Big Gun with over 40 years in the field – is preferred because of the ability to move a large amount of water in a short time. The large nozzle is less likely to plug and filtration requirements are minimal. With completely sealed ball bearings and anodized, powder-coated, or stainless steel options, the Nelson Big Gun sprinkler is the preferred choice for tough applications. Various trajectories and accessories are available for a variety of needs.
Using Nelson Big Gun sprinklers in conjunction with Nelson 800 Series control valves and the TWIG™ control system provides a complementary design that uniquely improves efficiency and reliability. The 800 Series control valves have a field-proven record of success operating under Nelson Big Gun sprinklers in many tough environments, including mining dust suppression, feedlot dust suppression and waste water applications. In some situations automation may be desired for maximum control. Nelson's TWIG control system is simple, reliable, reduces labor requirements and allows you to put the right amount of water where you need it most.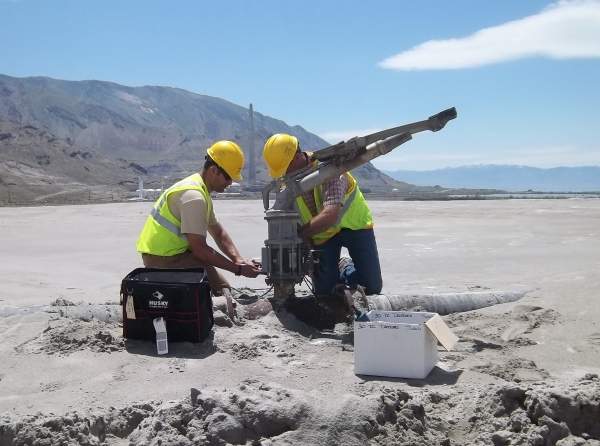 Nelson Big Gun® sprinkler and 800 Series control valve set up with a Nelson TWIG™ receiver for automated irrigation on tailings at a copper mine.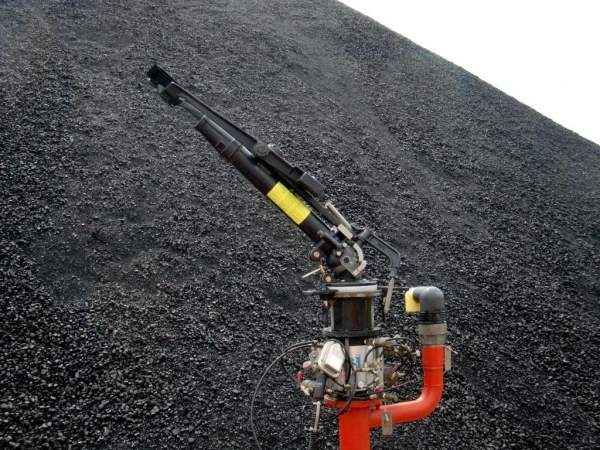 An adjustable 15º-45º anodized and powder coated Big Gun sprinkler, 800 Series control valve, ACV200 air control valve on a coal pile site.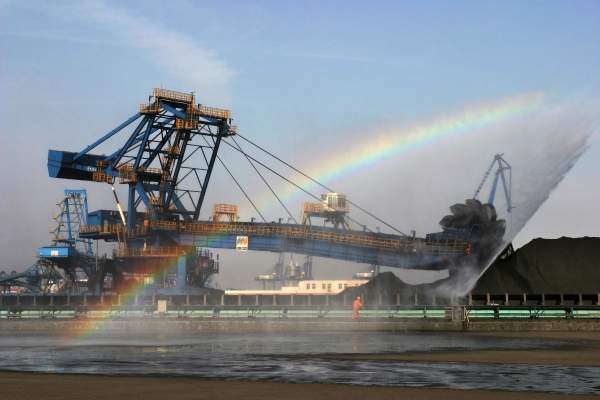 The Big Gun's ability to distribute a high volume of water uniformly leads to an efficient and effective way to settle the harmful particulates in coal dust.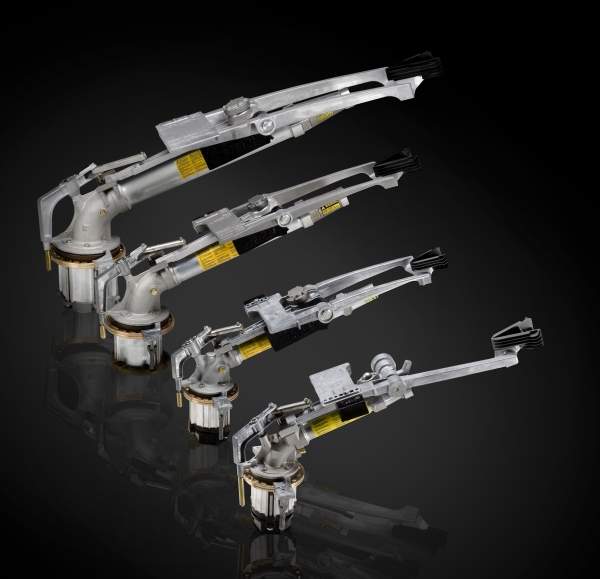 The Nelson Big Gun sprinkler is inherently versatile. The 75 Series, 100 Series, 150 Series and 200 Series Big Guns are available in both full and part circle options in varying trajectory angles, with coating options, add-on kits, and valve combinations.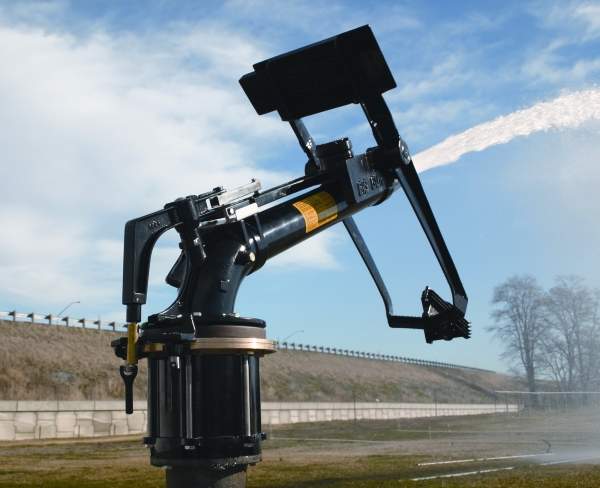 Specify anodized, powder coated or stainless steel for corrosive water conditions.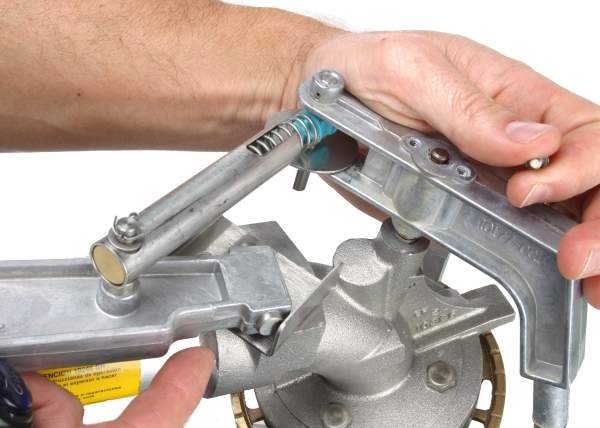 Nelson Big Guns are easy to repair with readily available parts. Contact the factory or visit our website for parts lists, operation and maintenance, guides, repair kits, dimensional drawings, add-on kit literature and thrust force information.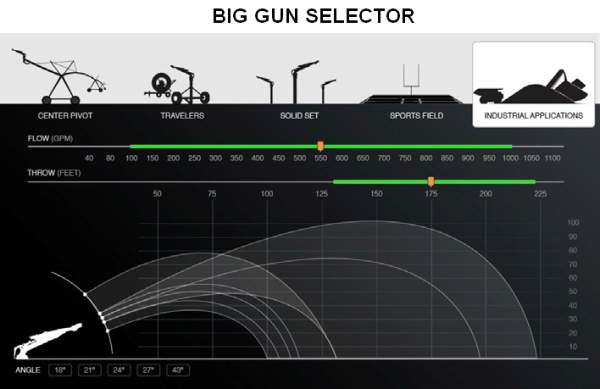 Try out the Big Gun selector tool on our website; this can help select the right model for your application.
The original Big Gun sprinklers
The Nelson family of Big Gun sprinklers includes the 75 series [30-160 gpm (6.8-36.30m³/h) at 25-80 psi (1.75-6kg/cm²)], 100 series [50-300 gpm (10-70m³/h) at 40-110 psi (3.5-8kg/cm²)], 150 series [100-550 gpm (23-150m³/h) at 50-120 psi (4-9kg/cm²)] and 200 series [250-1200 gpm (55-275m³/h) at 60-130 psi (4-9kg/cm²)].
These models are available as a (F) full circle sprinkler (for 360º coverage) or (SR) part-circle sprinkler (with adjustable stops to create an arc). Since trajectory is very critical in mining applications these products are available in different fixed trajectories and an adjustable trajectory feature (100 and 150 series only). Alternatively, a simple 12º wedge kit can be added to increase a given trajectory.
Long-life sprinklers
No other large sprinkler has sealed ball bearings. Most other large sprinklers use bushings instead of bearings. The water from tailings from rock crushing contains aggressive particles that will cause accelerated wear in bushings and unprotected bearings. The Nelson Big Guns use sealed ball bearings that provide a much longer product life.
For some applications we recommend an enhanced design that provides even more protection. These enhancements include a shroud over the lower bearing unit that prevents water and deposits from accumulating around the brake ring surface and getting into the upper seal. The lower seal has an enhanced design due to changes in the geometry of the parts and a Teflon impregnated spacer.
Big Gun material options
The mining environment is notoriously unkind to certain materials. It's important to make careful considerations to select the right sprinkler dependent on site water and particulate chemistry. Nelson Big Gun material options include anodized, powder coated or stainless steel.
STANDARD for PH range of 4.5-8.5. Big Gun is made from aluminum, yellow and red brass, 18-8 stainless steel, and engineering-grade plastics; seals and o-rings are buna-nitrite rubber.
ANODIZED for PH range of 4.5-8.5. Designed for industrial dust suppression applications where mildly corrosive water remains infrequently stagnant in the Big Gun during shutdown. All aluminum components have been class 1 brass color anodized; anodizing adds a thicker aluminum oxide layer than occurs naturally.
POWDER COATED for PH range of 4.5-8.5. Designed for industrial dust suppression. Dust mixes with water and forms a caustic paste on exterior of sprinkler. Polyester powder coating increases life of sprinkler and minimizes pitting corrosion. Coating is in the flow path as well as on all exterior surfaces. Same construction as anodized Big Gun; a polyester powder coating is then applied inside and out to improve corrosion resistance.
STAINLESS STEEL for PH range of 0-14. Designed for use with sodium hydroxide, sulfuric acid and sodium cyanide solutions used in mining heap leach and process waters. Big Gun is made from 316 series stainless steel; all plastics, o-rings, and seal materials have been chosen to be compatible with mining and industrial process fluids.
Mounting considerations
Mounting design must always consider thrust force and drive arm action as well as wind distortion. One basic spacing rule of thumb is to have 100% overlap of the spray pattern. For example a sprinkler that throws 100ft (30.5m) radius would be spaced not more than 100ft (30.5m) apart. Doing this will give some assurance for adequate coverage of water in windy conditions. Caution: if freezing conditions are to occur then plan for a method to drain water from all above ground pipe, stand pipes and risers.
Control valves for irrigation systems
Proper air and water control are essential to an efficient irrigation system. Improper hydraulic design of your irrigation system can lead to pressure fluctuations and water hammer, which can damage pumps, break pipes, and decrease flow efficiency. For a functional, efficient system that you can depend on, install Nelson control valves.
There are many benefits to installing an 800 Series control valve directly beneath the Big Gun. The Big Gun / valve combo incorporates automatic drains, which are very important. Experience has shown us that corrosive water becomes much more corrosive when it becomes stagnant (loses all oxygen). The automatic drain allows the water to empty out of the Big Guns after each operation. The Nelson 800 Series control valve has low friction loss. It also has a straight through design which minimizes turbulence in the flow path. Angle or weir valves turn the water through 90° even though the valve inlet and exit are in line. These valves create turbulence in the flow path which can reduce the radius of throw.
About Nelson Irrigation
The Nelson name has been tied to manufacturing and irrigation products for over 100 years. It all started when Lewen Russell Nelson invented the 'Clincher' hose coupler and opened Central Brass and Stamping Company in Peoria, Illinois, in 1911. This company later became L.R. Nelson Mfg. Co. Inc., which was ultimately sold in 1972.
Nelson Irrigation was founded at the time of the sale and in the four decades since, NIC has led the irrigation industry with innovations such as Big Gun sprinklers, Rotator sprinklers, 3000 Series pivot products, 800 Series control valves and a complete line of pressure regulators.