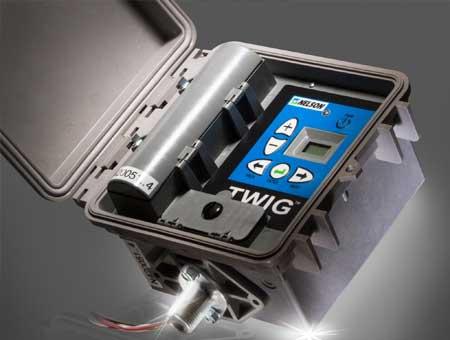 The American Society of Agricultural and Biological Engineers (ASABE) recently announced that Nelson Irrigation Corporation has won an AE50 award.
Nelson Irrigation Corporation developed the TWIG wireless control system deemed one of the year's most innovative designs in engineering products or systems for the food and agriculture industries. The TWIG system will be featured in the January / February 2014 special AE50 issue of ASABE's magazine, Resource: Engineering & Technology for a Sustainable World.
The TWIG is a reliable automation solution for irrigated agriculture. Installation is quick and easy: mount the TWIG to a Nelson control valve and then programme the TD200 to create a schedule for automatic valve sequencing. The simple interface of the TWIG and TD200 controller make it easy to automate an entire irrigation system, regardless of the system type or the size of the operation.
Whether managing a large Big Gun® dust suppression system, an apple orchard, multiple zones of a drip system, or miles of sprinklers on row crops, the TWIG can tie the components together without the expense of trenching and wires.
The controller contains watering schedules that operate each valve. After it automatically discovers all valve modules, the controller is programmed at one location. All valves are synchronised. Programme set-up consists of simply grouping all valves that irrigate at the same time. Programmes are easily named by the user to indicate the purpose of valve arrangements and the function of irrigation schedules.
---
Image: The TWIG wireless control system wins innovation award. Photo: courtesy of Nelson Irrigation.